The art market is exploding with an intensity not seen for years, and certainly not since the Corona burst. For the first time since 2019, masses of collectors have returned to New York's big auctions, re-igniting a mad chase for the world's most expensive works, which totaled an almost unprecedented two weeks – of $ 2.3 billion in sales, with a hot list of artists like Mark Rothko and Frida Kahlo.
How big is the hunger? It does not happen often that sales outlets like Sotheby's and Christie's eliminate all the merchandise and sell all the items they have to offer – but in these two weeks in November it has happened several times. Collectors eagerly purchased every item offered – from classic Van Gogh paintings to graffiti images of street artists like Banksy, and even a rare edition of the American Constitution.
Frida Kahlo, " Diego y Yo " / Photo: Reuters, James Manning
The sales series also marked the penetration of the use of cryptocurrencies into the mainstream of the art world and auctions. For example, Sotheby's sales manager Oliver Barker has received atrium quotes for some of Banksy's work. In another case, a group of crypto investors named Constitution DAO lost bidding on a rare copy of the U.S. Constitution. The group managed to raise more than $ 40 million for the cause within 72 hours of crowdfunding, but the piece was eventually sold for $ 43.2 million. The winner of the exclusive edition was Kenneth Griffin, a billionaire from Chicago who made his fortune in hedge funds.
Those who also joined the celebration were NFT (Non-Fungible Token) artists, who sold their creations live online.
Here's a figure that illustrates how quickly the art market overcame the plagues of the plague period: Last year, nine works costing $ 25 million or more were sold at Christie's. Whereas in these two weeks of November only – the auction house left this price behind 14 times.
The Phillips auction house broke its all-time record in one day with sales of $ 138 million. Another impressive achievement was recorded at the Sotheby's auction house – where the art collection of real estate tycoon Harry McLaughlin and his ex-wife Linda McLaughlin, sold for $ 676 million – broke the all-time record of the 277-year-old auction house.
The most expensive piece in Maklow's collection was Mark Rothko's abstract paint stain classic "No. 7, 1951", which was purchased for $ 82.4 million by an anonymous collector from Asia.
Ernie Glimcher, a dealer in the Pace Gallery, said that in 1987 he sold Rothko's work to the Maklo couple for much less. "People are looking for where to put the money, and what is more delightful than art?" He says. "When you put the money in stocks – you get documents. But when you buy a painting – it catches you and makes you feel part of something much bigger."
The prey of the NFT
Not only the collectors and auction houses have raked in capital in an unprecedented sale, but also the estates of the world famous artists. During the sales series, the artists' records were broken one after the other: a self-portrait of the Mexican painter Frida Kahlo from 1949 was sold for $ 34.9 million in Sotheby's and shattered her previous record, which was $ 8 million. Along the way, she also overtook her husband, artist Diego Rivera, whose most expensive work sold for $ 9.7 million three years ago. The latest sale has positioned Kahlo as the most expensive artist in Latin America.
These two weeks will also be remembered for the global prey of the NFT, a technological means of proving ownership of a digital asset. After vigorously selling a digital work for the highest amount ever – $ 69 million – the artist known as Beeple proudly watched Christis sell his first real sculpture this time: Human One, which sold for $ 29 million, double its value. Biffel, whose real name is Mike Winkelman, himself participated in the sale of another artist – when he submitted a bid to create an NFT by artist Urs Fischer, but eventually withdrew. "It excited me very much," he said later.
The classics and trends
Van Gogh's works also had an extraordinary week at Christie's Auction House, with four works from oil tycoon Edwin Cox's estate sold together for $ 161 million. An anonymous collector to be represented by British art consultant Hugo Nathan took home two of Van Gogh's most expensive paintings – "haystacks" that sold for $ 35.9 million and "wooden huts between olive and cypress trees" that sold for $ 71.4 million. The Dutch artist who has died in vain is undergoing a renaissance, thanks in part to his recent digital exhibitions.
Van Gogh, "Wooden huts between olive and cypress trees" / Photo: Reuters, Victoria Jones
Young and trendy artists also benefited from the price jump: for example, a painting by Lisa Bryce called "No Bare Back after Embah" sold for $ 3.2 million after attracting nine interested people – ten times more than the amount estimated prior to the sale at Sotheby's. "Nicholas Private, a well-known visual artist in the style of Dr. Horse, doubled his record at auctions – with a 'landscape' sold at Sotheby's to an Asian collector for $ 3.2 million. Just the day before, another collector returned home with another of his paintings -" Homes from 2015, sold for $ 1.7 million at Philips.
60 years of collecting, one sale
Contemporary art seems to have become a hot trend among Asian collectors, who have recorded a respectable sales presence – which of course has significantly raised prices. Many of them submitted bids over the phone for the Maklo couple's collection at Sotheby's, and in the end, won at least 12 works out of it. One of the collectors is Chinese entrepreneur Justin Sun, creator of the crypto-currency Tron, who paid $ 78.4 million for the "nose" sculpture of Alberto Giacometti, which the Maklo couple bought in 1994.
Maklo himself, came to the sale wearing purple socks, velvet slippers and a colorful scarf. According to him, it is surreal to see six decades of collectibles sold at once – item after item. "But it was great to see the works in a different context," he said after the sale. "These are not easy pieces."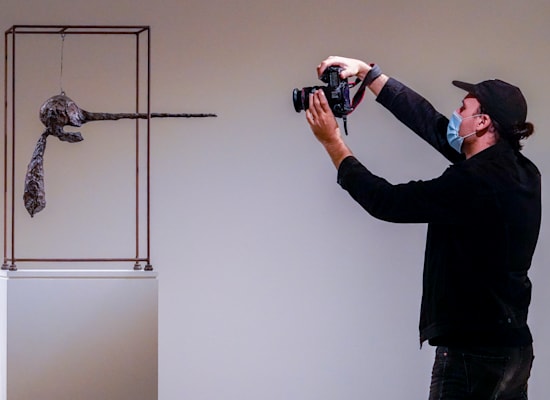 Alberto Giacometti, "Nose" / Photo: Associated Press, Mary Altaffer
The works may not be easy, but it seems that selling them is easier than ever. Thomas Danziger, a lawyer who specializes in the field, says that in order to assess the state of the art market, it is worthwhile to follow the items sold at lower prices. The fact that even in this category – almost everything is sold, he says is the ultimate proof that "the art market is really firing in all directions."