Hyundai Motor dreamed up a response to Tesla when the company's top executive sent its chief designer a photo of a strange-looking car that last rolled off the assembly line more than 70 years ago. The Stout Scarab, manufactured in Michigan in the 1930s and 1940s, looked like a strange cross between a bus and a pontoon.
"Let's face it, 10 years ago, our design strategy was all about being the fast imitator," said Hyundai designer Sangyup Lee. According to him, Euisan Chang, chairman of Hyundai and its subsidiary Kia, who sent the photo, wanted to stop imitating and get ahead of the rivals. "The message was: inspiration can come from anywhere," Lee said.
Hyundai's electric car that drew inspiration from the Scarab's eye-catching streamlined design, the Ioniq 6, was a hit with critics. At the New York Auto Show in April, it was named World Car of the Year.
Hyundai and Kia, the sister Korean automakers, have long had a reputation for making cheap and uninspired cars. However, over the past few years they have become the leaders in the electric vehicle race, with models that turn heads at rival car companies – and among car buyers.
When asked last year about EV competition, Ford CEO Jim Farley said: "The ones I pay attention to the most are Hyundai/Kia, the Chinese and Tesla. This is my list."
Hyundai. The Genesis GV80 booth / Photo: Reuters, Andrew Kelly
"look further ahead"
Behind the push was Chung, 52, who pushed for investment in electric vehicles and moonshot technologies like flying cars and robots. In 2020, he took control of Hyundai Motor Group, one of Korea's largest family-owned conglomerates, from his father, Chung Mong-ko.
Last year, Hyundai became the third largest car manufacturing group in the world, with 6.85 million vehicles sold, ahead of only Toyota Motor and Volkswagen. Now the company, which is now the third largest seller of EVs in the US, has Tesla in its sights.
Tesla's huge success with its Model 3 showed the industry that the EV market was much bigger than people thought, spurring Hyundai and Kia to move faster, said Michael O'Brien, a former vice president at Hyundai. "Hyundai's leadership understands that the EV market is a bouncy ball," he said.
Sangyup Lee, Vice President and Chairman of the Hyundai and Genesis Global Center and Jose Manioz, President and COO of Hyundai Motor Company at the New York International Auto Show / Photo: Reuters, Andrew Kelly
Chong, whose grandfather founded the business 76 years ago, has repeatedly told employees that the company needs to look further ahead. "We will not be afraid of risks and will only be reactive," he told employees in January. Hyundai and Kia went on a recruiting spree, luring prominent designers from other automakers, including German luxury brands. The goal is to make their vehicles look and feel more luxurious.
Ford's Farley praised Hyundai's Ioniq 5, due out in 2021, noting that some software features were better than Ford's. "This company is really hitting its stride in the field of electric vehicles," he said. Tesla's Elon Musk said last summer in a tweet about the EV market: "Hyundai is doing quite well."
Conservative and militant
Hyundai and Kia are part of a conglomerate that also owns steel mills, shipyards and construction companies. It is largely controlled by Chung's family through its holdings in the car company and other related companies. The company entered the auto business in 1967, when the country was still recovering from the Korean War, initially doing contracts for Ford. Its first domestic vehicles, the Pony and Excel, were cheap and so prone to quality problems that they became the stuff of late-night television comedians.
Kia began in 1944 as a maker of metal parts and bicycles, and a decade later, obtained licenses to produce versions of Honda motorcycles as well as Mazda trucks and cars. After declaring bankruptcy in 1997, Hyundai acquired a controlling stake. Today it owns almost 34%.
Hyundai entered the American car market in 1986, followed by Kia in 1993. Both were budget brands. When Chong's father took over the company in 1996, he made solving quality problems a priority by overhauling manufacturing operations.
The decisions were made mainly by senior executives in Seoul, away from the American market that drove the bulk of the profits, former executives said. "Hyundai has always been known in Korea as the most conservative and militant," said Frank Ahrens, Hyundai's former head of communications. He compared the chairman's directives to imperial decrees. "If you want a pyramid, that's a way to do it — to get a whole bunch of people pushing in the right direction," he said.
The electric Hyundai Kona is presented at the 2023 New York International Auto Show / Photo: Reuters, Stephen Smith/SIPA USA
Both Hyundai and Kia have been slow to respond to the SUV boom in the U.S., despite pleas from top officials in the country, the former executives said. For years, they did little to expand their U.S. plants, leaving them struggling to produce enough vehicles as demand for the models Popular like Hyundai Santa Fe and Tucson Gavre.
Another embarrassment stemmed from a rise in car thefts following a social media challenge that singled out certain Hyundai and Kia models as easy to steal. Several states and insurance companies sued the companies for the thefts. Last Thursday, Hyundai and Kia agreed to pay up to $200 million to owners of stolen cars to settle a class-action lawsuit.
However, when the Korean leadership takes notice, decisions will be put on a fast track and change can easily happen, former officials said. "They'll throw in a new engine whenever an engine is ready," said JP Garvey, a Hyundai and Kia dealer in New York. "They are constantly making tiny incremental changes, and they don't stop."
The first non-Qur'anic
At the New York Auto Show in April, Hyundai's luxury brand, Genesis, introduced a sportier version of its new GV80 SUV. The vehicle was a concept car – not one that Genesis initially intended to produce. It was such a hot hit that the bosses in Korea decided that night to put it into production, said Jose Muñoz, president and chief operating officer of Hyundai, whom Chong hired from Nissan Motor in 2019. "There are no arguments," Muñoz said. "Once the decision is made, the execution is very fast."
Chung placed foreign executives in key management positions. He hired designer Peter Schreier from Volkswagen, where he helped redesign the iconic Beetle, and then promoted him to president, the first non-Korean to reach that level in Hyundai's history. "The chairman wanted something new, and the focus was on good styling," said Ray Ng, a former Kia designer who worked closely with Schrier.
Chong's biggest push has been with EVs, a segment that Hyundai and Kia entered in 2010 when Hyundai brought out the Blueeon in Korea. Kia followed with the Ray EV in 2011. A second model, the Kia Soul Electric, went on sale in the US, Europe and South Korea in 2014, two years before General Motors released its Chevy Bolt rival.
The EV market presents unique challenges. Almost all Hyundai and Kia EVs are built outside the US. Recent changes to the US federal tax credit program of $7,500 for EV purchases made foreign-built electric vehicles ineligible for the subsidy. US sales of Hyundai and Kia EVs have declined since the tax changes.
Work on a new, estimated $5.5 billion plant complex for Hyundai and Kia to build EVs in Georgia is underway, but it won't open until late next year, at the earliest.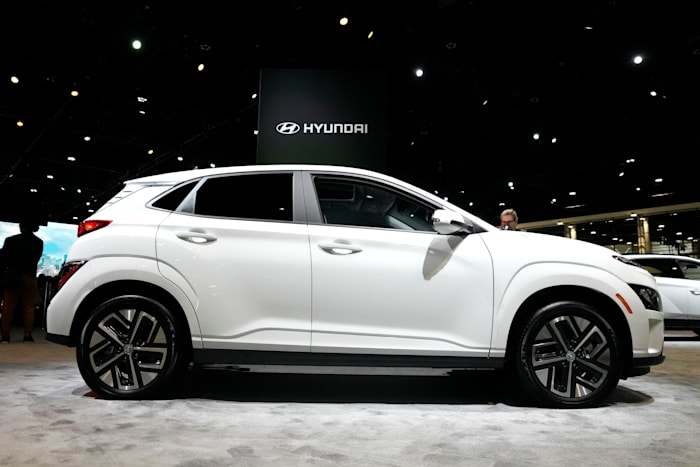 The electric Hyundai Kona is presented at the 2023 Chicago Auto Show / Photo: Associated Press, Lee Jin-man
Following the success of Tesla
Tesla's success with the Model 3, which hit the market in 2017, opened eyes at Hyundai, said O'Brien, the former vice president. "Everyone saw that they went from a niche player to a core player in one model," he said. "People in Korea and Hyundai saw Tesla as a technology company and not a car company. Instead of focusing on four wheels, oil and brakes – they focused on technology, and that was very attractive in Korea."
While other automakers have debated whether the batteries are too expensive and short-lived, Chung hasn't been deterred, O'Brien said. After Chong became executive chairman in 2020, Hyundai and Kia announced plans to introduce 31 battery-powered models. The companies aim to become the world's third-largest seller of EVs by 2030. Tesla and China's BYD are the current global leaders .
The fact that the Hyundai Ioniq 6 was inspired by the Stout Scarab is one example of how the company relies on design to differentiate itself from rivals. Lee, the designer, said the streamline shape echoes the 1930s and 1940s when car design was borrowed from the aerospace industry. The design has the added benefit of increasing the range the car can travel on a single fuel, giving it one of the lowest drag coefficients in the industry – a measure of how aerodynamic the shape is.
When interest in electric vehicles increased during the corona pandemic, Hyundai and Kia were among the few car companies that had a selection of electric and hybrid models on the dealership lots. On top of that, companies have been hoarding semiconductors, which has allowed them to avoid the worst supply chain-related shutdowns in recent years, giving them more inventory to sell, traders said.
richer customers
Hyundai and Kia said most of their EV customers are coming to the brand for the first time. They also tend to be wealthier than customers of other models of the companies. Last year, the largest group of Hyundai Ioniq 5 and Kia EV6 buyers earned more than $250,000 a year, compared with between $50,000 and $75,000 for all models, according to S&P Global Mobility.
Andrew Mencal, a physician from Portland, Maine, is among the Hyundai switch. As a former Audi owner, Mencal wanted to buy an EV for his next car purchase and put himself on several waiting lists, including for a Ford Mustang Mach-E. When his number reached the Mach-E, he gave it up and bought the Hyundai Ioniq 5. He says what bought him There was the driving dynamics and what he described as better technology than Ford's. After a nine-month wait, he took delivery of his Hyundai.
"Am I a Hyundai person? A few years ago, I probably would have said no," he said. "I guess the answer now is yes."