Viewers of the documentary "Grossman" will not see this moment: At an advanced stage of the film's editing, director.screenwriter Adi Arbel and producers Arik Bernstein and Dudi Zilber (Alma Productions) arrived at the home of the writer David Grossman in Mevaseret Zion and handed him and his wife the on.key CD , With the film on it. "Do you know what it is, after two years of building trust?", Arbel now says. "David said, 'We want to see it for ourselves. If you come back to us and your bags are out, take them and drive.'"
Arbel, Bernstein and Zilber followed in their footsteps and waited at the nearby mall. When they got back there, there were no bags on the trail. The heart returned to its place, and its beats to its natural rhythm. Then came the hugs. gently. That may be the key word in this movie. Very Grossmani. Consider, sensitive and exposed, but only in places where he chooses to be.
David Grossman, one of the most prominent writers of the last generation, winner of the Israel Prize for Literature, the Man Booker Prize, the Peace Prize and a long list of other awards, came out as a stubborn interviewer, but in this film he looks straight at the camera and reveals his heart. Every word of his seems to be measured. Brain cells must be reconciled with mental cells.
Almost every one of his statements sounds like poetry: he describes sitting on the "bathroom sill," looking at what he describes as the "wig of the bed" in his house. Inside the furniture, for a moment the gaze escapes and becomes the gaze of a small child, the same child who stood somewhere in the 1950s at a party at his parents' house, looked around and knew that one day everyone would die.
The opening scene of the film takes place in a spacious hall in Croatia, in a meeting where Grossman reads to the translators of his books "With me life plays a lot." Since the release of "One Horse Goes Into a Bar," the book that won him the International Man Booker Prize in 2017, this is how he has been practicing: he gathers for long days with the translators of his books before they begin their work. He, they, the text and the Goddess. This time there is also a camera.
"He has been refusing films for many, many years," says Arbel. "We started the film with a translation session. This is the third time he's doing it, and he's trying to do it where the book is going. A week in a secluded place where the translators are reading the whole book. Producers Eric Bernstein and Dudi Zilber wanted to shoot the previous times. This time David realized it was a unique event and said, 'I agree you would shoot it.' "But they do not really go into the depth of the matter or its meaning."
The crumb of the mind

The filming, which will air today (Wednesday) at 9:10 PM as part of the docu.strip of Here 11, unfolded as a kind of documentary version of the folk tale "Stone Soup" or "Button Soup" (a story about a poor wanderer who seeks refuge with hosts and offers to prepare his own meal, When he promises that he can make a delicious soup based on a simple stone only – KSU).
"Eric called me and started describing Grossman's encounter with the translators," describes Arbel, director of films and documentaries and development director of the drama department at Endemol Shane Israel.
"He said there was an option for David to agree to it being filmed. It took three seconds for him to say, 'Obviously. I'm coming.' It was an offer I've been thankful for every day. : We'll just talk about writing. I said to him: Excellent. It interests me the most. Grossman's writing is life, and life is writing. We talked for hours. When we came back from Croatia he said to me: Adi, I agree you should mention Uri. That's how we progressed in those two years.
"In Croatia friendships ignited, and out of it we worked, but also out of my acquaintance and love for books. We became the same language. It's a connection born out of the words, naturally. Then came the detailed script stage. I sat with his wife Michal and with him and we read it together. In later stages things flowed. Documentaries of this kind are created in a dynamic between the director and those who shoot him.
"I wanted to tell his life through the books, to have a messenger race between life and books. It was very important to me to put Michal in. They's from the age of 18 together, she's his first reader, she's the first respondent, they talk about everything. There's a whole 'behind the scenes' here "I keep saying to David and Michal: this is our film. He should have gained his trust, but he picks up very quickly. He's sharp and brilliant. He realized I was a devout reader."
"Writing is a process of disintegration and disintegration of the writer's psyche," says Grossman in the film, which goes through several of his books: "The Inner Grammar Book," "Capricorn Smile," "Refer Value: Love," "Yellow Time," "A Woman Flees from the Gospel. "And more. In between are excerpts from the personal diary he writes in parallel with his books, and private photographs documenting conversations with his parents around the kitchen table, family life and conversations with his young children. In one of the videos, he is documented in the "Voice of Israel" studios with his sons Jonathan and the late Uri, then 4 years old.
"Since my son Uri died, when I write I have been looking to be in this place for moments, touching both life and death," he says in the film about his son Uri who was killed in the Second Lebanon War in 2006 when he was 21. "I learned something in my writing – there is one way We can absorb the zero end of what is happening beyond the hermetic wall of death, to feel the sense of what it is not to be, and at the same time to feel the fullness of life – and that is the way of writing. In both. "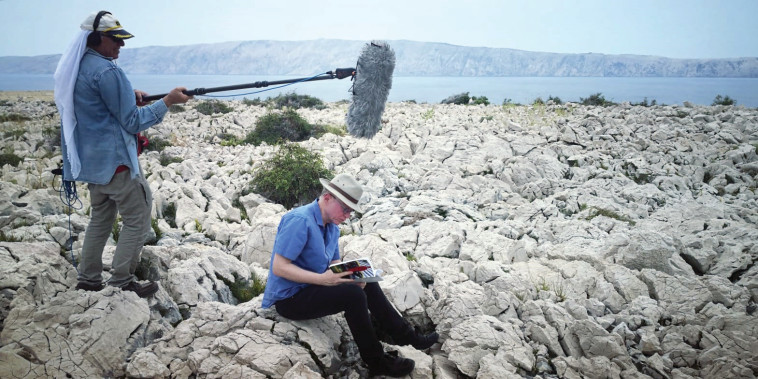 Like a business card
At the film premiere at the Dokaviv Festival, Grossman said of Arbel: "I want to thank Adi, who knew how to lead us wisely, sensitively and subtly out of alertness to all the nuances such a situation creates. This work, in the end, is little more than a collection of facts about a particular person. It also includes a story, a course of events, some deaths that start at the beginning and slowly gain momentum until the end of this film. "On nuances. It has a special pleasure, especially in the indistinguishable inclusive world, to do thin things."
Arbel has previously directed "Life as a Rumor – An Autobiography by Asi Dayan", which won the Israeli Film Academy Award, and "Personal Questions – Gila Almagor with Yaakov Agmon" produced by Liran Atzmor. In addition, together with Tamar Mor Sela and Liran Atzmor, she recently created "Awake" and "Cities" – groundbreaking monologues about sexuality. "When I'm told about the movie 'Grossman': 'It's a delicate film,' I see it as a good thing," Arbel says. "On the last day of filming I asked him, 'I know it's hard for you. Why are you actually doing this?'. He replied, 'I want people to read the books.' That's his motivation."
The film was shot by Ofer Yanov and Amit Hachmov. The editing work was entrusted to Sivan Gonshurovich, Mia Keller and Ron Goldman, to the original music Emuna Jasmine Even and to the artistic design – Daniel Weinberg. Throughout the filming, Arbel chose to turn the entire stage to Grossman himself, a different choice in today's documentary film landscape, where one can find the creators at the center and the plot or subject of filming on the fringes of the film.
"I told the photographers: I want to photograph his face so that whoever is watching it – will feel that he is sitting with him in the room and will understand how the magic of the work happens," she says. "If I go into the frame and see me, it hurts my fantasy to create a direct encounter of the viewer with him. I happened to win, but my ambition was for everyone to go through what I went through. How many people like Grossman are there? How many times in your life do you have such a rare natural resource? "Viewers come out of the screenings and say, 'I'm going to read all the books. Others say,' I want to write. It's great fun. Not to bother with the question of what I look like and why I asked one way or another. '
The 100 hours of filming were refined into one hour. "There are quite a few sections that we had to download," she says. "For example, a passage where he says to the translators who sit with him: 'Every person builds a story from his life and polishes it like a business card and presents it. Sometimes you have an option to get your story out.' I did the whole round to find him: the duel he has been waging with death since the age of 4.5. He says, 'I live as if I will die tomorrow.' "It breaks down on reality and crashes on it with 'A Woman Flees from the Gospel,' a book in which reality achieves it."
What did you find out about him that you did not know?
"We know that he is devoted to the characters and that they live in his head. On the one hand, when he closes the door of the study he sails to other districts. These are the beautiful parts. But on the other hand, in this process there is destruction. He himself says: I go to places that crumble me, I suddenly realized this thing.
"When he says 'Refer Value: Love': 'This book almost killed me,' he means it. It's not a trivial phrase. We're used to thinking of creative and writing processes in a positive sense, but the man really goes very far when he closes the study door. When he talks about devotion to characters, he talks about a personal price he pays for it. He is genuine, humble, genuinely interested in others, humane and rarely sensitive. "We will be a family in the end."