The Buzaglos close an account: In the previous episode of VIP Survival On Network 13 this week, contestant Vered Busquila revealed a big secret that bothered her, telling her tribal council members that she has an autoimmune disease that harms her health and causes her to utilize only 50 percent of their function. That is why, she says, she is panting and having difficulty with tasks. Yuval Shem-Tov (who is not the confused Yuval), who is usually careful in his words not to offend others, deviated last night from his sensitive behavior, criticizing her for cheating on everyone because she had to share the tribe from the beginning. Lisa joined in the criticism, and of course the vicious reactions on the net were not long in coming and some of them made the Olympic champion unreliable and a liar.
I am amazed to discover how much the instinct of human evil outweighs compassion and goodness. Why not praise Ward for having the courage to face tough physical competition, despite its limitation? And maybe she decided to challenge herself and prove she can? Maybe this is her way of dealing with the disease and trying to overcome it? So who are we to judge the "when" and the "why" and if at all she chooses to share her medical condition. How light the hand is on the keyboard and hurries to slander and insult.
On the other hand, when Fanny Bouzaglo goes into complete hysteria in the task of swinging the beam at sea, because she does not know how to swim and is afraid of water, I can not help but wonder why she came to the competition when she knows that some of the tasks in the competition are performed at sea? It's like someone comes to a cooking contest and tells that he can't cook because he has a fear of pots and pans. At the survival school where she studied with a divorced fan, they were taught to use flint and other tricks to survive, but were not told that swimming is a necessary mast? Let's just say Fanny hoped there were other ways to survive besides demonstrating impressive physical performance. Perhaps she was convinced that survival, cunning and strategies were more important than strength and physical abilities.
And did anyone at all have any doubt that the production, as usual in previous seasons, would interfere with the moves and change facts on the ground as it pleased? And the vision: Oopsi, Fanny and Ohad become together the guards of the hut, the result of a manipulation of the production during the discussion in the Tribal Council in which Henry was deposed. In other words, let the cat keep the cream. Or rather let two cats that were once annoyed, but still seem to be, bubbling emotions beneath the surface to keep the cream (at least by virtue of the fact that they are parents to common children, which also makes them a strong ally in the game).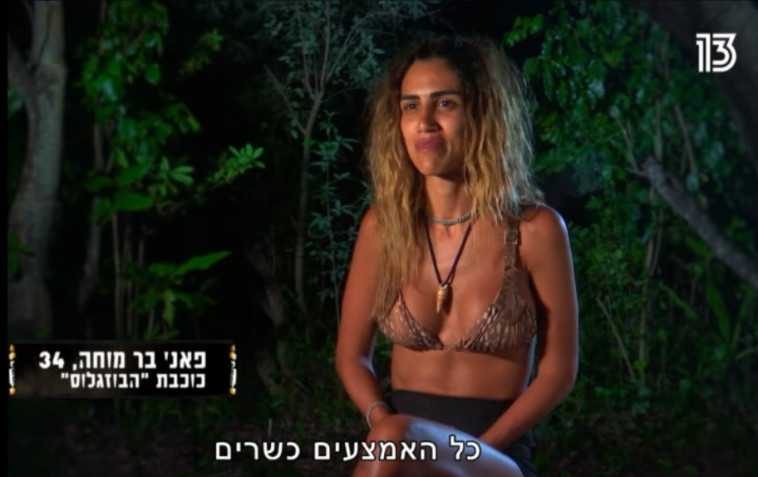 I'm usually not in favor of the production's intervention in the moves, but in the case of Fanny and the intervention fan certainly added an interesting tier to the whole plot. Imagine that the togetherness of Fanny and a fan in a cabin on a beautiful island, in front of great sunsets, would bring each other back into each other's lap and they would fall in love again. You have the perfect "Happy End" for a script you never thought of. What's wrong with a little romance on the island? No one died from it. Certainly not in a competitive and rather cruel game, especially in a season where the brawl and rudeness of the players threatens to destroy any good part of human relations. Instead of a beautiful sportiness, we watch an abusive and derogatory exchange between a fan and Jackie, and the latter mockingly mimicking Zohar Strauss and his submissive gait.
If we learned in the previous episode from the revelation of Rose's secret that must not be rushed to judge, we learned from yesterday's episode about the ugly face of revenge. A fan returned to the tribe with the intent to take revenge, close accounts, and did not even try to hide it, firing in all directions and insulting almost everyone and everyone next door. But he did not close any account, but opened one such with himself, and once again proved that he was so different from his brother Assi who won the title of the most beloved and last survivor of the season that he was more sophisticated, politically correct and knew how to swim better in a stormy sea of ​​intrigue, manipulation and lies.