A rare operation to separate twins attached to their heads was performed last Thursday at Soroka Medical Center. The twins, girls of the year, were born at the hospital in August last year, with their heads attached at the back of it.
Dozens of staff members accompanied the family from the moment of birth until the day of surgery. Preparations were made for their complex birth which included the staff of the Saban Center for Obstetrics, Physicians and Nurses from the Saban Center for Pediatrics, Anesthesiologists and Imaging. A dedicated team was held for many months in a kind of "operation order" ahead of the day of the separation operation.
Over the past few months the twins have undergone extensive tests, been under continuous monitoring by the Institute for Child Development at Soroka along with the social service that accompanied the family members, in addition to close and close medical monitoring of both cardiac and respiratory function.
The multidisciplinary team used two models prior to the analysis: 3D models and virtual reality (VR) models. The company's three.dimensional models are based on MRI, CT, and angiography and they most reliably and accurately simulate the complexity of the connection of the blood vessels, brain membranes, skull bones and skin of the two.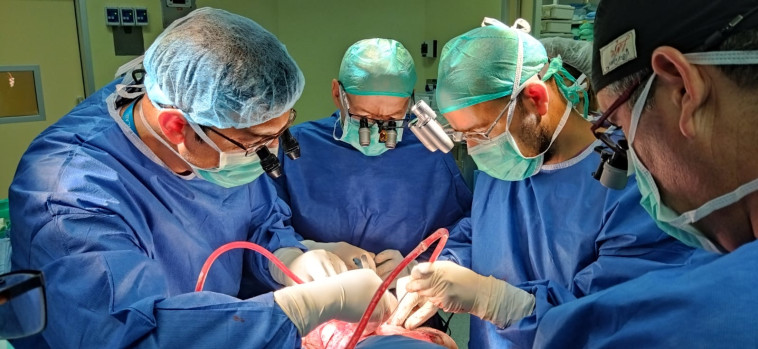 Using SURGICAL THEATER's VR model, it was possible to perform simulations of the analysis and plan in the exact way possible. Using this model it is possible to go into the depth of the connection between them, see common blood vessels and perform a simulation of all stages of surgery. Dozens of repetitions and simulations of all stages of the operation were performed in each of the models of all the partner team members.
The operation, which lasted more than 12 hours, involves about 50 staff members from each hospital who took part in both the many preparations and the execution: specialists in neurosurgery, specialists in plastic surgery, specialists in anesthesia, pediatric intensive care specialists, brain imaging specialists, operating room nurses, Nursing teams, pharmacists, laboratories, social work service teams, logistics teams, as well as two international experts with previous experience in this type of surgery.
Dr. Mickey Gidon, Director of Pediatric Neurosurgery at Soroka, said: "This is a rare and complex operation, which has been performed so far in the world only about 20 times and for the first time in Israel. And in this case even in very young babies. The surgery and the preparation for it were performed by the best and most skilled staff at the hospital, and it reinforces the feeling that it is thanks to us that we have become doctors. The next few days will be critical in the process of the twins' recovery and recovery. "