If you ask Dr. Hoodia Oliel, who specializes in the Department of Pediatrics B under the direction of Prof. Michael Goldman at Shamir Medical Center (Assaf Harofeh), if she feels she made history when she recently received her doctorate from the Technion and became the first doctor in Israel with cerebral palsy (CP) – She will answer no.
"I do not brand myself in this way, but I am a regular doctor, full-time, because it is something I dreamed of as a child," she says. "Although the difficulty is obvious to me, everyone has difficulties. One should just deal with them, not give up on the dreams and fight for them. "Many times I wanted to give up, but the dream was one that I could not give up despite the enormous difficulties, and the goal held me."
How was the ceremony?
"The ceremony was delayed because of the corona, and it was very moving and symbolic. It was a pleasure and fun to meet everyone. I really appreciate and love the Technion. There are very good people there who helped me get through the piece of road I went through, and it was a non-trivial class at all for me. I went through so many difficulties on the way to the degree, it is really not obvious, and I was very excited to reach this status. "
Find a way to get along
Oliel, 30, was born in Ashdod as a fetus, in the 27th week of her mother's pregnancy, following an early water loss. After her birth she was hospitalized for three months in preterm labor. Half a year later she was diagnosed with cerebral palsy, which manifested itself in motor injury to the legs, with no progressive brain damage. "I always dreamed of being a doctor and I knew that was what I wanted to be, it was clear to me," she says.
"Every time I had surgery in childhood and adolescence, I used to say to myself, 'I come back here again and again because God probably wanted me to know what it means to be a hospitalized girl.' It was not easy, but I was always interested and surveyed by the things I saw there. I was also very interested in the operating room. This desire continued with me both in high school, and in the psychometrics I did later. I did not weave any other route for myself. "
At the age of 4, she began studying in a kindergarten as part of a regular education, and later attended the Shahar religious school in Ashdod. "I grew up and was educated in Ashdod, and my whole family settled here," she says. "I have a brother who is three years older than me, and a sister who is two years younger than me. When we were kids, my mom made sure they wouldn't feel like more chores fell on them at home because of me, and everyone had their own place. It helped us a lot, and I won supportive, charming and loving brothers. "
How was your childhood in the shadow of cerebral palsy?
"I was not well, certainly not socially. I had almost no friends in elementary except for a girlfriend or two. It was awful. From the age of 5 to the age of 15 I underwent five surgeries, and after the second surgery I was boycotted for a year. In fact, I was happy to have surgery because it said I should not have come to school and suffered from social alienation there. "
"The fact that I was with a close assistant also contributed to this, which made the other children look at me with different eyes. My luck was that my brothers took great care of me, supported me and strengthened me. I waited for elementary school to end so I could move to another school and promised myself that when it did. "Everything so that my social situation will change," she added.
And she was right: she spent her middle and high school years at a scientific Torah studio in Ashdod, where her social status improved miraculously. "In the studio I decided not to come with an assistant, so at first my dad accompanied me to class in the morning, then my sister and later I already got along on my own with a crutch, which increased my independence," she notes.
One of the founding events that helped her integrate socially was a test of oral Torah in seventh grade. "Some girls offered me to study with him," she says. "I did not know how they learn, so I learned before and joined them, when I was ready. At one point I saw that they were reading the material to me. Only later did I realize that they came because they thought I needed help and assumed I had a developmental mental disability. We did the test and I got 107, and they got 70 and something. Since then the whole class has realized that I am not retarded. Everyone wanted to study with me, and there was even a line of students waiting for us to study together. "
Upon graduating from high school, she chose to do national service that was for her a kind of closing circle. "I did the service at the 'Asif' school at the Assaf Harofeh hospital, where most of the children suffer from cerebral palsy," she says. "As a child, when I was hospitalized, the school children were hosted in ward activities, and that's how I became acquainted with this school and wanted to do national service in it."
After completing her service, she took the psychometric exams, was accepted to the Technion in Haifa in 2011 and began working twice as hard to fulfill her next goal – to become a doctor. "It was very challenging," she describes. "I had to learn to live life. From living with my parents I moved away from them without any help. I may be independent, but there were things I did not know how to do or did very slowly and it was difficult, because I did not know every day what difficulty I would encounter the next day, and if there would be anyone who could help. The first year was shocking, but I was determined to find a way to get by. "
What gave you strength in that period?
"I told myself that I live once and that the most important thing is that I do what makes me happy. I really wanted to be a pediatrician, that's the only thing on my mind, even when I did not always have someone to consult and someone to support. The motto that guided me is to be stubborn, not to retire whenever difficult, but by the willpower to overcome any obstacle. I also believe that it is important to help others and always do good, and then it comes back to you, good karma ".
Without air
In February 2019, Oliel began her internship year at Kaplan Medical Center, and upon graduation wrote a Facebook post that went viral: "I send a hug and strength to anyone who is in my situation and thinks he has no chance. He has, it just does not mean it's simple. It just means that it requires daily breathing and self-conviction – that maybe tomorrow will be more rosy. "
"I wrote posts throughout my studies, but following this post, journalist Sivan Rahav-Meir invited me for an interview, and it gave me my first publication," she says. "I did not plan for it to produce such echoes."
That same year, Oliel was chosen by the Ministerial Committee on Symbols and Ceremonies to hold a beacon on the 71st Independence Day, in 2019, a status that to this day is difficult for her to digest that she has reached. "I remember rehearsing for the ceremony was fun and I was with my friends, but at the ceremony itself I felt for a moment that I had no air, I was afraid to fiddle and it was very exciting," she recalls. "I felt I was unable to speak and I was so high that I did not realize at that moment the size of the class. I was just hoping not to be ashamed. It was one of the most exciting things in my life. I do not realize that I did it at all. "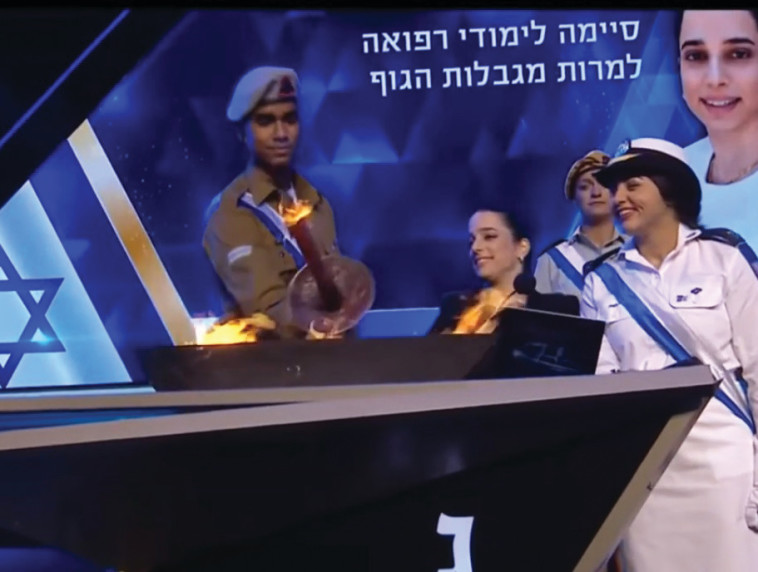 Oliel sees her specialization today in the pediatric ward at Shamir Medical Center as closing another circle. "I'm a doctor today where I was hospitalized as a child," she says. "Although in the ward opposite where I was hospitalized, but still, I did not plan for it to turn out that way. It is an unplanned closing of a circle, a dream come true. As a child, when I dreamed of becoming a doctor, I hoped to do the internship there, and it happened. "
Do you receive messages from parents of children with cerebral palsy?
"Non-stop. Now, after getting the degree, similar to the time I carried a beacon, the amount of referrals has gone up. Because I have a busy and intense work schedule, I do not always have time to answer all the messages, but I try to answer all of them. "This exciting amount of messages makes me realize that I did the right thing when I chose to go this route with all the difficulties."
What is your professional ambition?
"My plan is to specialize in pediatrics and then pediatric neurology."