Not many years ago it was forbidden to name the name of cancer in the voice. "He has the disease," they would whisper, that no one would hear. And as with physical illness even more so when it comes to mental coping – no one said depression, no one said anxiety, and no one said mental illness. In one word, shame.Things are starting to change, and those who give a boost to change, are the celebrities who reveal in the media their various struggles, both physical and mental. It happens in the world, it happens here too. And yes, it produces change.
In 1991 basketball player Magic Johnson revealed that he was a carrier of the HIV virus, the HIV virus, and shattered quite a few stigmas. Angelina Jolie revealed in a brave column to the New York Times that she underwent a double mastectomy after carrying the BRCA gene Which significantly increases the chances of developing breast and ovarian cancer. As a result, many women around the world have been exposed to the subject. Basketball coach David Blatt has brought MS out of the closet, from which he suffers and raised awareness of the disease. Singer Demi Lovato has revealed she has bipolar disorder, Kim Kardashian has not been ashamed to talk about psoriasis (including posting unflattering photos on social media), and Alan DeGeneres, Jim Carrey, Brad Pitt said they suffered from depression.
"I release many women who do not know it is an option"
In Israel, too, quite a few celebrities spoke openly about the physical and emotional fragments of their lives, and took quite a few people out of the closet of shame. One of the most prominent is Nofar Ayalon, founder of the Mayumana band. Choreographic artist, mentor and lecturer. At age 33, she contracted breast cancer and first discovered she was a BRCA carrier. She underwent partial resection, chemotherapy treatments and surgery to remove the ovaries. A year ago at age 49, she contracted a new cancer of the same strain, and decided to amputate both of her breasts without reconstruction.
In October 2020, Ayalon was photographed for the cover of "Laisha" magazine, with her chest exposed and provoked a wave of reactions in Israel and around the world. At the same time she came out with a series of lectures called "Who Needs a Shirt at All", about breaking conventions and freedom of choice. "It's an important issue and I see it as a kind of mission," she says. Even when she went through cancer at the age of 33 she shared as much as she could, walked around with baldness, and to everyone who asked she answered without hesitation "is this from the cancer and what is your excuse?".
When celebrities make mental illnesses normal
Why share?
"I'm a blood documentary. There are four films about me, I did 'Connected', I have a personal column I wrote for 'Lady Globes', and now the stories on Instagram. I'm committed to projecting the truth out. The first thing I did was create a clip. I did not know if it would be my last piece or docu. I'm not a person digging in a cave. I'm not ashamed of anything I went through. Some days I feel very weak, but everything is out. I do not do it because I am known, "Maybe I'm known for doing that."
Did you know that the picture and the whole discourse will make so much noise?
"I initiated the front page of the paper. I felt that despite all the talk, as long as I did not really put it in the front, I would not be able to normalize it and free myself from explaining my choice. That it would be a mission. I did not know it would explode in the world, that it would be translated into 22 languages, and that I would spend the year interviewing, corresponding and meeting women from all over the world, from Dubai through conservative Venezuela, Canada and China. It was an unconventional act New, and for the right to love who you are, it was not a conversation about the disease. I lowered my breasts thanks to you. '
Were there any comments that surprised you?
"Yes, young women have seen me as a model for femininity, and that gives them a lot of power. They see me as something loose, I'm breastless and I feel stunning, I dance, I have a 32-year-old boyfriend and I fly for life. But the difficulty is not hidden either. There was a woman An adult who wrote to me all her life hid that she had no breasts, and suddenly felt liberated and told her grandchildren about it. I gave a voice to someone who was in her own prison. To amputate an organ is dramatic. "Feel comfortable in their body. It's wonderful."
Nofar Ayalon is currently working on a lecture that will be published in March, "I call it a lecture," she says, "a format in which I present my approach to creativity and freedom in any way I can from video art, music and also discourse."
"I froze semen for safety"
Actor Mike Burstein, revealed in a routine checkup that he has prostate cancer, three years after his wife died of ovarian cancer, that was 23 years ago. Since then he has decided to become the "ambassador" of the disease. "If they had not revealed it to me in time, I would not have talked to you today," he says. "I discovered this in a routine test I do every year since the age of 40. In that fateful test I had a PSA test, a blood test recommended for every man over the age of 50. A test that can give a sign if there is cancerous activity in the prostate. I did what is not recommended to do. "On Google, I came out completely confused, not to mention frightened. It drove me crazy. The doctor recommended I have surgery and get rid of it when it's still small."
Burstein then had a relationship with his girlfriend Ziona, who later became his wife, he honestly revealed the fear that many men have infertility and impotence as a result of surgery. "Back then there was not yet the 'Da Vinci' robot that performs prostate surgery on a minimally invasive robotic surgery," he describes, "then the prostate would be cut along with the nerves, and there was a risk of infertility and impotence. I was operated on with a new method without nerve contact. I have 2 children and I did not plan anymore, but I froze for added security. "
At what point did you feel you wanted to share?
"I got an offer to star in a musical about Al Johnson. I did not want the producers to know I was having the surgery, a week before a flight to New York, so in the first days I did not tell. The Israel Cancer Society asked me to speak at the conference about the importance of testing. "Ziona talked about the treating side. Without her, I do not know how I would have gone through the recovery process. Hundreds of men die today from the disease just because they were not tested, the Israeli macho simply refuses to do a life-saving blood test."
What did your exposure do?
"The goal is to inspire both men and their wives. Let them understand that it is not a shame, on the contrary. It is a responsibility to yourself and your family to go once a year and get tested. By the way one of my children passed the test at 40 because of family history "He has already undergone easier surgery."
What responses did you get?
"Especially from women who admitted to me that I was responsible for going out in public. They sent their husbands to be tested. It gives me a lot of satisfaction to encourage men to do the right thing. It makes them something to hear from someone who has been through it, someone they know. I use my reputation for good, save. "Life. This disease is not a shame."
Burstein, by the way, feels great, thank you for asking, these days he is busy over his head in Los Angeles directing and dubbing into English foreign series of Netflix including the Israeli "Fauda." "I discovered a new career," he says, "today the dubbing is very professional, I choose the best players. It changed the whole approach to dubbing. People sit at home with the iPhone and iPad. Do not want to read subtitles."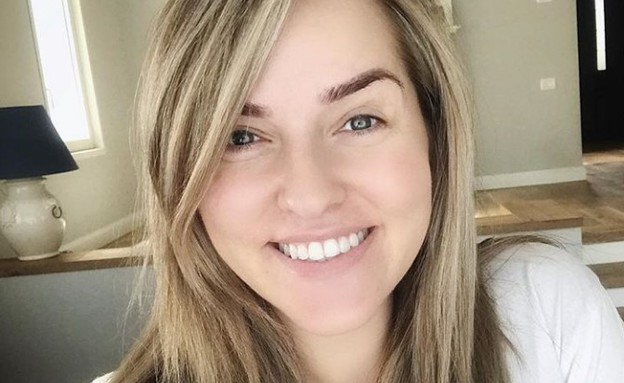 "Almost all women who have had births have it"
Ashley Waxman Bakshi, the businesswoman, is the content creator, and the network star fully understands the importance of exposing celebrities, and their impact on the environment. With 300,000 followers on YouTube and a similar number of followers on Instagram, it reaches quite a few people, and completely makes a difference. A few years ago she revealed the acne problem she was suffering from, spoke courageously about the lump they had removed from her breast, and a few months ago she did it again and shared with hundreds of thousands of followers who underwent abdominal muscle separation surgery – rocket diastasis, umbilical hernia and tummy tuck. She uploaded a picture of her bandaged belly and did not hide anything. Many women are not even aware of the phenomenon of abdominal muscle separation after childbirth. Waxman's exposure has undoubtedly contributed quite a bit.
How did you find out?
"After the births (four children) I always went back to doing sports. I did a lot of sit-ups and exercises to strengthen my abdominal muscles and nothing helped. After the fourth birth I went to physiotherapy because of something else. The physiotherapist advised me to stop doing sit-ups. I lost a lot of 25 kg but The abdomen protruded more and more. In the state of muscle separation, it became clear to me later, the stronger the muscles the more prominent they are. Earlier this year in surgery to remove a lump from the breast, which also involved a plastic surgeon, I asked him what was going on with the abdomen. He explained to me that I had muscle separations. This is what makes the belly stand out. I needed surgery, I also had a lot of excess skin and on the way I had a stretch of the skin.
I started reading about the subject, and realized that almost all women who have had births have it. If you do physiotherapy at an early stage and avoid exercises such as sit-ups, surgery can be avoided. Unfortunately most fitness trainers are not even aware of this. Apart from the aesthetic side which is very important especially for women who do sports, maintain a diet and do not understand why they still look pregnant. But there is also a health aspect – there is a link between abdominal separation and poor functioning of the abdominal muscles and pelvic floor muscles. It can cause severe pain in the lower back. For me it got worse with a umbilical hernia. It turns out that this has something to do with constipation as well. From a body point of view, this is not normal. "
Ashley Waxman Bakshi underwent breast surgery
How many ads did your advertising make?
"Fitness physiotherapists who specialize in postpartum fitness write to me, 'You have no idea what kind of service you do to women. They do not know it exists at all.' Exactly exercises that simply should not be done because they cause aggravation. Women should know to ask the family doctor for an ultrasound to examine the abdominal muscles. The knowledge is enough to go to physiotherapy, and find out which exercises are allowed and which should not be done. "The same thing. If people like me do not raise awareness, who will?"