It started even before the Corona, and the last two years that have raised the level of stress and anxiety, have further increased the need. You could already call it a trend. Many companies today understand that concern for employee health creates a WIN-WIN situation and accordingly invest thought and creativity in the subject. On the one hand the employee improves his lifestyle and health, and on the other hand the organizations get a healthier, happier and more efficient employee.Not that it needs "confirmation," but the World Health Organization released a report a year ago with the unequivocal conclusion that mentally and emotionally healthy employees contribute much more to their workplace. For an increase of about 37% in the company's sales, for an increase of about 31% in the efficiency of employees, with a gap of 10 times less in demand for sick days.
The big companies have been doing this and in a big way for years. Google has a fully equipped gym, showers and locker rooms, a massage room, a manicure and a hairdresser. Microsoft has launched an innovative and ultra-green campus that includes a huge gym, yoga room, music room, community garden, prayer houses, children's rooms, nursing rooms, dog park, sports fields. The entire campus is accessible to populations with various disabilities, and there are also six food complexes. Intel has pampering restaurants, music rooms and music lessons, various games rooms, spa, postal services, optics room, basketball court, gym, nursing rooms, massage chairs, work treadmill stand – walking while working, nurse room where you can get vaccinated In influenza vaccines.
Not all companies have the budget, but even with a lower budget, it is possible to do quite a bit for the well-being of employees. You do not have to have fancy dining rooms and grandiose massage corners. Here is an example of four Israeli companies that make you want to not work from home:
Anonymous mental health care and health room
Impreva, a cyber company in Tel Aviv and Rehovot, conducts workshops and lectures to deal with crises and promote a healthy lifestyle for employees and their families. The company has developed a unique program called EAP in collaboration with the "Situations" company, in which employees can anonymously receive assistance and advice from mental health professionals. Since the Corona some of the work is still done at home, and each employee is entitled to $ 500 from the company to utilize for home equipment in the field of sports of his choice.
In the kitchenettes in the company's offices you can find a food processor and frozen fruit for making smoothies and every morning the kitchen is filled with fresh fruits and vegetables, granules, yogurts, cheeses and healthy spreads. In addition, a "health room" has been set up that includes adjustable standing tables, physio balls, additional ergonomic aids, and sports equipment. There are also work stations with massage chairs.
"During the Corona period, we had a lot of lectures on sleep, and how to deal with anxiety," says Aka Bronstein, who has worked for the company for a year and a half. "I received helpful tips that helped me work from home efficiently and healthily. When working from home does not always know how to manage time and it is detrimental to health. We have an app that reminds me to take a break and have lunch."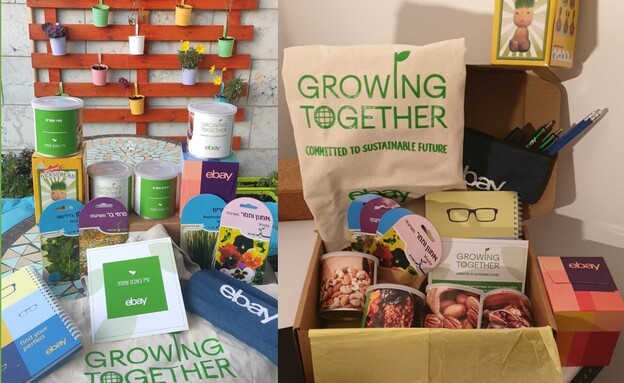 EBAY: Three months maternity leave for men
One of the most original things in the international trading giant EBAY is the hydroponic garden located in the company's offices. A team of gardeners from among the workers plants lettuce, tomatoes, cucumbers and other vegetables, and the workers are invited to pick, eat and take home. Some of the growth was donated with great love to Holocaust survivors. A few months ago, the company held an award-winning Healthy Lifestyle competition, in which all employees participated. At the center of the competition was the question: who will be able to walk more. Employees shared with each other the amount of steps in Slack (an internal organizational communication platform), and encouraged each other. There was a family competition, when the task was to make a particularly healthy sandwich and photograph it. This week also included lectures on quality sleep, healthy eating and an inspirational lecture by Jordan Jerby.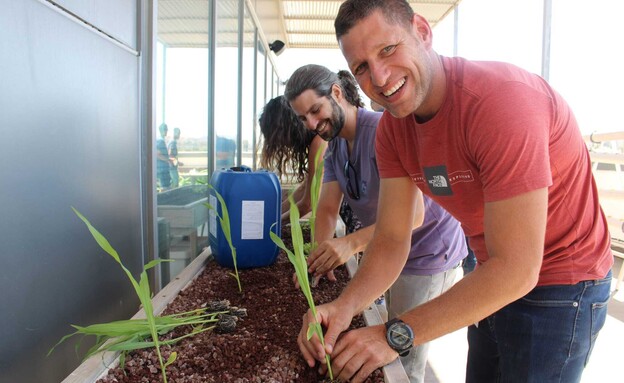 Routine workshops and fitness training have moved to an online format, while at the same time the company's physical facilities have also been upgraded. Each meal includes vegetable platters, fruits, healthy yogurts, granola, and a variety of other health options, along with cookies and ice cream for those who crave something sweet. Many new devices and mini weights of various sizes will soon be put to use by employees in order to allow them a sporting break during the work day. A basketball court was erected on the roof of the building and once a year a special tournament is held to which teams from seven other high-tech companies are invited, including a health happening that encompasses the event.
"Throughout the two years of the Corona, we sent employees home packages, and the emphasis was always on consideration for all employees," says Adi Sitchuk, director of employee experience. -Today there is a global website that gives an envelope for the whole period. Both through lectures and through yoga classes. Every employee is welcome to make suggestions for improvement. For example one of the employees raised the need for a soda faucet in the kitchen. We added. "Check that everything is optimal in terms of comfort. They can take their chair away from the office. There is also a maternity leave for men for three months if they wish."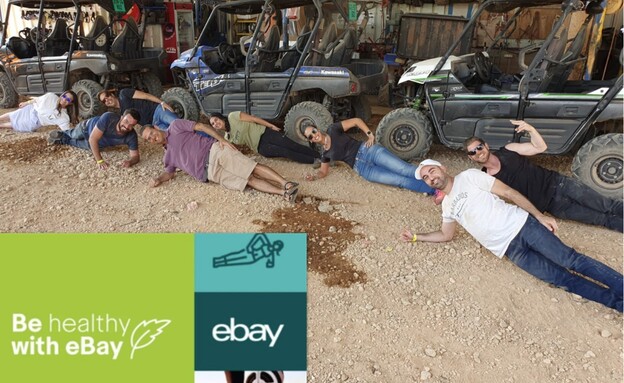 Healthy cooking workshops and lectures on parenting
SQLINK is a high-tech company in the stock exchange complex that provides software and hardware services. The healthy nutritional offerings include smoothies and natural juices squeezed throughout the day. Breakfasts that include a variety of health-purity options, such as oatmeal, fruit and sesame and vegetarian lunches. The quality raw materials come from organic interfaces, which will not harm while also purging the local agriculture. This year, the company began incorporating superfoods into meals as well.
The health programs do not only end in the kitchen and they also include healthy cooking workshops and lectures by key culinary professionals on the subject of proper nutrition. A healthy diet has even been able to help some workers overcome the health problems they have suffered from. "One of the facts, which was anemic, was a recommendation from a doctor to eat a lot of animal food. Although she tried, it did not help," says Maayan Mardo, human resources manager. "Only when she adopted our diet and persevered at home, did her hemoglobin and iron levels rise. I myself suffered for many years from various stomach problems. Tamir advised me not to eat dairy products. I did not think I could survive without the cottage and milk, but I changed my diet with substitutes. "And my physical condition has changed miraculously."
Also mental health and physical fitness up front. Before the corona regular yoga classes and heat training were given. Since the corona training has shifted to zoom, and anyone who wants is welcome to attend after work. Most recently, the company signed an agreement with Group Hague, an initiative of actress Yuval Sharaf, which includes lectures on personal development, positive psychology, and parenting. All employees have a free subscription to lectures. Mental health is linked here, among other things, to love and this is also taken care of in society, once a year a singles event is held to which single men and women from all high-tech companies are invited.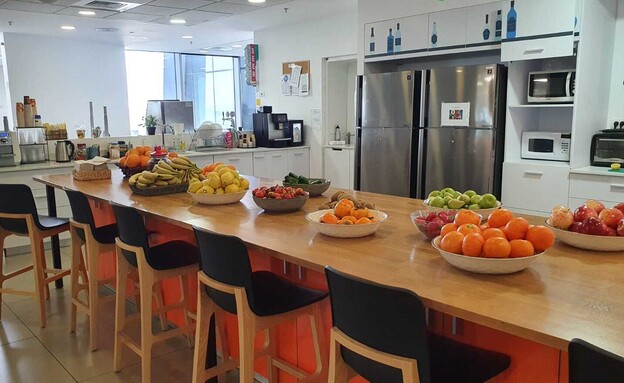 Weekly challenges and running sessions
In a control company that deals with virtual worlds, divide the month so that each week will focus on a different topic. One week for the body, one week for the mind and one week for the mind. Each of the topics is accompanied by lectures, workshops and challenges such as: "The Water Drinking Challenge", "The Cold Shower Challenge", "The Highest Step Tax Challenge". The outstanding employee in each challenge wins a prize.
"The company maintains a healthy kitchen, fruits and vegetables are always available at hand and come directly from the farmers. We also have a candy drawer for those who feel the need for something sweet." Says Lior Shai HaCohen, Human Resources Manager, "The need arose mainly around the Corona, people stayed at home and invested less in themselves. We made sure to constantly give them tools for a healthy lifestyle. For example we had a health month for the whole family including children, with workshops for making healthy snacks. Lectures. Related to mindfulness and mental health. A lecture that taught people how to read food labels. We did parallel running sessions at Rishon Lezion Beach and Zoom.
"Before the corona everyone was pretty worried about themselves, but we started to hear crouched voices, and we felt we needed to lift their energy. It was very important to explain how to work from home. To convey the message to stay healthy indoors as well. "Saving from life. Like suffocation, and cardiac arrest."