The changing trends, the increase in the number of people suffering from food sensitivities and the changing health habits – one way or another, there seem to be many reasons why in recent years gluten has lost much of its popularity. In contrast, gluten-free flours have gained much sympathy among celiac patients, allergic and gluten-sensitive, but also among the general population. Those who have adopted them to their plate enjoy a delicious and nutritious alternative to the various wheat products, which contains an abundance of nutritional values."Thanks to the high demand for quality substitutes, today you can find many gluten-free products – healthy and tasty. You can consume them on Passover, combine them occasionally throughout the year or make them the basis of your diet," says Ortal Rubin-Chen naturopath ND, who lists gluten-free flours. . Rubin Chen points out that a considerable part of the flours are based on legumes, and therefore they are not suitable for those who refrain from eating them on Passover.
Orange lentil flour: rich in protein, minerals and antioxidants
This flour is made from orange lentils and this is the reason for its staining color. It is suitable for making a vegan omelet (wait, there is also a recipe below), for pancakes, as a base for pizza and you can even make or make pasta from it with a wonderful taste and texture. By the way, it is not very complicated to make orange lentil flour at home – just grind orange lentils in a spice grinder or a quality blender until you get a fine powder. It is important that the lentils and grinding utensils be completely dry, because rinsing with water or moisture will immediately destroy the flour.
Lentil flour is rich in protein, dietary fiber, iron, zinc, potassium, folic acid and saponins – phytochemicals – anti-cancer. Even if you are not into the lentil segment, there is a good chance that you will like the flour, because the taste of the lentils in it is not dominant.
Chickpea flour: excellent as a substitute for egg
The chickpea flour is ground from chickpeas – some roasted and some not. This fact may be what explains the difference in the flavors of chickpea flours produced by different companies. Chickpea flour is rich in protein, dietary fiber, folic acid, iron, calcium and potassium. Adding a liquid gives it a sticky texture, which makes it useful and very common in vegan recipes, as a substitute for eggs. It is great for making patties, pastries and pies that require eggs, but it is also great for recipes that do not require such a substitute. You can make or buy "flakes" from chickpea flour, crackers and even the flagship hit – Burmese tofu, which is easily made from chickpea flour at home.
Taff flour: rich in minerals and protein
Teff is a gluten-free grain, grown mostly in Ethiopia, and is also suitable for celiac patients. It is rich in minerals like iron and calcium and contains a fair amount of protein. Most people who hear "teff" imagine fermented and sour injera – Ethiopian bread reminiscent in appearance of the Yemenite calendar. This is definitely a wonderful way to consume teff, as it neutralizes some of the phytic acid and tannin in the grain, which may reduce mineral absorption. However, it is certainly possible to consume this flour even without fermenting it. Its natural taste is not sour at all.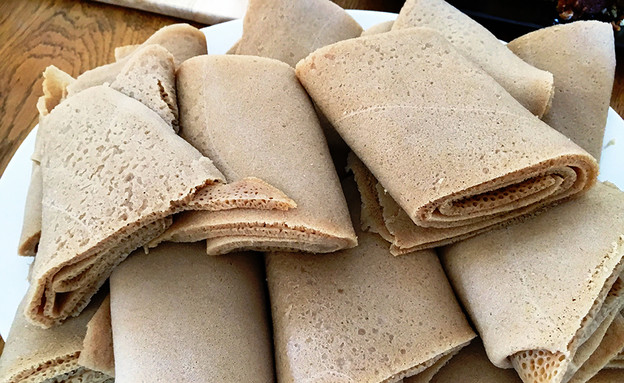 Buckwheat flour: The green does not give off a dominant odor
Buckwheat is probably the grain most identified with Eastern Europe. Roasted buckwheat has a characteristic, dominant odor that is hard to ignore. In recent years, the use of green buckwheat has become more common. Robin Chen points out that this is exactly the same grain, but without the roasting and also without the side odor in question. Like the other types of flour mentioned here, buckwheat does not contain gluten, and is rich in protein, iron, zinc, selenium, and antioxidants such as bioflavonoids and quercetin. One of the hottest trends this year is the green buckwheat crepe / tortilla.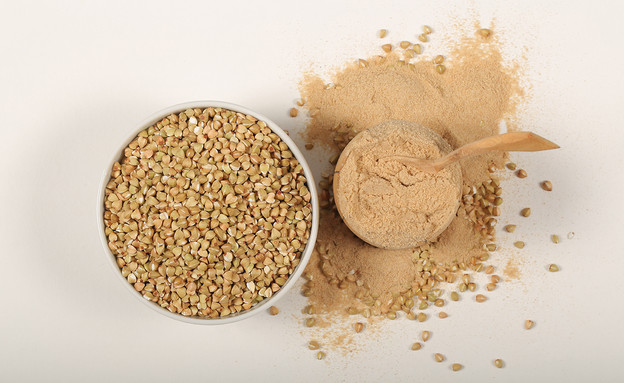 Quinoa flour: A plant that contains all the amino acids
Although quinoa is known as the "mother of all grains", in botanical terms it is defined as a plant with flowers. It is certainly rare to find plants that contain all the amino acids (the building blocks of the protein), but quinoa contains them all and is therefore a great plant source for complete protein. Like other flours, quinoa flour is also produced by grinding dry grain. It is gluten-free, rich in protein, dietary fiber, minerals and saponins – anti-cancer substances. You can enrich foods with it and even buy apple quinoa and use it like in cereals or add to foods like yogurts, salads and more.
Almond flour: rich in fats and proteins and low in carbohydrates
The almond flour is ground from the dry almond. If you grind the almond with its delicate brown rind, you gain a greater amount of fiber. On the other hand, if you grind it without the peel, you get a whiter and smoother flour. Almond flour can be ground on its own at home, but even in this case it is important to use a strong, high-quality blender that can grind the almonds into a powder without using liquids.
Like almonds, flour contains wonderful ingredients such as dietary fiber, vitamin E, B vitamins, calcium, iron, potassium, phosphorus and folic acid. It is rich in fats and proteins and low in carbohydrates, so it is also suitable for diabetics and those who avoid carbohydrates. It is important to know that many of the great properties of flour are destroyed by heating, so it is healthier to eat natural almonds in their entirety – unroasted and unsalted.
The flour is very suitable as a coating instead of bread crumbs for vegan schnitzel or chicken schnitzel, and is also excellent for baking cakes and pastries – on Passover and throughout the year.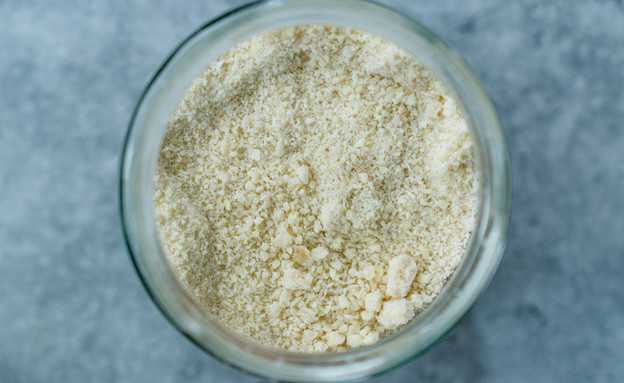 Oatmeal: Look for the "Gluten Free"
Although the popular oatmeal does not contain gluten, it is grown in fields close to wheat, so it is recommended for those who suffer from wheat allergy or celiac to choose oat products that are defined as "gluten-free". Oats in these products, grown in fields far from wheat. This is not another variety of oats, as it is not the problem.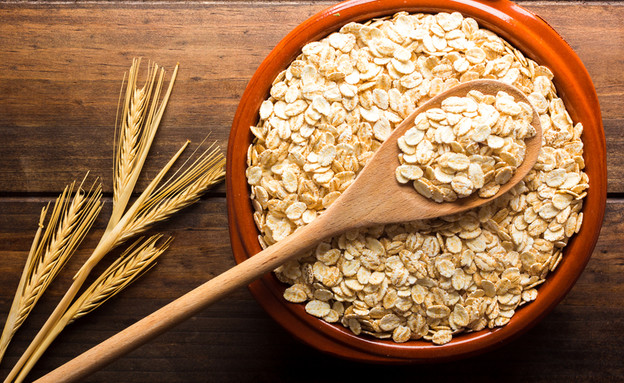 Gluten-free is not necessarily healthier
Robin Chen clarifies that although the flours mentioned are suitable for celiac / allergy / gluten sensitive patients –
It is important to pay attention to the quality of the food and choose quality flour because no such flour is indeed considered healthy and nutritious. "Some flours are based on potato flour or other flours that are very starchy. These contain a very large amount of carbohydrates and sugars. For example, the average caloric value of a bun made of flour containing this type of starch is about 400 calories, while a bun made of similar wholemeal flour will contain Less than 200 calories, and will also include a larger amount of dietary fiber alongside a lower glycemic value, which will allow a longer feeling of satiety.
In addition, some gluten-free products consist of long lists of ingredients, most of which are lesser known such as: stabilizers, emulsifiers, preservatives and more. All of these indicate that this is a processed product and less recommended. Therefore, bottom line should be remembered that the fact that a product does not contain gluten does not necessarily indicate that it is healthier. It is best to avoid these as much as possible – on Passover and throughout the year and to prefer quality gluten-free flour products.
Omelet, pizza and crepe – 3 gluten-free flour recipes
Want to try gluten-free flour dishes? This is not really a story. Follow Robin Chen's instructions.
Vegan omelet:
what is needed?
Tablespoon orange lentil flour
A tablespoon of chickpeas
Tablespoon of olive oil
Half a glass of water
Spices of your choice (cumin / green leaves / onions / mushrooms, etc.)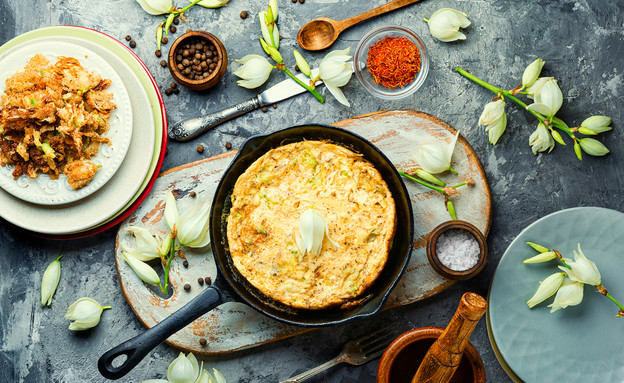 What to do?
Add the ingredients to the bowl in order, stirring slowly to create a smooth and thin batter.
Add seasoning to taste – cumin / green leaves / onions / mushrooms, etc.
Transfer to a pan with a little oil, cover with a lid and occasionally check for bubbles. When they appear turn over and continue frying without a lid until lightly golden.
Orange lentil flour pizza
what is needed?
A cup of orange lentil flour
A little oregano
For the sauce:
Tomato paste
Little water
Crushed garlic clove
oregano
Tastings to taste (mushrooms / corn / olives / onions)
Sesame for garnish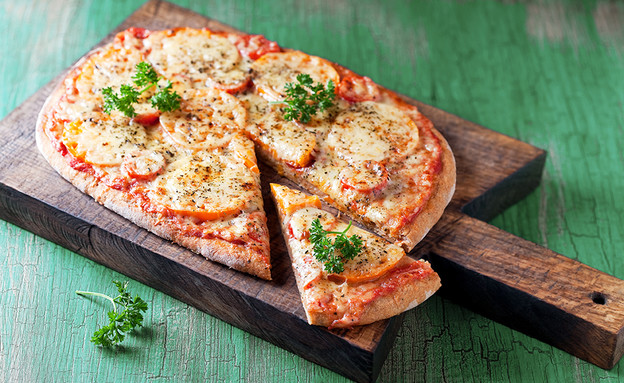 What to do?
Prepare the sauce: Mix a can of tomato paste with a little water, a clove of crushed garlic and oregano. Keep aside.
Put lentil flour and oregano in a bowl, mix and slowly add a glass of water while stirring until smooth overnight.
Transfer to a pan and place in a preheated oven at 200 degrees for 15 minutes.
Remove and pour sauce over the "dough", and add over mushrooms / olives / sweet potatoes / onions.
Sprinkle over vegan / yellow / Bulgarian cheese and sprinkle whole sesame seeds on the edges, to create a crispy texture.
Return to the oven until lightly golden.
More at Mako Health:
>> Do you like spinach? There's something you need to know
>> Research has found another benefit to the corona vaccine
>> Do you have a strange taste in your mouth? This may be the reason
Green buckwheat crepe
what is needed?
1 cup green buckwheat soaked for two hours in water
Glass of water
A little salt
Season to taste (dried basil / garlic powder / oregano)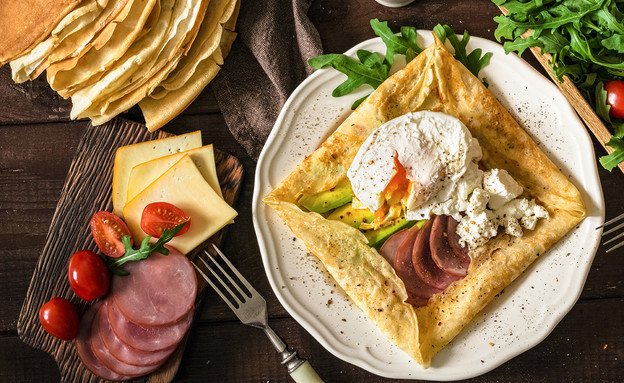 What to do?
Pour out the water in which we soaked the buckwheat.
Transfer it to a blender and add: a glass of water + a little salt + seasoning – green / dried leaves to your taste.
Grind to a thin mass and immediately prepare crepes on a lightly greased pan over low heat.
You can freeze the crepes with baking paper in them and heat a little before eating.