At a good and successful time, Hapoel Beer Sheva star Dor Micha got married tonight (Monday) with the choice of his heart, Almog Bar Noy under a canopy and kiddushin in the 'Trask' halls in the Tel Aviv port, and the whole football world came to Pargan at the biggest football wedding seen in recent years.
After leaving Maccabi Tel Aviv following the "footballers and minors" affair, and as is well known, the case against him and Omar Atzili was closed out of innocence exactly a year ago, now the southern team's relationship is embarking on a new path and changing marital status to married.
<!.. /43010785/sport1/desktop/all_regular_ad_units/article_728x90_2nd ..>
Watch Dor Micha at the Kiddushin parade under the canopy
<!.. Start of Brightcove Player ..>
<!.. End of Brightcove Player ..>
<!.. /43010785/sport1/desktop/all_regular_ad_units/article_728x90_3rd ..>
At the reception, Alona Barkat was among the first to attend the glittering event and talked with Matan Hozaz and Idan Vered, until the rest of the league's stars and seniors in the industry began to wash the place in droves: Zehavi who came especially from Amsterdam, Maor Bouzaglo, Omri Glazer and Shira Morag his fiancée, David Keltins and his partner, Avi and Maayan Rikan, Omri Ben Harush, Roi Kehat, Ayalon Almog and Yarin Hasson his partner, Tal and Lian Ben Haim, Or Luzon, Itai and Liz Schechter, Dan and Liat Einbinder, Ben and Liron Shehar, Eyal and Mai Golsa, Ben and Yuval Bitton, Maor and Hadas Kandil, Bar and Hanan Maman, Ben Reichert, Yossi Benyon, his coach Roni Levy, Odelia and Masai Dego, Eliran Atar, singer Dana Lapidot and her husband Yossi Burns, Asi and Adi Bouzaglo, Sharan Yeni, Gilad and Ronen Katsav, Andre and Patricia Geralds and more.
<!.. /43010785/sport1/desktop/all_regular_ad_units/Article_728x90_4th ..>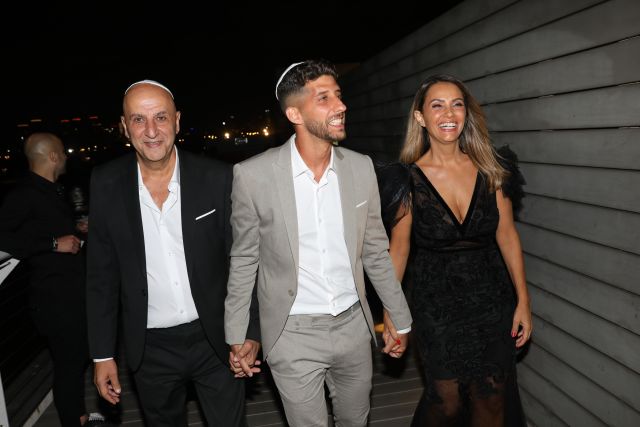 Almog, wore a dreamy and classic wedding dress for her and her footballer's happiest day, with the designer of the women's footballers, Or Ohana, and Harel Margalit Efer in charge of the hair. The culinary at the glittering event was after Chef Tal Habash from "Pepper" Catering, who built a special and prestigious menu for Dor and Almog. At the moving canopy the rabbi told Almog just before breaking the glass: "Neither the World Cup nor the Champions Cup will be enough to gauge his love for you."
The guests also enjoyed a performance by Moshe Peretz who bounced everyone and danced into the night at the huge wedding that sealed the summer and brought a lot of happiness to the Micha family that the whole Israeli football world loves. Next week, in the exact same hall, Yonatan Cohen, who was invited to the team, and his fiancée Roni Edri, who managed to land from Italy and attend the event of Micha and Almog, will get married.