The goalkeeper that the Israeli team will try to subdue in the critical game in the World Cup qualifiers in Glasgow on Saturday, has already practically retired from football almost a decade ago. In early 2013, Craig Gordon admitted that his chances of returning to the grass did not look bright to say the least. He had suffered a chronic knee injury for two years before, the surgeries were to no avail, and he went on to try his luck as an assistant to Dumberton in the minor leagues. "I want to stay in the game, and that's the solution right now, because I'm really not sure I can continue my career. The goal is to recover to get back into action, but the news I get from the doctors on this issue is not encouraging," he said sadly at the time.
For Scottish football it was a great loss because Gordon – a Edinburgh native and a die.hard Harts fan since he can remember – was defined as a prodigy when he shone in the uniform of his beloved team at the start of the millennium and was an anchor between the team's beams. His name is linked at some point to Manchester United, and Arsenal have seriously considered signing him in 2007 as a replacement for Yannes Lehman. In the end, Sunderland actually won his services, but she paid a lot for the pleasure. Harts received £ 9million, and Gordon became the most expensive goalkeeper to be signed by any English club. It was only four years later that the record was broken when David de Gea arrived at Old Trafford from Atletico Madrid, and that happened when the Scot was already out of the game.
His tenure in the black cat uniform was excellent, however it was interrupted time and time again due to medical issues, and by 2011 it already looked lost. Simon Miniola took his place, and he himself became unemployed when his contract expired. It was a particularly difficult time, but deep down Gordon did not lose hope. Even when the knee refused to heal, he believed that maybe someday it would also come in a positive line, and refused to officially hang up his gloves. And here you have it – perseverance brought him a miracle. After 3 long years without football, he signed in the summer of 2014 at Celtic, and has not looked back since.
<!.. /43010785/sport1/desktop/all_regular_ad_units/article_728x90_2nd ..>
Life smiled at him at Celtic, and he filled in the gaps from before the injury. Five consecutive championships, many appearances in the Champions League (including assisting in the elimination of Hapoel Beer Sheva in the qualifiers in 2016), back to the team in which he took part in most of the World Cup qualifiers in Russia. Suddenly, Gordon was once again the leading goalkeeper in Scotland, and after such a long absence he even knows how to appreciate every game and game much more. Therefore, when Celtic had a chance to sign English Fraser Forrester in 2019, and the Scot lost his place in the squad, he preferred to give up a new contract that guaranteed him a handsome salary for sitting on the bench, and returned to his youth team. Harts welcomed him with open arms a year ago, gave him the captain's armband, and this affair is flourishing even more than in his first term.
Today, there are those who believe that the forced break helps him to prolong his life on the field. In December, Gordon will celebrate his 39th birthday, and he really does not intend to stop. "I will continue as long as I can, and if the injuries do not interfere it will take a long time. Gigi Buffon plays at 43, Tom Brady is still an excellent quarterback at 44. I draw inspiration from them. If they can, then why should I not try? ", He declared after the previous national team break a month ago, during which he made a crazy living and grabbed the headlines.
Because in recent years other veterans have been preferred over him. Alan McGregor Rangers, now almost 40, was in the crosshairs when Scotland met Israel in the League of Nations in late 2018. David Marshall, "only" 36, excelled in the last 4 encounters against Blue and White, including the zeroed draw in the illegal playoffs Euro at the end deflected Eran Zehavi's fateful kick in the penalty shootout. Also at the European Championships itself in the summer Marshall was the first goalkeeper (and absorbed that goal from Patrick Schick, among others), but this season he got into a personal crisis with Wayne Rooney in Derby County, this season he was pushed to the podium, so national coach Steve Clark chose no more. Gordon was happy to return to the center of the stage, and certainly proved himself.
<!.. /43010785/sport1/desktop/all_regular_ad_units/article_728x90_3rd ..>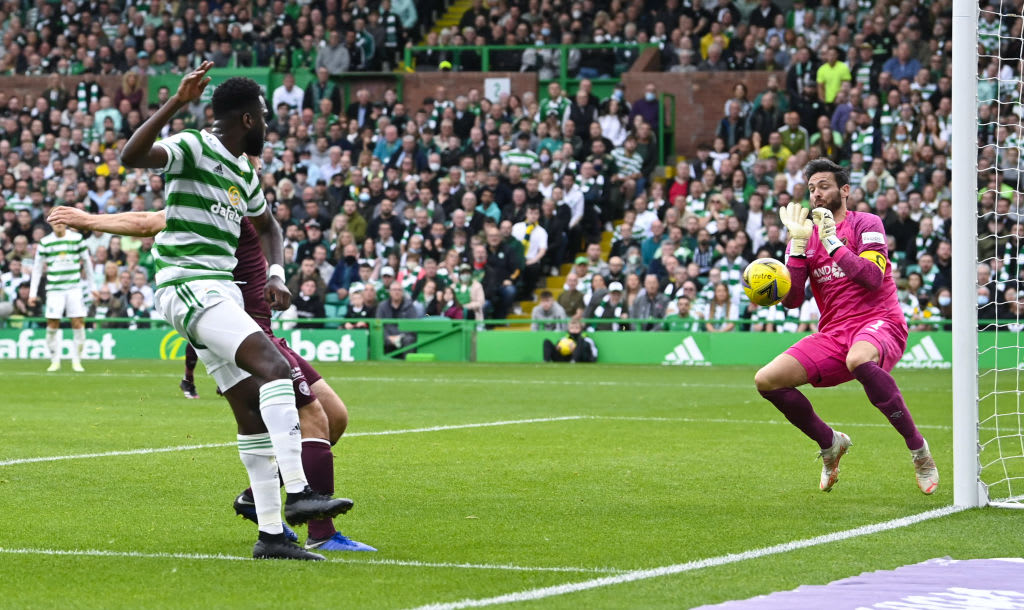 It started with a 2.0 loss in Denmark and a 0.1 win over Moldova, but the really big game was in Austria, where Gordon kept a clean sheet en route to a 0.1 draw and the Scots are in a fantastic position in the battle for second place. If they do not lose to Israel, they will be very close to securing a ticket to the playoffs, and the Harts goalkeeper is the main character. He, too, like Marshall, wants to make Goldie cry to meet the national mission.
For him, the momentum just couldn't be better. He not only stars in the national team, but also marches Harts to a brilliant season, with the best defense in the Scottish league today – just 5 mandatory goals in 8 rounds. It is the only team that has not lost yet, and one point separates it from the leading Rangers, while Celtic is far behind. Gordon had already been beaten by Gordon in the first round, with 1: 2 against Liel Abda and Nir Bitton, and all the fans on the Bordeaux side of Bordeaux praise the man who was chosen to the club's Hall of Fame sometime in 2007, when he was 24 years old.
Assistant coach Lee McColluk recites: "Craig is wonderful in every aspect of the goalkeeping role. He is a leader, navigator, has instincts on the goal line, takes height balls, has a good footwork, he radiates confidence to his teammates. Throughout his career, his performances have been outstanding "
Not bad for someone whose career was wiped out a decade ago. Now Gordon also wants to take part in the World Cup at the age of 40. Will Israel destroy his ambition?