About two years ago, the Olympic medalist, former judoka Arik Zeevi, found himself in a routine evening telling a bedtime story to his little daughter Omar, then 6. That evening, instead of choosing a book from the shelf as usual, Zeevi came up with a story about a little girl finding herself in a judo competition. , And despite the fears manages to fulfill the dream of her life, participate in the national judo competition and become a successful judoka.
"At the basis of the story is Noa, a short and thin girl whose coach asks her to compete with girls bigger and stronger than her and she is afraid, but then the coach explains to her that the fighting spirit is more important and that she has other advantages," says Zeevi. "Omar, my daughter, was born in November, and was thin and short for her age. I saw that it bothered her a lot, so I decided to tell her about moving to create identification and motivation. As I invent something to say about the place, I see that Omar, who is still thin today but less short, listens to me seriously. After she fell asleep I opened the computer and wrote the story. While writing I realized that I could develop this and engage in things that engage children like stress from competitions or tests, dealing with disappointment and apprehension. It took up more space than I had originally planned. "
Why did you choose the name Noa?
"We have glasses in the house that have the name NOA written on them – the initials of my children's names: Noam's houses, little Omer's and Amit's."
This story, which was born from the private moment of a father and daughter, is currently being published as the children's book "Noa the Little Warrior" (published by Kinneret.Zmora.Dvir), the first in a series of books called "Olympic Grade". "It is important to note Yael Gover who helped me target the book to the specific audience of children it is suitable for, that is, children who are in the early stages of reading, as well as to the illustrator Alina Gorban," says Zeevi.
What about you and writing children's books?
"I like to write in general, and whoever follows me on Facebook sees that I publish invested posts, what's more I have previously published various columns in newspapers, so it burns in me. I felt that in a sports story it is easier to convey to children the messages of dealing with disappointments, pressures and competitiveness, and this evolved into a series because to touch as many children as possible you can not just focus on one sport, but each sport has different coping and different tools. For example, the next book is about Yoav, the captain of a basketball team who, 20 seconds before the end of the basketball game, has the ball and the team loses because of it. He takes responsibility for the loss of his team, and the book describes his handling of this matter. "
What are the messages you convey in the first book?
"At the end of the book there is a sentence that is basically the mantra that I always repeat and pass on to my trainees as well: 'Whoever gets on a mat and competes – can never lose.' This is a sentence that accompanies me all the time because the one who failed – is the one who did not try to cope at all. I know how hard it is to get on a mat and compete in judo, it requires great mental strength, and for me whoever managed to get on a mat – dealt with himself and his pressures and fears. Ultimately, these struggles help to develop mental education and mental resilience. We always have to expose ourselves to new challenges and challenges, of course in the right dose. For children, sports, such as music, are a significant way to do this. "
To what extent do you put your personal story into the book?
"At the end of the book there is a small section of my personal story, where I write how I started my career and where I got to, but in the book itself the star moves unrelated to me in any way. From a young age I was very big and tall, so I was different from her. But the things she feels, like the butterflies before the competition and the fatigue before the warm.up, are things that I and everyone who practices judo feel all the time. The book touches on the deep aspect of making children get tools. "
43 seconds
Zeevi (44), a native of Bnei Brak, began practicing judo at the age of 7, partly following his brother Roni, the first judoka at the Hapoel Bnei Brak club to win the national judo championship. At the age of 15, he won the national championship for graduates and became the youngest winner in the country to receive this title.
Over the years he has become one of the leading and most influential judokas in Israel, with a resume that includes 12 Israeli Judo Championships, four gold medals, a silver medal and four bronze medals at the European Championships, a bronze medal at the 2004 Athens Olympics and a silver medal at the World Judo Championships. "My happiest and most prestigious medal for me was the gold medal in which I won my last European Championship in 2012, at the age of 35 and five months," he says. "I am the oldest to have won this championship. It was a world precedent. So unfortunately I did not put my name high enough at the top of the world in terms of achievements, but there is at least a European record for my name which is something I am very proud of ".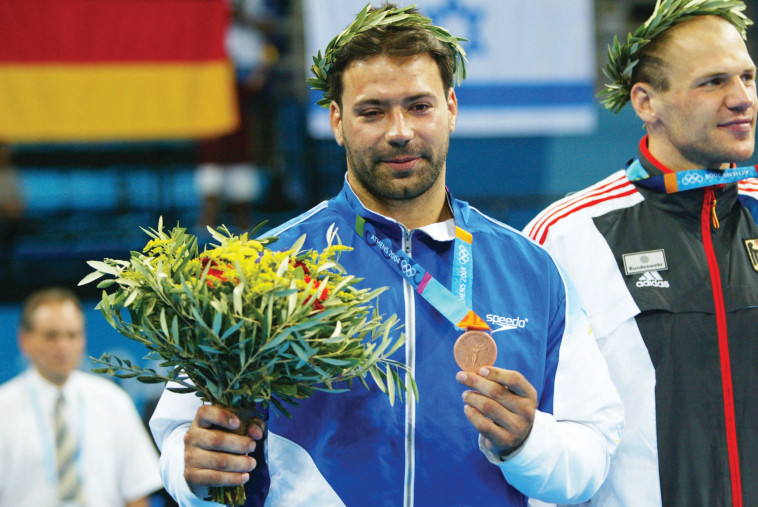 What is the experience that most burns in your mind from one of the four Olympics in which you participated?
"The experience from the Sydney Olympics in 2000, maybe because it was my first time at the Olympics, but maybe also because Sydney is not a city you visit every day, and after the Olympics I stayed a few more days in the city to experience it and enjoy it, which did not happen to me at the other Olympics. After participating in them, I returned to Israel. "
In 2012, Zeevi competed in the London Olympics and was surprisingly eliminated in the first round after losing to his German opponent Dimitri Peters within 43 seconds. After the loss he decided to retire from judo. "It was my mistake and my responsibility and I get mad at it, but I only blame myself," he says. "These days I'm coming out with a new lecture called '43 Seconds' that talks about dealing with this loss and failure, as well as the fact that I had to retire and reinvent myself."
In retrospect, are you complete with your professional decisions throughout your career?
"not really no. I can understand that philosophically there is no point in treading on it, but on the other hand if you do not learn from the past then how can you not be wrong in the future? If I do not regret things I did, it means I never made a mistake and it's too pretentious. I made a lot of mistakes. There are mistakes I made because I did not have enough knowledge then, there are decisions I did not make because I was not brave enough at the time and there are mistakes that also happened through no fault of mine and these are very annoying to me. "
like for instance?
"At the Athens and Sydney Olympics the mistakes were by the referee and not mistakes I made, and it annoys me a lot that if there was no referee making a mistake, the situation could have looked different and there is something very frustrating about that. There is no doubt that there are big mistakes I made, that if I had not made them I would have been somewhere else in my career. "
Are you complete with your place today?
"I have no choice. Every now and then I remember these things and get upset with myself, but I move on, life goes on. I try to put my sporting career behind me and deal with where I am now in life and try to live the next things ".
Revolutionary change
In recent years, along with judo training he conducts and being a judo commentator, for example at the Tokyo Olympics, Zeevi has focused mainly on lectures on his personal story and on the development of the association he founded, "The Foundation for Olympic Excellence in Israel." "This is an association whose goal is to change sports in Israel," he says. "I have initiated projects around the country that aim to locate talented children and build them. I'm trying to get into a vacuum that exists in Israeli sports at the age of children and youth, and I do not just mean judo.
"In the end, Olympic athletes get insane and unprecedented support in Israel, but those who come to this sport usually come by chance, like me for example, that the coach was my neighbor and if not him, I'm not sure I was in this field. "12 medals at the Olympics, a revolutionary change is needed. The association allows each child to experience three or four sports and ultimately find the sport in which he is the strongest and which he can cultivate for achievements."
His daughter Noam, in seventh grade, has been the Israeli gymnastics champion for three years in a row.
How are you with your daughter in competitive sports?
"All my children are involved in sports because I believe in it as a way of education and as a way of life. My son Amit is the Israeli Judo Champion, my little daughter Omar is involved in sports. I did not know if they were talented to be competitive athletes, but it was important to me to instill in them the consciousness of sports and it turned out that they are competitive athletes, except for Omar who is still small for that. I am happy for them and think it is great fun to be a competitive athlete, it is a very special experience. "
What do you think about the status of judo in Israel?
"When Yael Arad and Oren Samadja brought the first medals, I remember asking one of the senior members of the Judo Association why not write about this industry too much in the newspapers routinely, and he said that only Olympics is interesting or football and basketball. I told him I was praying it would change. When I won my first medal I got a few lines in the paper. Today I am happy to say that we are in a good place. Although football and basketball are still popular, there is international success and achievements. "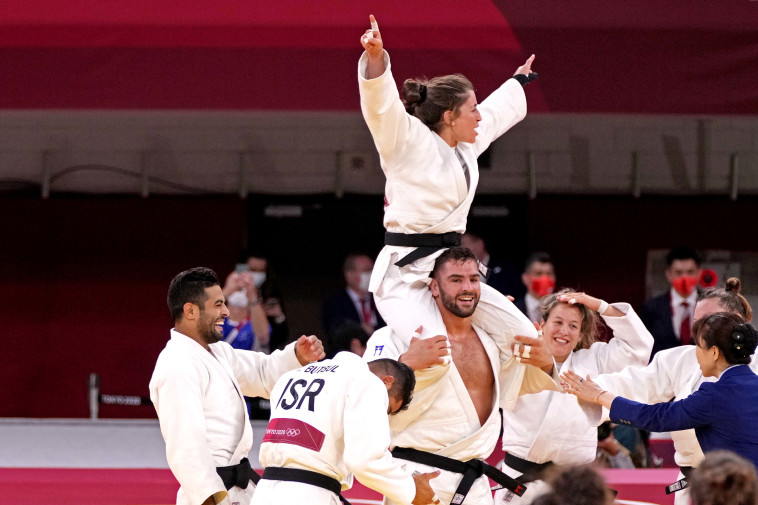 By the way, what did you think about the performance of the Israeli judo team in Tokyo?
"Timna Nelson.Levy put it most beautifully: 'A team medal does not atone for the disappointment of the personal win.' Judo is a personal sport, and it is certainly a disappointment, even though the team medal is good for Israeli judo and the feeling of the athletes. I talked to two of the team members and they would replace the team medal with a personal medal in a second, but there is no doubt that for Israeli judo it was fun. It was a pleasure to see it. "
During the Corona period, Zeevi, like many others, found himself in a professional crisis. "I was in shock," he recalls. "But then I decided I needed to fight and grow from it, so I started lecturing, zoomed on the book and even fulfilled an old dream: I started recording my own podcast where I host intriguing people like Ehud Barak, Ehud Olmert, Lior Raz, Adir Miller and more and talk to them about formative moments In a career. Later, I also returned to coaching in zoos and parks. "
These days, he also serves as chairman of the Maccabiah, which is expected to take place in July 2022 in the presence of 10,000 athletes who will come to Israel from all over the world and another 20,000 escorts. "We hope that by then the corona will be in control," he says. "It brings a lot of capital to Israel, and sports are just the platform, with the main goal being to strengthen Israel's connection with the Jews of the world. At first I was hesitant to take the role, but now I'm happy because it exposed me to amazing things and it's exciting.