Israeli athlete Yonatan Kapitolnik is still having a hard time digesting his victory last Saturday in the U20 World Cup (up to the age of 20) in the high jump in a competition held in Kenya. A day later he was awarded the gold medal in an exciting ceremony. "The excitement was incredible," he described a few hours before boarding the plane and landing back in the country today. "The excitement was already in the waiting room. You are there with medal winners in other professions, everyone is happy and happy, and it is an amazing moment. Then read your name, you go up to first place, hear 'Hope', look at the flag and it fills you with a lot of pride." .
Did the medals of the Israeli athletes at the Tokyo Olympics increase your motivation?
"It was very inspiring, because you see very high.level athletes who give their all to represent themselves and the country with dignity. When you look at them, you say, 'I want to succeed and bring respect, too.' The fact that the two competitions also took place in relative proximity In terms of times, it has further increased my motivation to prove that I can. "
Kapitolnik, 18, is the eldest of three children of Jana, a project manager, and Erez, an economist. Until the age of 11, he grew up in Or Yehuda, and when he joined the brigade, the family moved to Ganei Tikva. At the age of 15 he began to train professionally for the first time, having previously sought his place in various sports. "From a very young age I loved sports," he says. "I tried to play tennis, basketball, football. I tried to look for a lot of things, to look for where I feel I belong and feel. But in no industry have I been able to express myself. When I got into athletics, from the beginning I saw myself surrounded by a good environment, good people who want me to succeed. "The athletes, we are all one team, we all want everyone to succeed, we all support each other, like a big family."
He discovered the athletics industry thanks to a teacher at the school. "In ninth grade, I had a sports teacher named Ofer," he says. "He saw the potential in me from the first moment. He saw that I was a talented guy, tall and big, and that I could be good at athletics. He connected me with Anatoly Shafran, my coach, and that's how it started."
Since then, Capitolnik has managed to reap a variety of titles, including the Israeli Champion in the high jump for two years in a row (2020 and 2021) and the European U20 Champion. He admits that when he started training, he did not imagine that in a few years he would reach such impressive achievements. "From the very beginning I was terribly connected to sports, and I tried to do the best I could, I always felt I was getting better, progressing, but I didn't know where it would lead," he says. "I did not know I was here to go to the European or World Championships, I felt I was here to come and enjoy. But when every year I saw that I was getting better, I felt I was already starting to be a serious competitor, not coming to training just for the social aspect but to show how much I was worth, how much I was strong".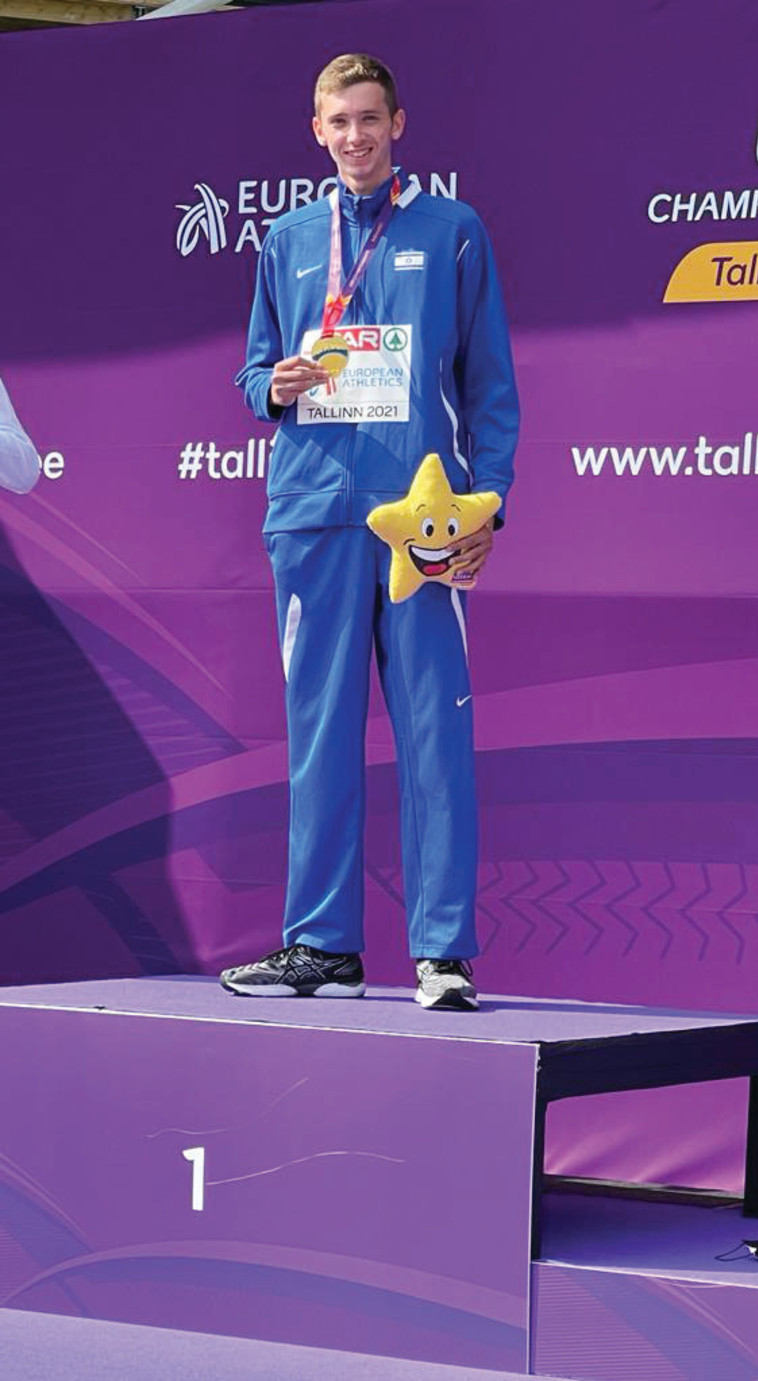 Alone in the deep water
At the World Youth Athletics Championships in Kenya, where he even broke a personal record, Capitolnik arrived without his personal trainer. "Anatoly could not come to the competition for personal reasons," he says. "When you come and know that the coach is not with you, it puts you under pressure. If other athletes have a problem, they can get help from the coach with them. I could talk to the coach, but physically he was not there. You dive into deep water alone. But we did make preparations. In advance, we worked on scenarios, what to do if it happens one way or the other, and it does give confidence. And Renault Longbra, the international achievement director of the Israel Athletics Association, was also in the competition and helped me. "
In the competition, Capitolnik achieved a new personal record of 2.26 meters (the previous one was 2.25 meters). "I passed the height of 2.19 meters in the first attempt, and the Polish and Italian competitors did not exceed the height at all," he recalls. "When they did not pass and I realized that I was the only competitor left and in fact the winner, the feeling was great, because you know that everything you sacrificed, your whole career – now drained into a moment of victory. It was very exciting, all the pressure came out. Go for it, you won, that you are the world champion. "

What is your drive?
"I love this sport, I love the people I train with. I don't train because I have to, I'm here because I love it. What motivates me is my love for the industry."
With success also comes appetite?
"I'm now in the final year of youth, and next year I'm starting the alumni competitions. As an athlete I dream of reaching the European Championships for the alumni, the world championships. There the highest level is in the industry. Now, as I progress and manage to jump to higher heights "It is very true. With all the help I receive from the Israel Athletics Association and my association Maccabi Tel Aviv, I feel that I can become a strong competitor and can reach the highest places."
They are always with me
The Capitolnik's training routine includes at least one training a day, morning or evening, and "while I am not training, I am in the army. I am a soldier now, serving in the third in Ramat Gan," he says. "The nature of training varies depending on what you want to achieve. There are trainings that can take hours: until you achieve a goal we have set for ourselves, do not finish training; and there are simpler trainings. Like everything in life, here too there are hard moments, not going, periods "Feeling progress and not being able to bring out your maximum. But it is important to remember that everyone has such moments and must not give up on them, but take yourself in hand, go through this period and move on."
To what extent are you forced to give up youthful experiences in favor of sportsmanship?
"From the beginning of my professional career in sports I feel the sacrifice. My friends for example go to parties, and I can not always come because I have an early morning workout, or I am in training. But I feel that when you really love the sport, you get sucked into it, connect to it and everything. worth it".
How did the corona affect training?
"We had to maintain a social distance and less crowds, and we were able to create a schedule where everyone gets to practice in their own hours, and not always the whole group was together. Athletics is ultimately a very individual profession, you can train on your own. But little by little, with the advent of vaccines, we were able to get back to normal and be together. "
This may come as a surprise, but his parents did not watch the live broadcast of their son's competition. "With all the pressure I feel, they feel even greater pressure, so they don't watch live broadcasts in competitions. But they are always with me and hope I succeed," he explains. "This moment after winning, when I talk to them on the phone after being disconnected for a long time because of the competition, is an amazing moment. The parents are very excited, even more than me maybe. They saw all the work I put in, the things I do for the sport, and they are very excited for me. ".
Due to his return from an orange country, upon landing in the country, Capitolnik will enter isolation. "We go on vacation and rest after a tough season, after a lot of physical and mental effort," he says. "I hope to find the time to rest, both in isolation and a little after, and then we will start working at peak strength ahead of next year's competitions."
Have you already set the target for the Olympic Games to be held in Paris?
"Everyone strives to reach the Olympics and senior competitions. I believe that with hard work and support I will be able to reach very high levels – the European Championships, the world, maybe the Olympics. Of course there are also things that do not depend on me, but I think with a lot of work I will get the best I can." .