About two weeks after the end of the 2020 Tokyo Olympics, in which the Israeli delegation achieved unprecedented achievements – two gold medals and two bronze medals – the Paralympic Games in Tokyo will open the next day, in the shadow of the corona, the same facilities as the Israeli delegation. Women and 18 men). Among the disciplines that will receive Israeli representation: rowing, kayaking, soccer, shooting, swimming, wheelchair tennis, iron ball throwing, powerlifting, table tennis, badminton and bocce.
Those who were chosen to carry the Israeli flag at the opening ceremony to be held the next day, without an audience, and to lead the Israeli delegation at the ceremony are two of the leaders of the Israeli Paralympic sports in their field: rower Moran Samuel and bochia player Nadav Levy, one of the industry's founders.
"Every athlete has moments like this that he will always remember, and this moment will be one of them," Levy says now. "I do not think there is a greater honor than to carry the flag of the country at the head of a delegation in the largest ceremony there is and on the largest stage there is. It is an honor that individuals receive, and to my delight they chose me. I was in complete surprise that it happened. It filled me with excitement, pleasure and pride. "
"Carrying the flag is a great honor and fun, I thank you for the privilege of being in these crazy moments and respectfully representing our country," Samuel adds. "It is very important to me personally because the last year has not been easy for our country and also in the attitude of the world towards us, and being the state ambassador in sports is a real honor that I congratulate."
What went through your mind when you were informed of your choice to carry the flag?
Samuel: "I was very excited and happy in the world about it. I look forward to it because the opening ceremony is a moment in which all the excitement that has accumulated all this period can be released. Trust Nadav and me to do it like adults. "
Levy: "What went through my mind was about my whole life from the age of nothing, how from the moment I was born I came here. In a five-second flashback, I got the whole course of my life. "
How did you feel about carrying the flag with each other?
Levy: "It is a great pride. Moran is a super-athlete, a lift, not only as an athlete, but also as a person. It is a great honor for me to lead our delegation with her. "
Samuel: "Nadav is an amazing person. He is also an athlete who engages in a sport that has not been so popular in our country, and he is not only an athlete, but he wants to promote this industry and create opportunities for more people. It reminds me very much of myself, the value beyond sports is important to us, so it is also very worthy to carry the flag. "
A huge gift
Samuel (39) grew up in Carmiel and played basketball there, first in the youth league and later in the Premier League in the "Nirosoft Carmiel" team. After her military service as an outstanding athlete, she joined the Israeli basketball team, and with her team even participated in the European Cup games.
In 2006, at the age of 24, she suffered from a congenital malformation of a blood vessel in her spine and became paralyzed in her lower body. "When it happened, I was busy recovering and accepting the new situation and did not see myself returning to sports because I felt it would emphasize my limitation," recalls Samuel.
"But then I discovered that sport actually wins the limit and I discovered a whole world. I realized that no matter if you are a person with a disability or not, in sports you can always push yourself to break more records, and I am happy for this opportunity.
Because I am a person who is not afraid of failure, but more than fully afraid to try, I decided to try to get back into the sport, thus giving myself a huge gift. Thanks to that, I got to where I am today. "
Samuel, who was adopted by the Warrior House in Tel Aviv, was one of the initiators of the re-establishment of the women's basketball team in wheelchairs, and with the team qualified for the 2011 European Championships.
At the same time, she began training in the single-boat rowing industry and began representing Israel in various championships, with a resume of a variety of bronze, silver and gold medals from the World Cup and World Championships, as well as a bronze medal from the 2016 Paralympic Games in Rio de Janeiro.
In fact, this will be her third time at the Paralympic Games, having also represented Israel at the 2012 London Paralympic Games and finishing in fifth place.
Again, she does not plan to settle for less than the best. "For the last seven years in every competition I have participated in, I have finished on the podium, so I expect the maximum from myself even now.
I'm the fastest I've ever been in my life, I want to believe it's enough and want to fight for gold. It will be a difficult battle because there is a super-fast and good Norwegian contestant, but for that we are athletes. "
Nadav Levy (42) was born with cerebral palsy (CP), grew up and was educated in Kibbutz Maagan on the shores of the Sea of ​​Galilee, and according to him, sports were built into it from birth. "It seems to me that my dad cooked it up in planning because he already knew which way it was going," he laughs.
"From a young age I loved to play football or basketball and did not let disability prevent me from getting involved in it like everyone else. As a kid, I never gave up on social games. I always wanted to be competitive and fight for first place. I remember as a kid if I were a loser, I would want to kill someone. As a kid, I used to get involved with my doctors in the operating room. "
At the age of 30, Levy's professional life changed from end to end when he discovered a new and unique sport: Boccia – a type of ball game based on the French petanque game and intended for athletes with disabilities.
The goal is to bring as many balls as possible to a white goal ball and it requires concentration, accuracy and skill. Levy soon became one of the industry's most prominent founders and ambassadors in the country.
"In 2009, I received a call from Baruch Hagai, my coach from the Ilan Sports Center for the Disabled (" Spivak ") in Ramat Gan, who told me about a new sport he saw at the Beijing Olympics, and he thought it would suit me," says Levy. "It was falling in love at first sight. We started raising money from donations, and slowly this sport began to develop here in Israel. "
As an athlete and coach in the industry, Levy has participated in dozens of official competitions of the industry abroad, including European Championships, and was also the industry's first Israeli representative at the 2016 Paralympic Games in Rio de Janeiro.
He holds two silver and one bronze medal at the World Games open to the disabled in this industry. "I hope that one day, the bochia industry will catch on properly in Israel, and I will not be the only representative in this sport because it is an important industry, and we need to look here at the big picture and not at my personal picture," he says. "We represent industry, population and country. It's a kind of legacy that I leave, but we need to pave the way for those who come after me. "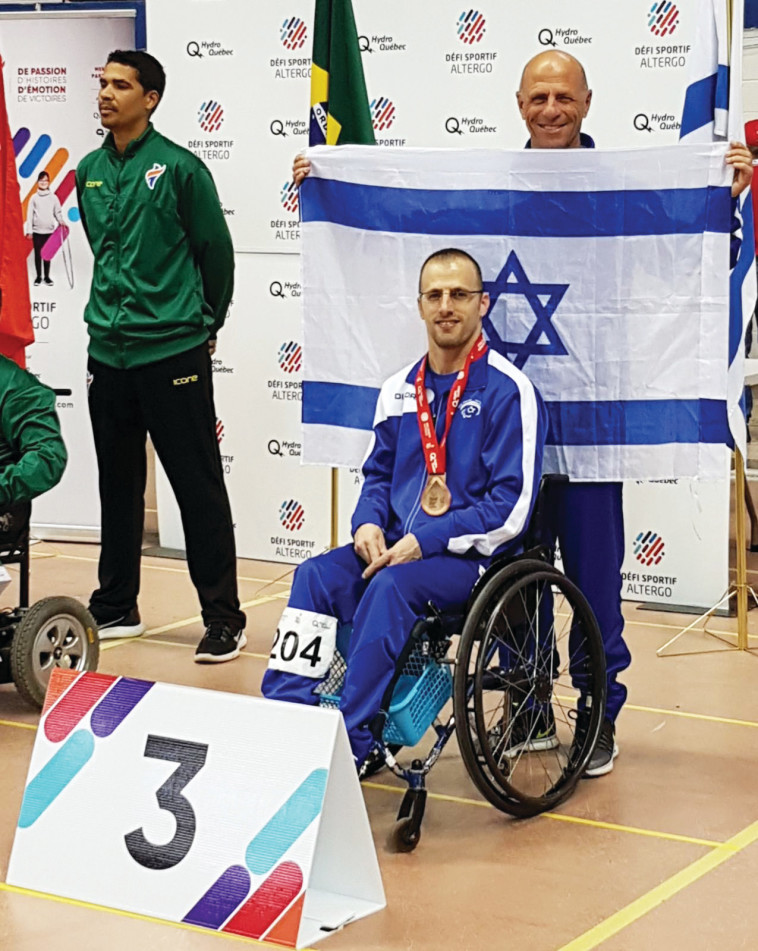 Do you feel part of your job is to make the industry more popular?
"I wish the exposure to Paralympic sports in Israel in general would be more than once every four years, before the Olympics. All our athletes deserve the exposure, a kind of status. Many still look at Paralympic sports as a tool of rehabilitation, but that is not the case. These are athletes who give of themselves and their bodies no less than the Olympic athletes.
"There is no doubt that we need to expose this. There is another element of setting a personal example, showing people with disabilities who despite all the difficulties reach achievements at the international level and break world records. It is something that is educational and very powerful. "Here is the place to also thank the Association for Disabled Sports, which leads this industry in Israel and also to my home, the Ilan Center in Ramat Gan."

Live in a dream
Like the Olympics, the Paralympic Games were postponed for a year following the Corona, and Levy and Samuel waited anxiously for the competitions to take place. "The year and a half of the corona hit me hard," says Levy. "Because I am the only athlete at this level in the country, I went through two years of independent struggles to train alone, a training that you are quite lonely in because of the corona. It's like you go back to playing basketball after a break, and the first game is the Final Four. But I did training properly, Baruch Hagai and I built a long-term plan, and I hope to reach the world level again. "

How did you prepare for the competition?
Samuel: "I've been in a training camp in Italy for a month and a half, a super-long and very intense training camp, and there were moments when I stopped and looked around and told myself I could not believe it was finally happening. I set the criterion in 2019, and it seems like a distant dream that I feel is coming true. I feel very ready, very excited, but with good and positive excitement. "
About 4,350 athletes from 170 countries in 22 sports will take part in the Paralympic Games, and it is expected that the top three sports in the delegation in Tokyo will be the ones that won the medals in Rio de Janeiro five years ago: rowing, swimming and shooting.
What is your goal in the Paralympic Games?
Levy: "I come there with the goal of winning, I do not know how the other athletes will get in terms of their readiness, and I do not know how I will get because of all the disconnect created due to the corona, so setting a specific goal does not make sense. I come to do my best and assure you that I will not lose easily. "
Samuel: "Do my best for my country."
How did you feel when you saw the gold medals of Linoy Ashram and Artium Dolgofiat at the Olympics?
Samuel: "I was excited. I was here at training camp with my wife and kids and we sat, watched and got excited. My children, ages 3 and 5, sang the anthem with Linoy, and that day my son wanted me to make him a cardboard medal and he walked around it proudly at home. This joy in my heart gave me strength. Linoy proved that it is possible to reach as a kind of underdog and conquer the summit in one of the difficult disciplines, and Artium also achieved a crazy achievement. It has given me personally a lot of power, strength and desire to come and also give this joy to others. "Just as I felt when I saw Israel's medals at the Olympics, so I want to make people in our country feel it again."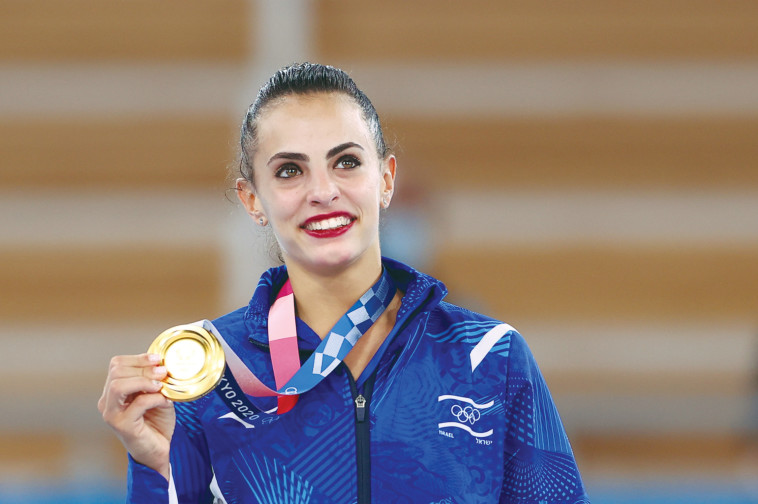 Levy: "I do not know if it is possible to explain how much excitement they brought, and in general the entire Israeli delegation brought. The Israeli athletes have made history. One has to look at the athlete and the way he has been doing all these years until this competition. This is amazing".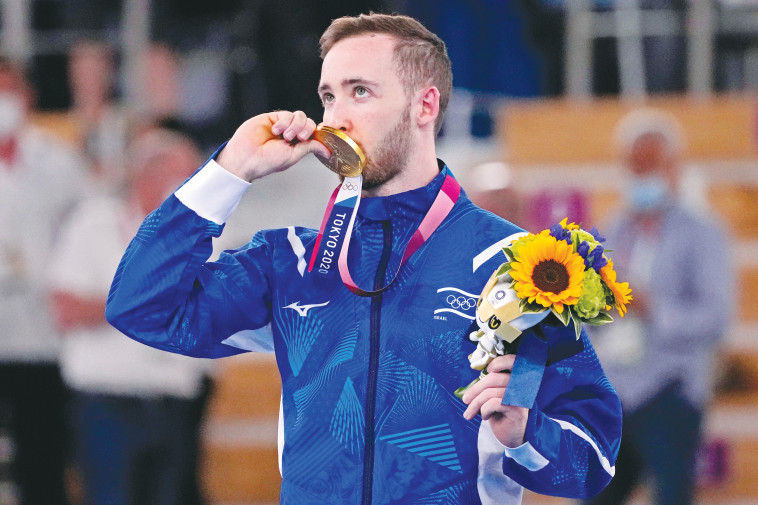 Do you remember a certain experience from your participation in the previous Paralympic Games?
Samuel: "When I won my medal in Rio, on the podium I held Arad, my seven-month-old son, while receiving the medal. It was as if all my dreams were coming true together. I cried with excitement. "
Levy: "I remember mostly the pre-competition experiences: the meetings at the President's House, measuring the suits for the opening ceremony, all the turmoil that happens in the half year before the competition, and especially the moment you realize you are going to enter the Paralympic Games. When you walk into a stadium and see an audience of tens of thousands shouting and cheering for you – you feel like a superstar, in a frenzy. You do not know where you are. You live in a dream. "
What are you most proud of in your career?
Levy: "When you are a child with a disability, you are dependent on your whole environment. I won an embracing environment. My pride is the pride in them. I do not look at it as my achievement, it is an achievement of the whole environment that supported me, encouraged me and pushed me forward. "
Samuel: "I am proud of myself for the uncompromising way I went, and for the fact that I am currently involved in sports alongside being a mother and partner. To meet the two tasks of a family woman and an athlete – that is the pride for me. "