In the first days of February this year Turkey experienced one of the most difficult tragedies in its history. Peaceful everyday life in Turkey has turned into a disaster. A strong earthquake measuring 7.8 on the Richter scale hit this country on February 6. Several cities were destroyed, and the flattened buildings unfortunately trapped many innocent people. More than 45,000 people died.
The whole of Europe stood in solidarity with Turkey, both in donations and aid, but also to the rescuers who searched day and night for survivors. Rescuers from Croatia were among them. The Croatian Football Association donated 20,000 euros, and almost two months after the devastating earthquake, Croatia is visiting Turkey at 8:45 p.m. in the second round of qualifying for the European Championship.
Photo: Matija Habljak/PIXSELL
Life in Turkey is returning to normal, but the wounds are still fresh and it will be difficult to forget the tragedy they experienced. The scars will remain forever. But life goes on, and it's certainly easier when you have support in others. Before the match against Turkey at the Timsah Arena in Bursa, Croatian fans brought banners to the stadium as a sign of support for the Turkish people.
Mirko Bebek, the president of the Fan Club Assembly "Mi Hrvati" handed over banners with the Croatian and Turkish flags to the organizers on Tuesday. On them was written: 'Sizinleyis', that is, 'We are with you'.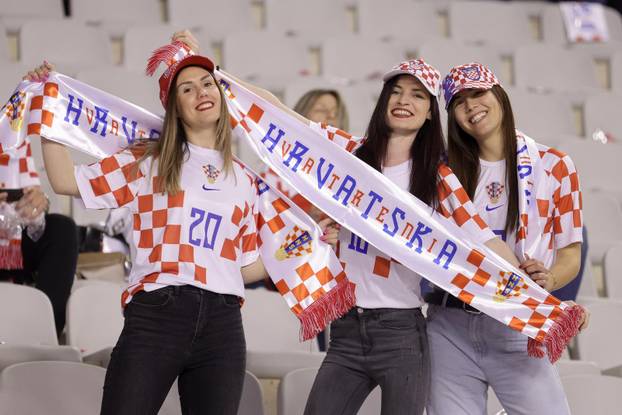 Photo: Luka Stanzl/PIXSELL
The Turks knew about this great action by the Croatian fans, who realized everything through Yavuz Selim Kiran, the ambassador of Turkey in Zagreb, so they reciprocated with a nice gesture. They responded with banners 'Thank you for being with us' and 'We are grateful for your support and friendship', in Turkish and Croatian. A friendly prelude to tonight's meeting and proof that humanity and empathy must come first, regardless of differences and divisions. Soccer is more than a sport.
Around 700 Croatian fans are expected at the spectacular crocodile-shaped stadium in Bursa, which will be located in the corner of the stadium.