Novak Djokovic Continues to establish his status as one of the greatest tennis players ever, if not the greatest of them all. The Serb recorded another milestone today (Sunday) in his glorious career, this time with a 1-3 win over Italian Matteo Bartini in the Wimbledon final, a victory that earned him a sixth win in the tournament and raised his Grand Slam title balance to 20, exactly the same amount as his two biggest rivals Roger Federer and Rafael Nadal.
"This equality means that none of us are going to stop," he said Djokovic He added: "I have to give huge respect to Roger and Rafa, they are legends of our sport. They are the two most significant players I have faced in my career, they are the reason I stand here today and they are the ones who made me who I am. But in 2010 I made a change and since then I have been on an amazing journey that I hope will not end soon. "
Regarding today's game, the Serb said: "It was more of a battle. First of all I want to congratulate Matteo, I know it's not easy to lose in the final. I'm sure it's the start of a wonderful career for him, he's a great player with powerful punches I felt today on my flesh. "I say it all the time, winning Wimbledon is my dream since I was a seven-year-old boy in Serbia. I would improvise trophies and practice the subdivisions of this title. To stand here, in this place, with six titles, it is unbelievable."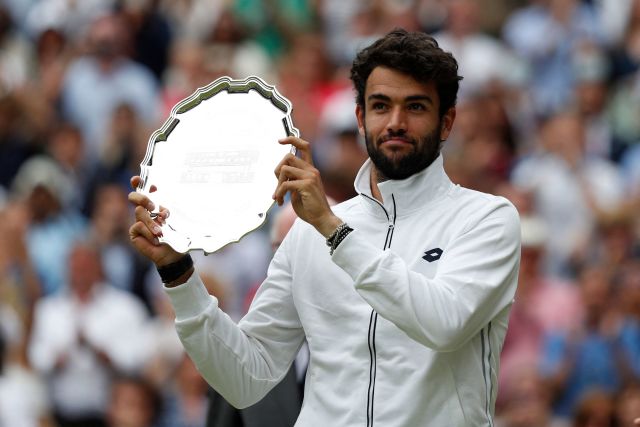 And there was also a disappointed side to tonight's tackle. Matteo Bartini arrived at the tournament without great expectations, but the Italian's two great weeks brought him within touching distance of a historic record. Even so, he too knows he is facing too high a hurdle today, perhaps even impossible. "Novak was better than me, he's a huge champion," he concluded simply Bertini Who added: "I'm happy to be in the final, hoping it will not be the last I reach. I want to believe it's not the end, but just the beginning of a wonderful career that awaits me later. I could not have asked for more than I had today. Well, maybe a little more." , The Italian joked.
Some numbers. The most important statistic from the evening of course concerns the number of Djokovic Grand Slam titles, which garnered his 20th of his career according to the following division: six trophies at Wimbledon, two at Roland Garros, nine at the Australian Open and three more at the US Championships. The 30th ever Grand Slam final of the world number one, which improved his balance to 10:20 and can be said to have "bypassed" Federer, who reached a similar number of wins in one more appearance in the prestigious class (the Swiss reached the Major final 31 times).
After winning the Australian Championship earlier this year and managing to beat Nadal at Roland Garros en route to winning the clay in Paris, the title tonight raised Djokovic's balance this year to 0:21 in the Grand Slam tournaments. Beyond that, he gave him a chance to complete a historic achievement that has never been seen before in the open era: winning all four major competitions in one calendar year. Will we have one of the most remarkable achievements in the history of the industry at the US Open in August?