Yoav Cohen and Kati Spichkov will lock their performances today (Thursday) in the 12 competitions that precede the medal cruise that will take place on Saturday. Spichkov recorded a great day when she finished her three cruises in 1st, 4th and 1st places, but the top three kept their place and that means Spichkov will reach the medal cruise on Saturday morning with no chance of winning a medal, as the gap between her and third place is 29 Points.
Katie Spitchkov had a great start to the last day of the cruise before the medal cruise, but her rivals made life difficult for her and left her with no chance of a medal before the last cruise day on Saturday. After a disappointing day of competitions in which she finished twice in 13th place and once more in 9th place, Spichkov won the tenth cruise with a 24.second lead over Lou Chunio of China and Charlene Picon of France finished in third place. Spichkov also starred in the 11th cruise and finished in fourth place, but was followed by Lou Shunio, Emma Wilson and Charlene Picon who also lead in the overall standings. Katie also won the third and final cruise of the day, but Picon who is ranked third in the overall standings finished sixth and she is ahead of Katie by 29 points, a gap that cannot be closed.
<!.. /21675741918/sport1/desktop/all_regular_ad_units/article_728x90_2nd ..>
Later, Yoav Cohen, who is in a better position than Spichkov, will also compete, but he too will need a significant turning point on the last day of the competitions before the medal cruise. Cohen is currently in sixth place with 52 net points after finishing the third day of cruising in 6th, 7th and 16th places (thrown). He is 13 points away from third place leading to a medal and will have to be among the top three on one of the cruises.
<!.. /21675741918/sport1/desktop/all_regular_ad_units/article_728x90_3rd ..>
In the 470 Sailboat model, Noya Baram and Shachar Tibi finished again in 14th place in their third cruise, but in the fourth cruise they finished in third place and jumped to sixth place in the overall ranking, after yesterday they finished in seventh place overall after two cruises (2nd and 14th places).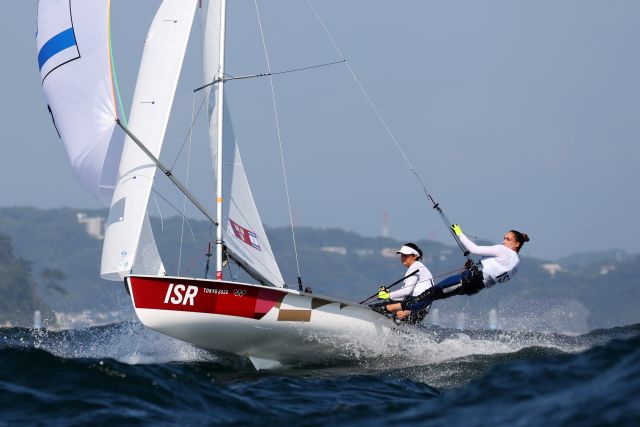 <!.. /21675741918/sport1/desktop/all_regular_ad_units/Article_728x90_4th ..>
And even today in the water, the Shai Kakon cruiser finished in a disappointing 33rd place in the seventh cruise in the Laser Radial model. Kakon is in 35th place in the overall ranking with 173 points and is far from the top.