The Italians fail with a 0-1 defeat in the play-off and, like in 2018, miss the World Cup. Portugal defeated Turkey 3-1.
The way to the big hit for a ticket for the Winter World Cup in Qatar between Italy and Portugal seemed paved, but the European champions made a fool of themselves against the underdog from North Macedonia. While Portugal were already 2-0 up against Turkey at half-time, most of Italy's attempts were blocked by the visitors before their own goal, keeping the goal zero.
The fact that the entire EM defense of the Squadra Azzurra failed didn't make things any easier either. A late Italy goal would be typical – but it turned out differently. In the 92nd minute, Trajkovski shot his country into the play-off final. Italy missed the World Cup for the second time in a row.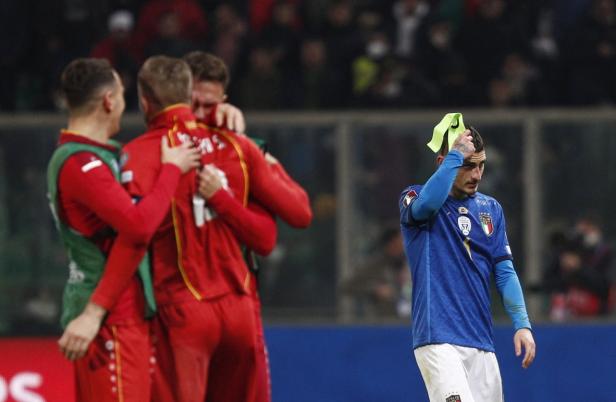 The game initially went according to plan in Portugal. Otavio (15′) and after an assist from the Porto wing to Liverpool striker Jota, who headed in (42′), the fans at the Estadio do Dragao cheered.
After the break, the team of old star Ronaldo, 37, made it exciting again: The one year younger center forward colleague Burak Yilmaz shortened (65th).
In the 85th minute, Yilmaz had extra time on his feet, but the Lille goalgetter missed a penalty. When the Turks threw everything forward, Luiz released the Portuguese in the 94th minute – who now meet the North Macedonians.
As is well known, the game between Scotland and Ukraine had to be postponed for tragic reasons. Poland advanced without a fight against the suspended Russians.