A new football season will open in the Netherlands tomorrow (Saturday, Live broadcast on Sports 2 at 8:50 p.m.) When Ajax and PSV Eindhoven will fight for the first title – the Supercup, or "Johan Cruyff plate" in its official name. Last season Ajax led the table from the third round and did not look back. On the way she scored over 100 goals, finished first with a gap of 16 points from Eran Zehavi and his teammates, won a league game with a result of 0:13 and completed a second double in the last three years, when in 2020 no titles were awarded because of the corona. Ajax dominates Dutch football and widens its gap from its rivals with each passing season. This is reflected in the results, purchases and bank account of the club from Amsterdam.
Ajax is the largest team in the Netherlands, with the largest fan base and the most titles in Dutch football. Alongside this, its academy produces the most players and the highest quality ones. In recent years alone, Ajax have sold players for hundreds of millions of euros: Frankie de Jong, Mathis de Licht, Hakim Zeich, Donny van de Bike, Devinson Sanchez and Caspar Dolberg are just some of the names.
<!.. /21675741918/sport1/desktop/all_regular_ad_units/article_728x90_2nd ..>
The many and supreme successes in recent years have led to quite a few comparisons in the Netherlands between Ajax and the Bundesliga champions. The phrase "Ajax is trying to be Bayern Munich of the Netherlands" has been said by quite a few commentators and fans. Indeed, quite a few Dutch parameters are similar to the German equivalent. The team from Amsterdam has 35 championships, Bayern 31. The two clubs have the largest amount of fans in their country, the most followers on social media, both of which sell merchandise for tens of millions of euros. Both lead the way for the teams in their country in Europe and are the great symbols of football in their country.
<!.. /21675741918/sport1/desktop/all_regular_ad_units/article_728x90_3rd ..>
Ajax sees Bayern as an example and wants to emulate it. Economic superiority already exists, thanks to successes in Europe and a successful academy that trains players who are sold for large sums. This summer's big signing, Steven Brachhaus – captain of Feyenoord who has become only the fourth ever to move between teams – is a significant milestone on the road to Ajax becoming local Bayern. Brachhaus has recorded great numbers in recent years and was responsible for more than 60% of Feyenoord's goals. Brachhaus had a one.year contract and a release clause for each team, Ajax decided to pay the not.so.high amount (about 6.5 million euros) and closed the deal. In one move she signed the most senior Dutchman who has not played for her or PSV, snatched her historic rival captain and strengthened significantly at the front.
Despite the many parallel lines, Ajax are still far from Bayern's dominance. The Germans bought players like Dayo Opmecano, Mats Hummels, Mario Getza and Manuel Neuer with big money from their local rivals. The Bundesliga champions can acquire any player from a German rival, because Bayern is their dream. Ajax are the biggest in the Netherlands, but at the same time they are just jumping to a better league, and in recent years it has become clear that players from Alkmaar or other teams do not have to move to Amsterdam to get out. Also, from the moment a player arrives at Bayern, he has arrived on the estate and is usually not looking to leave. Ajax can keep its stars for two to three years and they will leave. So every few years she has to build a new team again – unlike Bayern whose base has run together for many years regardless of the identity of the coach.
<!.. /21675741918/sport1/desktop/all_regular_ad_units/Article_728x90_4th ..>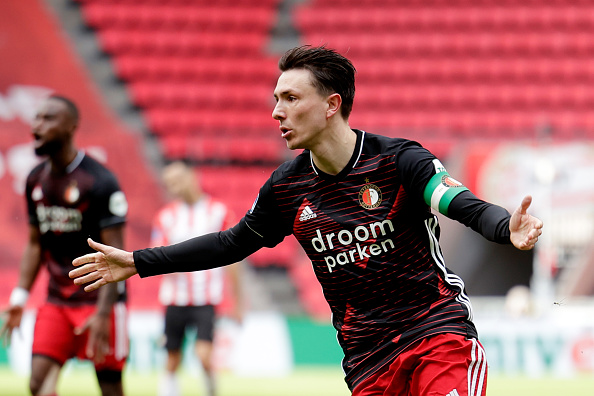 Bayern know that if they make a bad season and lose the championship, they will still finish in a high enough place that will guarantee them participation in the Champions League. Ajax does not have that confidence, and in a less good season it could be hurt financially in a way that would undermine it a few years ahead. This year Mark Obermars announced that the team must sell players for around € 50 million to balance the books following Corona's damage and a year of games without a crowd. Bayern do not recognize a similar problem.
But before it becomes Bayern, Ajax need to create a dynasty. A Dutch team has never won a championship for more than four years in a row (PSV twice, Ajax once). Her dominance last season, the fact that she kept most of the staff and got stronger with Brachhaus, is promising for her. Coach Eric Tan the brother will continue to build on the game.wisdom of Daley Blind, the strengths of Ryan Harwenbach and Davey Klassen in the middle and the imaginary numbers of Tadic and Haller on offense. Add Brachhaus and Anthony, Nico Tagliafico and Alvarez to them and you will see that the champion has a wide and strong staff, and in fact two good players on every position.
The important move of the summer was the extension of Ten Brother's contract. For two days, news spread that Tottenham are interested in signing him for the upcoming season. Ajax's response was swift: she immediately announced that she had extended her wanted coach's contract and silenced any interest in him. It broadcast to the world that even if the Top 6 team from England arrives, it is strong enough to keep its assets with it.
Tomorrow will be awarded a bachelor's degree for the season in the Netherlands. The least significant title though, but to prove continued superiority, Ajax will rise in the strong lineup in order to win. Opposite her will come PSV, which started the season in a great way. Three wins in three games in the Champions League qualifiers and a coordinated and conquering attack, threaten Ajax's control. After seven consecutive games without a win against Ajax, Eran Zehavi and his teammates will try to win and bring a first degree to Eindhoven since 2018. "Bayern of the Netherlands" has a deep and trained team that will try to continue its series of titles in the Netherlands.