Facebook and sunglasses brand maker Ray-Ban announced last night a first collaboration called Ray-Ban Stories. These are new smart glasses that will allow people to take photos and videos, share experiences, listen to music or make phone calls in a natural and comfortable way while in the real world with friends and family.
As mentioned, Ray-Ban Stories goggles will allow people to document the most spontaneous moments from a unique first-person perspective, using a 5MP camera. Facebook emphasized that it will be possible to record video for up to 30 seconds using the photo button, or using the Facebook Assistant headset. The glasses also include open headphones and three microphones, which will provide a realistic and rich sound experience.
The glasses connect to the new Facebook View app, which allows everyone to document their point of view from the glasses, and share photos and videos captured through the lens. The app is available for download for iOS and Android, and allows you to edit content and export it to the company's range of apps, along with those that do not belong to it, such as Twitter, Tiktok and Snapshot.
They were developed with the aim of being comfortable and easy to assemble, and therefore weigh only five grams more than regular Ray-Ban glasses. The glasses come with an attached charging case that will allow them to be worn throughout the day, and a full battery will suffice for use for up to three consecutive days.
Also, the Reflective Ray-Ban Stories will alert when a person is taking a picture or video – with LED lights on – and there is also a switch to turn off the camera and microphone. Also, the glasses can only be associated with one user at a time – so if a person loses their smart glasses, and another person tries to associate those glasses with a new account, all data stored on the glasses will be automatically deleted. At the same time, Facebook stressed that it has formulated guidelines for the responsible use of glasses, and continues to consult with academic and civic experts throughout the development process.
Meanwhile, Facebook Reality Labs continues to develop tools to help people feel more connected, using augmented reality (AR / VR) technologies that will allow them to transcend physical distance and be socially present with each other, anywhere, anytime. It should be noted that the Israeli research and development center in Tel Aviv also has an Israeli team of reality labs, which plays a key role in the development of advanced technologies.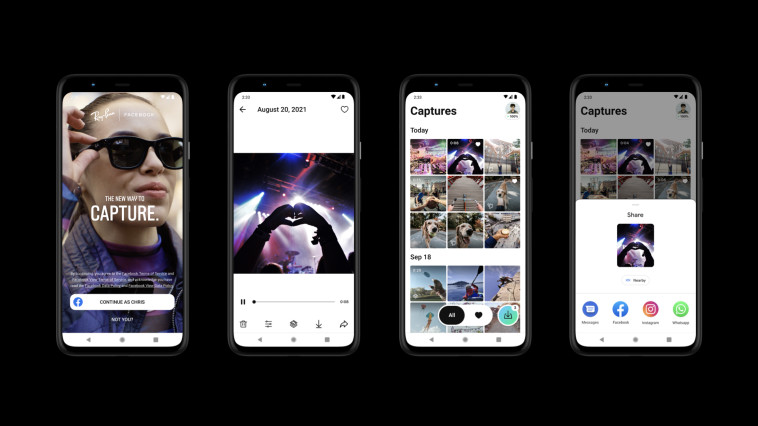 The new glasses will be available in 20 different models, including iconic models identified with Ray-Ban, as well as a selection of colors and lens types. They are available for purchase in six countries – the US, Australia, Canada, Ireland, Italy and the UK – and start at $ 299.