Although the corona plague has made a name for itself in the global economy, 2020 was also a year of breaking records for Israeli technology. For Sonobia, a small garden-level startup focusing on textiles, it was the deadly virus that breathed life into the company.
"When we started, we were only six employees," recalls Shai Hershkovitz, one of the founders, standing at the entrance to the company's modest offices. A tiny downstairs packing and shipping room distributes hundreds of thousands of units of the company's flagship products, SonoMask and SonoMask Pro, to destinations around the world. Upstairs is a small laboratory, where they work on the sophistication of Sonovia's unique technology. "Today our team has about 60 employees, and we have close to 200 contractor employees." The company has sold more than a million protective masks to more than 300,000 buyers in the past year.
Sonovia was listed on the Tel Aviv Stock Exchange in December 2020, and its flagship product, a mask made in Israel, is the first in a chain of "environmentally friendly" textile products that are resistant to viruses and bacteria.
"I want to make the world a better place, help people live better lives – and save lives," says Shuki Hershkovitz, another founder and father of Shai. "That's my vision."
Sonobia was founded in 2013 by Shuki Hershkovitz, who acquired researchers at Bar-Ilan University the rights to sound-wave-based technology that assimilates nanoparticles (tiny particles) with advanced and unique properties in fabrics. The scientists have spent more than ten years researching the sophistication of the technology, four years of which are funded by the European Union, and have focused on dealing with infections originating in hospitals. Sonobia has taken this technology to the next level, turning it into a commercial one to be used by manufacturers as an integral part of their existing production lines.
When the corona plague broke out, Israel was the developed country with the highest number of deaths from infections – 73% more than in Greece, which was ranked second. The company worked systematically on the development of "sono machines", as they are machines, with the aim of selling them to industry. But as the corona began to cross China's borders, crew members wanted to help eradicate the plague.
In December 2019, Shuki Hershkovitz contacted his colleagues in China, telling them that he believed the virus-repellent fabric and bacteria could help stop the spread of the new virus. He offered to send them to China several rolls of the pathogen-repellent fabric he had produced at a research and development facility in Germany, to help them make masks or clothing for medical staffs in hospitals as well as protective clothing for employees coming into contact with patients.
"The first test of Sonobia's anti-corona fabric was conducted at a military laboratory in Shanghai," recalls Lt. Goldhammer-Steinberg, vice president of technology. "Everyone focused on using the virus to find a vaccine, and it could not be found in any commercial laboratory."
The results of the experiment in the Chinese laboratory demonstrated the effectiveness of SonoMask and its ability to neutralize the corona virus with 99.34% efficiency. Therefore, in March 2020, the company exported the rest of the fabric stored at its production and development line in Ramat Gan, and from there moved it to a factory in Acre where 120,000 masks were made, and they were donated to hospitals in Israel.
These masks not only played a key role in strengthening the inventory of defense products when inventory elsewhere was still scarce, but they redefined the concept of "masks" and transformed them from passive means of protection to active defense equipment.
The company was determined to use its innovative technology for the benefit of the State of Israel. "We were on the last flight to Israel before the airport closed," says Goldhammer-Steinberg. "While the rest of the country was under closure, we were on the road signing subcontractors to sew the masks."
Sonobia has set up a team to handle the issue of masks and will be a separate unit from its technology department and has also hired staff members to focus on the issue of online sales. She established a website and factory in Israel. The fabrics are still made in Germany and imported from there to Israel, but all the masks are made in Israel and shipped from the shipping center in Ramat Gan.
"The fashion industry took a hit, and we provided work for all those people who used to sew wedding dresses and lingerie," says Goldhammer-Steinberg. Finally, the company set up a factory in Acre, where most of the workers are Arab women from the mixed city. The rest of Sonobia's workers come from diverse backgrounds, and most of them are new immigrants, among whom can be found workers who immigrated from Argentina, Brazil, Canada, France, Germany, Russia, Ukraine, USA and other places.
The company has continued, and continues to this day, to conduct its own tests in additional laboratories, and the results are similar. The fabric has been tested against swine flu, against the British corona strain and more recently against the Delta strain. The fabric is currently being tested against the moo strain.
An experiment conducted in a certified laboratory in March 2021 found that the masks are also resistant to the bacterium that causes acne with 99% effectiveness. "The experiment showed how unusually active the fabric treated with our technology is against the bacteria that cause acne under anaerobic conditions," says Prof. Amos Adler, director of the microbiology laboratory at the Sourasky Medical Center in Tel Aviv, who serves as a consultant to the company.
A report published last year in the Journal of Primary Care and Community Health showed that more than 50% of people who wore masks experienced a negative skin reaction as a result, and acne was the most common reaction. This phenomenon has been dubbed maskne ("acne because of the mask") and has caused great frustration among masked people of all ages.
Adler says he expects the fabric to be equally effective against all corona varieties. "Corona strains have different epidemiological or immunological characteristics resulting from spot mutations in critical areas of the part that binds the receptors," says Adler. "And yet, their general structure and biophysical properties are almost identical. Thus, the antiviral effect of the fabrics created by Sonobia's technology is expected to work against all corona varieties."
Sonobia's technology uses sound waves to inject into the fabrics silver and zinc particles that kill viruses and bacteria.
"Ultimately we want to give our customers the confidence that they are wearing masks that work," says Jordan Fox, Sonobia's Creative Director.
He says the company has found that people with a high environmental awareness are interested in its masks because they can be washed and reused more than 50 times without losing their effectiveness. This prevents environmental pollution due to the use of disposable masks.
"Most disposable masks are made of plastic. When you throw them away, they end up in the sea and are eaten by fish," he explains. Moreover, disposable masks are a biological hazard. When hospital staff remove their masks, they throw them in bins to dispose of biological waste. But the average person is content to throw these masks in the nearest trash can, and so he may spread the virus among those who touch it.
Sonovia publishes on its website all the results of the independent laboratory tests it does. She also conducts surveys on a regular basis among her clients, and conducts adjustments in masks to meet the needs that arise among clients. During a meeting with the company's staff at offices in Ramat Gan, employees wore SonoMask masks in various colors and models developed in the past year to meet consumer demands.
Despite SonoMask's success, including a sharp 30% increase in its stock value as a leading Italian laboratory for textile testing has proven that the fabric eliminates Delta strain particles with 99% efficiency, Sonobia does not intend to remain only "those that make masks".
The epidemic brought Sonobia a positive cash flow, which led to interest from the most prominent Israeli investors, says head of operations Yuri Verba. The company raised NIS 50 million, and it has grown and plans to introduce its fabrics to the fashion, automotive, railway, tourism and medical industries. The company has recently begun marketing reusable covers against viruses and bacteria to seats on public transportation such as planes, trains and buses. In June, it announced a new line of sweat-wicking linens that repel bad odors and are able to maintain cleanliness over time.
Sonobia's technology offers much more than its pathogenic substances, and can be leveraged into various fields, including radiation protection.
UV, water-repellent products, flame retardant products and fabric dyeing, according to the requirements of customers.
"The technology based on the company's registered patent is fully automated, and can be easily integrated into existing production lines in a short time," says Goldhammer-Steinberg.
Earlier this year Sonovia announced a collaboration agreement with Delta Galil, which manufactures clothing items for select brands such as Victoria's Secret and Calvin Klein, to provide sportswear and other clothing items that repel bad odors. The Delta plant is expected to receive a machine from Sonobia for research and development by the end of the year.
Revenue from such sales can reach around $ 231,000 per machine, in addition to about $ 1.5 million a year from sales of the chemicals needed for the machine, explains CEO Yigal Zeitun. "The mask is just the tip of the iceberg," he says. Meet the new environmental standards of the European Union.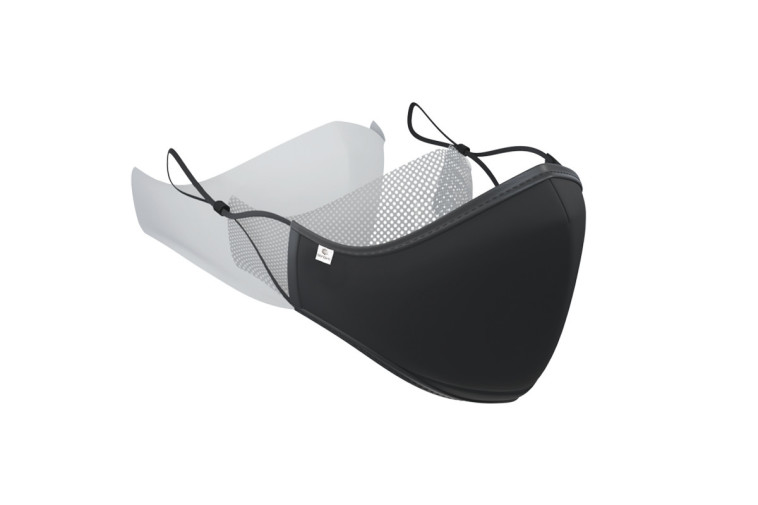 Dr. Aharon Gerzon, the company's VP of research and development, explains that about 20% of clean water pollution comes from the textile industry, and Sonovia's technology can reduce that amount by 50%, thus preserving expensive drinking water.
"The idea is to sell our machines to the textile industry, which will use them to reduce the amount of water and chemicals used," says Gerzon. He explains that Sonobia's chemical formulas are water – based, so they do not contain chemicals or other harmful substances.
The company is collaborating with Bruckner, a company that manufactures curing machines, to assimilate its technology in its own machines, which are used for coating and finishing fabrics intended for the fashion industry, fabrics intended for technical use, non-woven fabrics, glass fabrics and floor coverings. Bruckner is a leading company in its field, founded in 1949.
But for Hershkovitz, it is important to emphasize that Sonobia is not an overnight success story, but a business whose success is long-term. "We do not run the stock, we run the company that focuses on changing the world," he says.