Last Thursday, the unique project Makers of Heroes for creating technological solutions for IDF wounded volunteers ended. The project was produced by the Restart organization, which works to bring IDF wounded back to life. At the graduation event, 25 teams of about 300 volunteers gathered: engineers, programmers, designers, doctors and more in order to find the solutions.
One of those soldiers is Uri ZehaviA 23-year-old resident of Petah Tikva, who has always been involved in technology and computers, and in his military service participated in a flagship project of the ICT Corps in virtual reality programming for soldiers in the field, Uri is a digital art enthusiast with years of experience, Uri is injured in the spine, and is paralyzed from the neck down.
Despite his injury – Uri believes that his game is not over yet, and that he will continue to achieve in any field he wants. Following the injury, Uri is no longer able to use the computer as he used to, he uses a little keyboard and mouse but in a very limited way. Solutions exist on the market that are very specific and do not meet the way Uri is used.
As a gamer at heart, the ability to use a computer will be a life-changing improvement for Uri. A small, high-quality team of three engineers and experts from Rafael, the development and research delivery in Be'er Sheva, worked closely with Uri, who can move his neck and hands but not his fingers, in order to find a solution for using a computer and gaming.
At the end of the day, after a long process of learning, repetitive experiments with creative thinking – Uri came out with four accessible and tailor-made accessories: the first is a dedicated mouse that is pressed using an awning against which the button is pressed so that the hand remains on the table. The second accessory is a joystick – tried a number of things, for the game call of duty because apart from the mouse you need a component that will give movement in two dimensions. A dedicated and joystick-accessible remote control was ordered.
The third thing is a button shell – apart from body and head movement the game requires about 15 functions and because the movement of the hands is occupied by the mouse and the joystick will scatter buttons around the chair at points where Uri can press (behind the head, elbows, etc.). And the fourth accessory is an "in the air" sign – we bought Nintendo signs with gyros that attach them to the hands and with the help of dedicated software connect hand movements to the actions in the game.
The research and development branch in Be'er Sheva is located in the Gev Yam Negev High-Tech Park, as part of the company's strategy to expand in Israel and the south in order to connect to the developing technological ecosystem in Be'er Sheva, to absorb quality manpower from the south. Dozens of employees work in Rafael's southern branch.
This is the sixth year of the project between IDF wounded seeking to return to life and the best minds in the Israeli economy and this is the fourth year that Rafael is taking part in this important project.
"Restart has set itself the goal of returning the IDF wounded to the path of life," said Niv Efron, CEO of Restart. "All the members of the association are wounded in the IDF and this is without a doubt one of the reasons for our endless motivation to pay close attention to the wounded. I am proud and thank the various partners and volunteers for this special endeavor.
Dr. Tzachi Glickman, Head of the Mapa Division at Raphael, added: "As part of a user interface project for the physically handicapped, members of the Be'er Sheva Development Branch adopted Uri who lives with a physical disability that prevents him from doing the simple things we all take for granted on a daily basis. Uri's dream was to play a game called CALL OF DUTY and to be part of a community of players as equals. And an ongoing examination as to its suitability. "
Hanan, the head of the team at Rafael's Beer Sheva delivery, said: "Helping is always a good feeling but for some people it's a real mission. I got lucky and went out to work with some of the amazing people from Restart. In the project I met Uri who was injured in the spine. While we're talking about what to try he asks me if I remember a sentence in linear algebra and shows me a practice sheet from one of the degree courses he is currently doing. I think our latest formula is a winner and I hope we have come up with a successful and convenient solution for it. "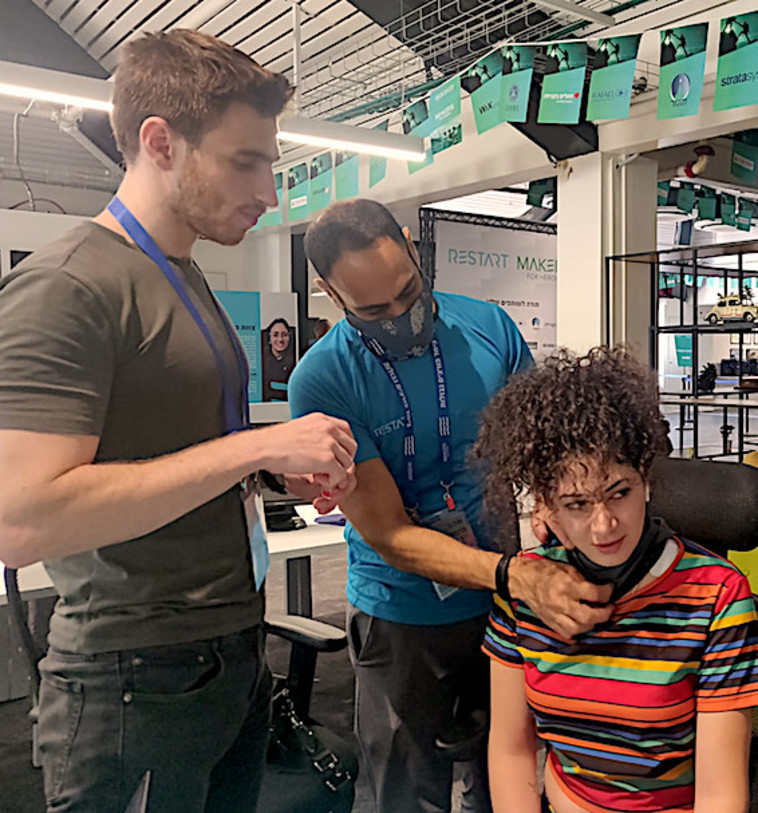 Contemporary fashion and 3D printing were recruited to treat the neck of an injured female soldier
Another example of innovative development for soldiers injured during service is the venture of a team of volunteers from Stratiss, a maker of 3D printers, who enlisted to help Moran Brashi, a former Air Force canine who had a car accident during service. After exhausting rehabilitation the accident still left her with a neurological injury in the neck causing prolonged pain, which muscle fatigue causes her neck to drop.
The injury posed a challenge to Moran, an industrial design student at Hadassah College: according to the guidance of her therapists, she is supposed to walk with a brace around her neck all day. Existing solutions, however – suffocating collars made of sponge, or plastic, just as you see on TV – perpetuate it as limited in the eyes of the environment and certainly not comfortable to wear for a long time.
Together with the Stratsys team, the group, made up of volunteers, came up with a solution that takes advantage of the company's specialization – 3D printing with thinking outside the box. "Design for a person with a disability should be so special that not only will it help a person with a disability – but that a person without a disability will also want it. That's the ideal for me," says a privileged fan, director of innovation and existing solutions at Stratiss and team leader.
STRATASYS MORAN Print the collar on the canvas in 3D Credit Stratis
The team that scanned Moran with a 3D scanner concluded that hard material in the collar would be problematic because of shots Moran receives in the area of ​​the injury. "We wanted to produce a 'collar' that would also support the head, also something that she would agree to put on that would look special, also something that she would have for several hours and also that she would not feel that her disability was extroverted," says Ohad.
The solution found – a wearable and supportive 'collar' – that combines the 3D printing, which will serve as a support system, on a fashionable fabric that will allow freedom of movement and adaptation to changes. "We printed our design on beautiful, well-preserved fabrics. We used the fabric's elasticity and texture and printed touch-proof materials unique to Stratis in geometric shapes. We made sure the combination could stabilize the neck and also look fashionable. The world is crazy about it and wants to use it, "says Ohad.
According to Ohad, printing on canvas and different textures will allow Moran to stock up on different collars for different events. The different geometries will allow some of the collars to 'breathe' more – a critical figure during the summer – while some are more suited to winter, or suitable for periods of particularly strong neck pain. The new product is also relatively light so she will not have to carry a heavy item around her neck.
"Everything was under close supervision and compliance with standards to make sure the solution was happy to the touch and safe for Moran," Ohad promises. "We also worked with physiotherapists and an accompanying team who guided us and helped us. With all the complicated solutions we tested, in the end we came up with a relatively simple solution, but which functions as an 'inclusive design' – the fact that Moran measured the collar and other people in the room said 'wow, that could be amazing "It's like a special necklace, I would like one too," it means we succeeded. "
"I really enjoy the project itself," says Barashi. "It is amazing that something like this is being done for IDF disabled people, because many things are not included in the ongoing treatment of our disability, or are not adapted to it. It greatly helps us to live a better life. A lot of the collars I tried were warm and heavy, and didn't look good to the eye. The project really helped me build a unique, aesthetic and functional collar. "