"Sugar, there is nothing to do, it is a comforting taste. The problem is not in the sugar but in its over.consumption. Why reward a person for the taste he likes? Instead, let's reduce the quantities," says Iran Baniel, CEO and co.founder of Podtech. DouxMatok, which developed incredo SUGAR – a groundbreaking technological solution for reducing sugar, based on natural cane sugar and allowing a reduction of up to 50% in the amount of sugar while maintaining the sweet taste.
Domtok's technology, which is protected by more than 20 registered patents, works by improving the efficiency of transporting sugar to the taste receptors on the tongue, resulting in a significant increase in the taste sensation in the taster.
The technology, according to Baniel, is applicable to a wide variety of sweets, including cookies, pies, spreads, chocolate and sweets (but not in beverages and dairy delicacies) and allows for a significant reduction in the amount of sugar in consumer products, while maintaining the familiar and beloved taste of consumers.
Thanks to this development, anyone who watches the documentary TV series Explained ("Close Up"), which airs on Netflix and is produced by Vox, will be able to see Baniel participate in the premiere episode of the third season dealing with sugar. "We were approached, among other things, by the fact that the esteemed TIME magazine marked Incardo sugar as one of the best inventions for 2020, and also following articles published about us in reputable newspapers around the world. During the Corona period, our photographs were taken in laboratories," he says.
Were you excited?
"This is very significant for us, because what is important in all this is the good news that you can reduce sugar and produce wonderful products without any side effects. This is good news that you can eat healthy and delicious."
Smart sugar
How long will it take consumers to absorb this good news?
"I hope we will do our job faithfully and the news will come as soon as possible. I hope it happens soon, I am optimistic."
According to Baniel, the development of Domtok should not be called a sugar substitute. "It's regular sugar, only smarter," he clarifies. "We asked the director of the pediatric gastro department at one of the big hospitals about artificial sweeteners. He replied that he could say unequivocally that sugar reduction is healthy, but 'I can not say that sugar replacement is healthy.' That is a very strong statement. "Proper consumption will not happen if the taste is not the taste we know. Therefore, whoever does not solve the taste challenge will not solve the sugar reduction. Only if we base the sugar reduction on sugar can the beloved taste be preserved, which is what sets our sugar apart."
The Domtok company was founded in 2014 by Baniel (75) and his father, Prof. Avraham Baniel, who is considered one of the oldest chemists and research researchers in the State of Israel, is now 102 and a half years old. In 2019, the company, which among its investors raised funds such as JVT and Pitango, raised $ 22 million in a second round of funding. "This is the second time I'm taking technology that my father is developing and building a start.up environment. Also for the first time, at Virdia, which was eventually sold to a Finnish company, it dealt with sugar, but for the purpose of green energy," says Baniel.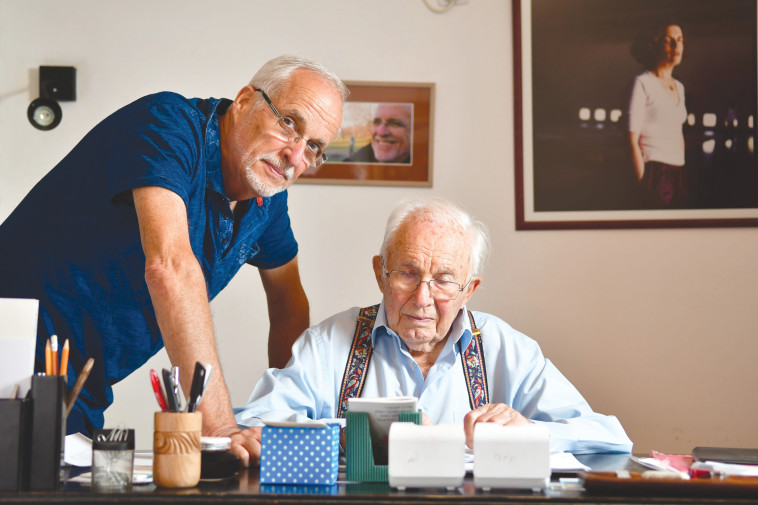 The home hospitalization revolution of Clalit Health Services
What was the idea behind the establishment of Domtok?
"The world is full of all kinds of technologies designed to replace sugar, to reduce sugar, and all of these things have a huge problem: the taste problem. They have side effects. My father had a dream of leaving behind a sugar reduction solution that has no taste problem. He wanted to do something different from the artificial sweeteners we Recognized in the market, he said that probably the only way to reduce sugar should be sugar.based because of the great taste of sugar. He started looking for the technology that would allow it. Sugar is a huge problem worldwide, leading to various medical problems. "Obesity. The health aspect was at the top of Dad's mind."
According to Baniel, studies indicate that when a person goes to a shelf in a supermarket and has to choose a product, his main consideration will be taste. "Only then is it the price and then the health," he says. "If we do not know how to reduce sugar in a tasty way, we will not reach a revolution. The consumer first seeks the taste. There is physical health and mental health. The taste is for mental health. The problem is that sugar is so cheap that the industry puts much more sugar than taste."
Memories of Dad
Domtok's offices are located in Kiryat Matalon in Petah Tikva, where incardo sugar production is carried out in Canada.
"In our offices, this is 1,200 square meters of research and development and a lot of delicious, sweet, healthy," he says. "Every day, three times a day, we perform blind statistical tastings of product against product. We do not decide on anything without tastings that prove our sugar priority. We have 35 employees, most of them scientists, researchers and food technologists. Dad was the sharpest knife in the set, but he really isn't anymore. About two years ago that changed.
"Dad was about 95 when we started developing the product. It was then as sharp as a razor. The original idea was his, he even almost burned his house in the development process. He did everything at home at first, and I was called to Jerusalem when I was told the kitchen was on fire. The initial idea was Led by a team of scientists led by Dr. David Tzivion.
After completing the development process, about a year and a half ago, Domtok began to trade and produce sugar in industrial quantities. "Before Corona broke out we were about to start launching ready.made products in the US with our sugar, desserts for companies that prepare their meals for high.tech workers in California. The last 120,000 portions were supposed to be our opening shot, "says Baniel.
"This thing was canceled because the workers stopped coming to the offices because of the epidemic. Then we said we would take Israel as our field of commercialization, and today our Incardo sugar is sold to food companies and bakeries to produce sugar.reduced sweet products. First products can be purchased with our sugar."
What products, for example, are on the shelf?
Among the products are the new series of the cookie brand 'Danny and Galit', a variety of products from Piece of Cake confectionery, whole.grain cereal cookies and oatmeal with bittersweet chocolate chips under the Wellness series of the Life brand, and there are more launches on the way. The red indicates a high amount of sugar as part of the Ministry of Health's product labeling reform. "
"In addition," says Baniel, "two months and a half ago, we launched an entire campaign in the United States to raise public awareness of Incredo sugar, that there is a solution to reduce sugar while preserving the sweet taste. We created the campaign using two spreads that can be ordered online in the US and it sells great: a hazelnut spread with a 48% reduction in sugar, and a bitter chocolate spread with salted caramel with a 52% reduction in sugar. More products in the series will be released soon. Israel is a small market. Our goal is first to trade our sugar and our solutions in the US, then we will move to Europe and other markets. At the same time, as stated, we started in the Israeli market and it is going well, so we continue. "
A home for delicious and healthy food
According to Baniel, as a supplement to sugar reduction, Domtok has developed technological and culinary capabilities to take advantage of the reduction to add healthy food components from the worlds of dietary fiber and protein, which the company offers as a service and support.
"We want people to experience the sweet taste and be happy, and at the same time we are also replacing the weight of sugar we have reduced with dietary fiber and plant proteins. We are currently providing a complete package," he explains. "We get briefs, recipes from companies, adjust them to reduce sugar, develop with us, send samples to the customer, then give him the 'keys' and he goes and produce this thing. Sometimes customers also send us a sample of an existing product, and ask how to reduce it by half. From the amount of sugar to still be delicious.
"There is a very interesting phenomenon here. On the one hand the regulation definitely pushes companies to look for healthy solutions, on the other hand it must be said honestly that because of side taste problems most people do not even go to the shelves of writers. Look at the absurdity "Most consumers have been looking for the comforting products, the products they like and are used to. So one of the big challenges is to tell the branch manager at the supermarket that we are in normal taste."
Does your sugar micromanage the cost for the manufacturer?
"The product will not be very expensive, because even if I cost twice as much as regular sugar, you save the amount of sugar. Of course, the more we grow and produce, the price will naturally go down. "Like the solution we offer of dietary fiber and plant proteins, if you want to fill with good things for the consumer – it will cost more money."
Can the private consumer also buy Incardo sugar?
"Not at the moment, but we're working on ready.made blends with our sugar to make cakes."
Baniel sees great importance in the growth of the food technology industry. "This is a field that is developing very much. There are many companies in Israel that do this, and Israel has become a source for the next generation of food technologies," he says. "The world of food is changing and must change, and being on the forefront of companies contributing to change in the world of food is a tremendous achievement. There will be a much more selective and rigorous consumption of food products, and Israel is completely at the forefront of this."

Where will you be in 10 years?
"We will be the technological home for everything that is delicious and healthy."