"The revolution that Apple has made in mobile communications, I want to make in the field of personal security and preventive medicine," says Dr. Haim Amir, CEO of Essence Group, a leading technology company that develops and manufactures innovative cloud-based security and health solutions that protect people at home and at work.
"Using the technology we have developed, we are creating a kind of Iron Dome that provides complete protection and allows a person to feel peace of mind ('Peace of Mind')," says Dr. Amir. Something they did not know. "Once they meet our products, they understand that it will be difficult for them to do without them."
Among other things, the Essence Group provides smart home security systems, which use innovative technology while implementing artificial intelligence and machine learning that provide real-time protection for millions of customers. The company's systems are installed in 46 countries around the world, where about 15 million devices are sold every year.
The company has now launched a new line of advanced products, which have gained international recognition. At the world's largest innovation show, CES, held last January in Las Vegas, Essence won two awards, one of them for MyShield, the world's all-in-one security system that serves as an independent entity that is not connected to the Internet or home electricity but to the 5th generation cellular network. .
The system includes an infrared motion detector, a high-resolution video camera for detecting burglars, two-way voice communication and a thick smoke machine that fills 30 square meters in 30 seconds, thus fleeing burglars. The previous generation of the device was sold in one million units in Europe, and here in Israel Purchased by security company Team 3 for installation at their many customers.
"The smoke emission prevents the burglar from seeing or finding his way around the room, and once he cannot see, he cannot commit the crime and must leave the place," says Dr. Amir. In some cases, we saw for example that burglars did not find the exit, got stuck in houses and actually waited for the police to rescue them. Thanks to our technology, the house becomes a police officer and carries out active operations. "
"Our system is connected to the cloud 24 hours a day and is constantly on the alert," Dr. Amir emphasizes. Installed in the house. "
For years, Essence has operated in front of security and safety centers, and recently it is expanding its product market to the consumer market as well. "As a customer, I want to know about the incident that is happening in my house as soon as it happens, and that it will be dealt with immediately, because the burglar or attacker will not wait long minutes for the police or security personnel to arrive," says Dr. Amir. A system that serves itself anyway? "
The company was founded by Dr. Amir and his wife Rebecca in 1994, using the extensive knowledge he gained from his military service as a naval officer who developed strategic combat systems, such as satellite missile detection capability and missile defense systems. "It was a great privilege to serve the country. Ours, "he says." I always felt I was on a kind of mission. "
The service led him to study for a master's degree at the U.S. Navy School, where he also received his doctorate. "My doctorate was in identifying satellite cruise missiles using an infrared camera," he recalls. "When I was a young lieutenant I had butterflies in my stomach because I knew I was doing good things. But I wanted to do more. I not only wanted to protect people in time of war, but also in peace, in everyday life, and that is the purpose of Essence, Civil Iron Dome. I took the knowledge that was I have from the military systems, the ability to take complex thinking and simplify it and especially to work without borders. "
After his military service, Dr. Amir knew that he wanted to set up a company that would protect people in their daily lives, but he also realized that he had to first learn how to build a company. So he chose to work at Scitex: product. At Scitex, I learned how to manage high-tech, and I introduced this culture to Essence. "
After five years at Scitex, Dr. Amir moved to Nisco Electrical and Electronics, where he worked for a decade. "In the end I said enough, enough," he notes. "My wife and I decided to start the company. We had no money, only what was in our minds and hearts. Today we are ready for the next leap: to meet with significant figures in the world, who can help us reach every home. "
Dr. Amir's military knowledge has helped him develop solutions not only in the field of security but also in the field of health. "We have developed platforms with built-in artificial intelligence and the fall detection radar, which is the only one in the world that works on batteries," he emphasizes. "The device knows to tell a person what his condition is in real time, not only if he fell, but also if he is stressed, if injured and how severe the injury is and so on. If a person falls, a two-way channel automatically opens and he can talk directly to the call center "Or with his family. That way he will get the fastest service. Nowadays people fall alone at home, and if no one knows about it, they could die. It is a life-saving solution."
The system currently performs various medical measurements. "In the future," says Dr. Amir, "after we do more research, she will be able to measure more data. All of these actions are non-invasive, there is no need to touch the patient, and there is nothing on his body as long as he is at home. When the customer leaves his house, he wears a special bracelet that alerts in real time if there is an incident. "If the patient falls outside the house, the bracelet recognizes the fall and immediately opens a communication channel and we know its location and provide it with full protection."
The VitalOn system developed by Essence, which also won an innovation award at CES, allows easy connection of various measuring instruments such as a blood pressure monitor, or those that test the percentage of oxygen in the blood: "Able to communicate with all equipment. Through voice instructions, the system instructs the patient on how to act and what to do, and the data is transferred directly to his personal file."
The issue of health has always been important to Dr. Amir. In 2013 he was invited to give a lecture to 700 doctors from the Catholic Church, and even received a medal from the Pope for his work on the subject: If they start providing better services to patients in their homes, I said, costs will go down and so will the congestion in hospitals, and the quality of life will go up. " – VitalOn, a groundbreaking technology for remote patient monitoring.
During the pilot, dozens of people were treated in a home hospital using the system, which is individually tailored to the patient's condition. "The corona will disappear sometime, but chronic patients still need to be cared for and spared frequent hospital visits," Dr. Amir emphasizes. "Our system is the first in the world that uses artificial intelligence and machine learning, and connects to several devices simultaneously to give the overall treatment in an accessible way."
Home care systems give peace of mind not only to the patient but to the whole family, and have the ability to report in real time significant events such as sleep hours, meals, falls and stressful situations. "The system uses sensors without cameras, so you can feel free in your home," Amir emphasizes. "Privacy is very important to us, so the system learns the house by using advanced radar."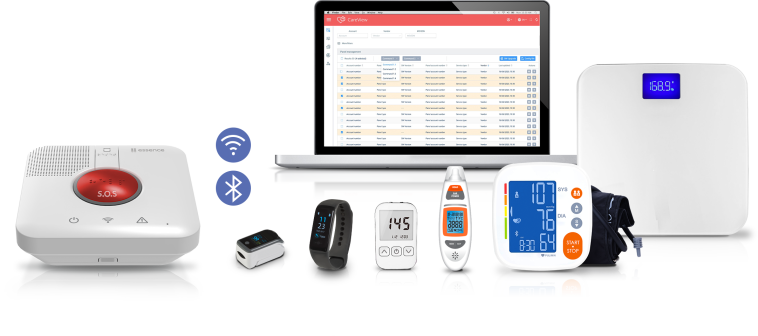 The need for security is the basis of the Essence company, it is also the base of Amir, who immigrated to Israel with his family from Morocco when he was 10. The family, with five small children, lived in a barracks in the transit camp. "I was just a young child, but I felt the sadness and difficulty of my family, who had to live in a state of survival. A new country, a new language." With no income or horizon, Amir's family was forced to reinvent itself in order to survive.
When he was 13, he told the school counselor that he wanted to do a doctorate in electronics. At the age of 17, he was selected from a group of students to study computer science at the Weizmann Institute. Due to a shortage of math and electronics teachers, he taught students while he himself was in high school. His excellence in studies led to a special fund established by the school funding his first year of study at the Technion. That is why Amir has set up a fund that will raise funds to promote education for Ofakim children, where Essence products are manufactured, and about a thousand employees are employed. "When I look back, I realize that the need for security has become the basis for everything my company represents today, security and health services are accessible to everyone," says Amir.
He is proud that most of their technology is developed in Israel. "Over 90% of our products are manufactured in the south of the country in Flex's production plant in Ofakim. Today, when we supply about a million systems a year, that translates into work for a thousand families in the south. Both in the services we provide to customers and in the prices of the products. "Our goal is to provide products for hundreds of millions of homes worldwide, so the cost of production will be small and will allow us to both earn respectably and sell at a low cost that produces savings for the customer."
Today, he says, the company is in full swing, with new agreements in Europe and also in Israel and even enjoys the opening of the Israeli market to the Gulf states, thanks to the Avraham agreements. Essence has contracted with the largest investment firm in the UAE, 42G, which has already signed preliminary agreements. "We are ready to take it to the next level," concludes Amir, "using the most innovative technology to create the simple products to operate and make the home truly smart, one that teaches you, your behavior patterns and most importantly protects you."