In a joint statement by Prime Minister Yair Lapid with French President Emmanuel Macron today (Tuesday) at the Elysee Palace, the French president said: "
We are glad that you chose France as the first country you visited as prime minister. "The French president referred to the Iranian threat and said:" The nuclear agreement must be defended and the interests of regional partners like Israel must be taken into account. It is our duty to ensure Israel's security. "
Macron further said that There is no substitute for political dialogue between Israel and the Palestinians.
Prime Minister Lapid said in a statement: "Thank you very much for your words and for supporting us against anti-Semitism in France and around the world. Our membership is based on values, and we both agree that it is worth fighting for values. It is a special pleasure for me that my first official visit as Prime Minister is to a country that is a close friend, and to a president who is a close friend. I thank you for the welcome, for the support and friendship throughout the years. Thank you for your unequivocal stand against anti-Semitism in France and around the world. "
"In the last year the war in Ukraine and what is happening with Iran teaches us that democracy not only protects us but we protect it. Israel and France are more than companies. We are strategic partners and together we are determined to defend especially in cyber, "added Prime Minister Lapid.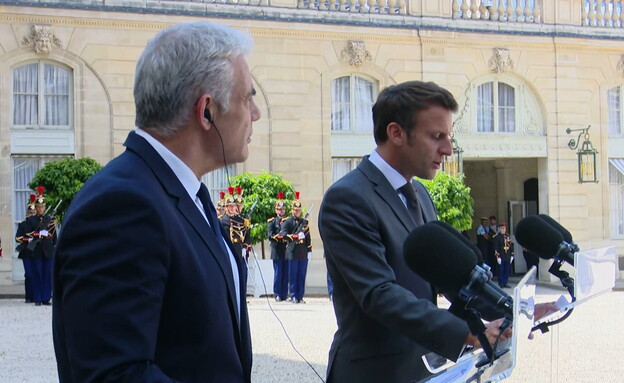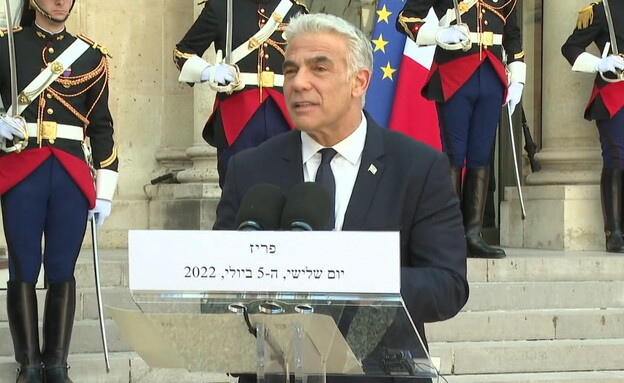 "France is not only a leading country in Europe, it is also one of the E3 countries, leading the negotiations with Iran on the nuclear deal. We may have disagreements about the content of the agreement, but we do not have any disagreements about the facts. The facts are that Iran is violating the agreement it signed and continues to develop its nuclear program. Iran hides information from the world, enriches uranium beyond what is allowed, removes surveillance cameras from its nuclear sites. The world needs to respond to all this. "
"Mr. President, you were the first leader to speak, as early as 2018, about the need for a new agreement with Iran, to an international arrow that will prevent Iran from becoming a nuclear power. You were right then and you are right today, "Lapid added." EA situation can not continue, it will lead to a record nuclear arms race threatening world peace. We must work together to prevent this from happening. "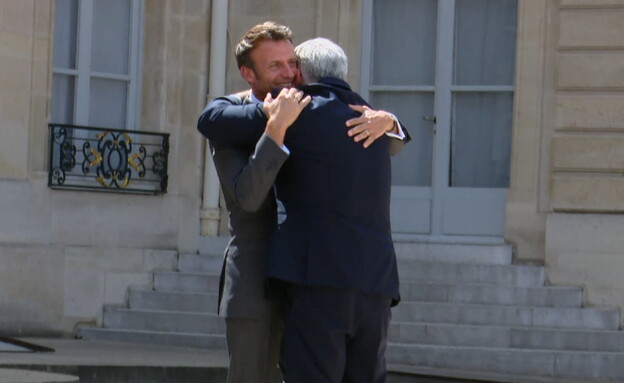 "Wherever there is terrorism, we will find Iran behind it. Iran has only recently attempted an attack on Turkey. Hezbollah, Iran's arm, is also violating the agreements and hitting Lebanon. Hezbollah has missiles aimed at Israel. They are trying to attack us, but Israel will not sit still. And will do nothing given these repeated attacks. I do not want our dialogue to deal only with the need to defend. We need to talk about technology and young people. I thank you for the membership and look forward to working together for both countries".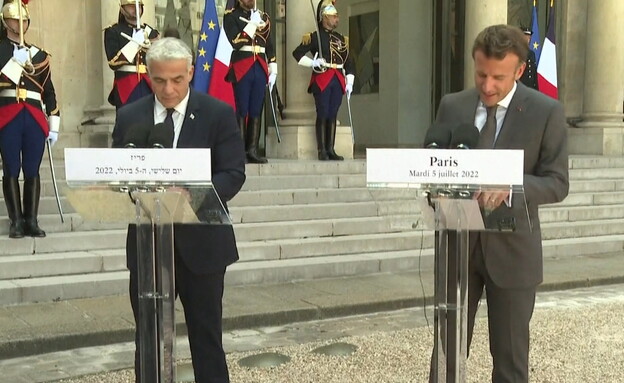 Before leaving for France, Lapid said: "I am going on my first trip as prime minister to the French capital, Paris. France is a major strategic partner of Israel, in all sorts of areas, but a big part of the trip today is the fact that France is one of E3 countries in the nuclear deal with Iran."
"It is important that our opinion is heard at this time against this dangerous agreement, against Iran's organization and nuclearization on the issue. I will hold a conversation with my friend President Macron. In front of the international community, there is a united position, "Prime Minister Lapid added before taking off." We will also, of course, discuss what has happened recently off the coast of Lebanon. There have been repeated attacks on Israeli gas rigs. Israel will not agree to this type of attack on its sovereignty, and anyone who does so should know that he is taking an unnecessary risk to his well-being. The Lebanese government needs to restrain Hezbollah in the face of these attacks, or we will have to do so. "