UK Political Drama: Prime Minister of the United Kingdom Boris Johnson Announced today (Thursday) in a special public statement about his resignation, against the background of a chain of resignations in the government and parliament, claiming that he is no longer fit to continue in office.
"It is clear now that the Conservative Party wants a new leader and a new prime minister, the process of electing such a leader is starting now. And according to the timetable it should happen next week. Thank you to all our voters. I wanted to deliver this message personally, not because I wanted but because it is my commitment "For you. We came out of the Corona closures, we stood against Putin. I will now tell the Ukrainians – we continue to back up your struggle. In recent days I have tried to convince my colleagues that it is wrong to change government, when we have achieved so much, and in such an economically complex period."
"To the new leader – I will give you as much support as possible. To the British public – I know there will be many people who will feel relieved, and some who will not be satisfied. Above all I want to thank the British public for the huge right you gave me, I want you to know. "Your interest will be preserved and the government will continue to work for you. I know that even if things look black now, our future together is rosy," he concluded.
Johnson reportedly even spoke with Queen Elizabeth, apparently in a polite conversation before announcing his resignation. Buckingham Palace declined to comment if the Queen had any communication with Johnson.
The leader of the Labor Party and chairman of the British opposition, Starmer WallWelcomed Johnson's intention to resign and added that he "should have left long ago. Britain needs a fresh start after 12 years of stagnation (stagnation) and empty promises under the Conservatives".
The election for the presidency of the Conservative Party is expected to take place this summer and it is estimated that a new prime minister may be appointed no later than October. Until then, Johnson is expected to remain in office. Johnson's resignation eliminated the need for another no-confidence vote, which was expected to take place next week after the law was changed.
The schedule of the election will be determined by the 1922 Committee, the parliamentary group of the Conservative Party in the House of Representatives. At no point in this process will there be an election or a public vote to elect the new prime minister, although they may choose to advance the election to get the mandate.
Johnson was elected leader of the Conservative Party in July 2019, after defeating Jeremy Hunt in the last round. A day after the party's election, Queen Elizabeth accepted Theresa May's resignation and appointed Johnson's 55th Prime Minister of the United Kingdom. In the general election, held on December 12, 2019, his party won a large majority.
Last month, Johnson survived the no-confidence vote in the Conservative Party after receiving 211 votes, against 148 MPs who voted against him. Forty percent of party members voted against him, a figure that indicates dissatisfaction with the prime minister. So far, many MPs have refrained from hesitating to oust the Prime Minister, as they believe there is no worthy successor.
Secretary of State, Secretary of Defense and Secretary of State: These are the candidates to replace Johnson
Penny Mordent, Serving as a member of the North Portsmouth County House of Representatives and kosher for trade policy at the International Trade Office, she was mentioned as one of the candidates to succeed Johnson. In the past, she served as United Kingdom Secretary of Defense, Minister for Women's Affairs and Equal Opportunities in Theresa May's Cabinet. The results of a Conservative Party poll released over the weekend have placed it as the second preferred choice, behind current Defense Secretary Ben Wallace.
Mordon was perceived as unfaithful under Johnson for supporting Jeremy Hunt. She was one of the more direct service when it comes to criticizing the Prime Minister on Party-Gate and seems to be planning to run for prime minister. Another potential candidate is the former finance minister, Rishi Sonak, Who resigned. Sonak was considered a favorite to replace Johnson, but after being fined for his involvement in the Party-Gate affair, his status plummeted.
Foreign Minister, Elizabeth Terrace, Was also mentioned as one of the candidates to succeed Johnson. The Secretary of State was quick to announce her support for Johnson, a move seen as an attempt to gain potential support from Johnson supporters. As the first foreign minister, she received credit for the release of British prisoner in Iran Nazneen Zagari-Ratcliffe and for imposing sanctions on Russian oligarchs.
Minister of Defense, Ben Wallace, Ranked first in the Conservative Party's popularity poll due to its handling of the war in Ukraine and the withdrawal from Afghanistan. British MPs claim that because of his different style from Genoese, he is considered one of the leading candidates to succeed him. Other candidates mentioned as candidates for the post of Prime Minister are former Home Secretary Sajid Javid, Minister Nadim Zahwi and British Foreign Affairs Committee chairman Tom Tugendhat.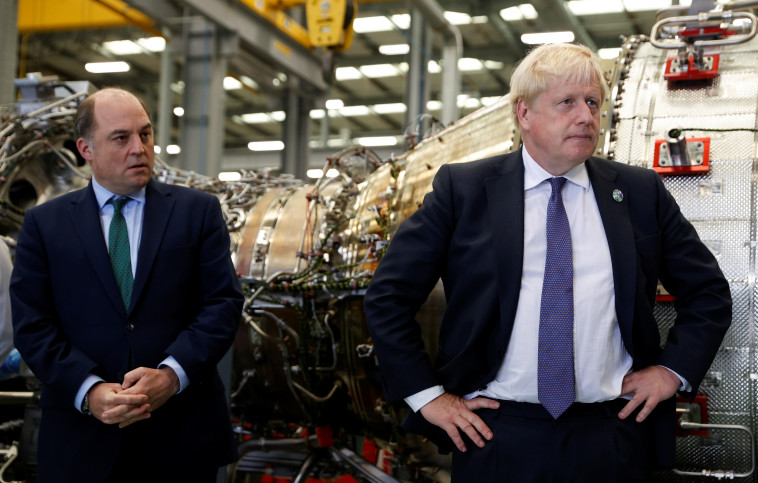 Other senior ministers have resigned
The chain of resignations does not stop and continued this morning. Minister of Security and Borders Damian Hinds Announced his resignation: "For our country and for trust in our democracy, we must change leadership," Hinds said after his announcement.
It has been a huge privilege and responsibility to serve as security minister.
It shouldn't take the resignation of dozens of colleagues, but for our country, and trust in our democracy, we must have a change of leadership.
My letter to the PM: pic.twitter.com/V82wT5P2Ta

— Damian Hinds (@DamianHinds) July 7, 2022
Also the Minister of Science George Freeman Announced that he no longer has confidence in Boris Johnson and that he is resigning. In a letter sent to Johnson, Freeman wrote: "It can not go on. Your leadership, the collapse of the cabinet and the collapse of public confidence in the government represent a constitutional crisis." Freeman became the 50th member of the resigning government.
In addition, the junior finance minister Helen Watley Also announced her resignation. In the resignation letter, Wattley wrote "I have argued that you should continue as prime minister many times in recent months, but will understand so many times that you need to apologize and move on." Also, Secretary of State of Northern Ireland, Brandon Lewis Announced that he would not continue in his position.
At the same time, the Attorney General of England and Wales, Suela Braverman Called on Johnson to resign and announced that she would run for prime minister if elections were called.