But heavy in the British capital: Two twin couples were lifelessly rescued from their home in London • Their 27-year-old mother, who was not home at the time of the disaster, was arrested on suspicion of neglect • The children's father: "We are completely broken, they were brilliant, caring and loved children" • Spokesman for the fire brigade: "Some of the forces are assisted by psychological counseling"
Tragedy in London: 4 children were killed yesterday (Friday) in a fire that broke out in their home in the south of the British capital. The four children are siblings – two pairs of twins aged 3 and 4. Their 27-year-old mother was arrested on suspicion of neglect.
The four brothers, Kayson, Bryson, Layton and Logan, were found during the fire in their home after their mother apparently left the house for an unknown period of time. The cause of the fire is still unknown, and in parallel with the police investigation, an investigation is also underway by the British fire and rescue forces. According to the forces, the local firefighters arrived at the scene a few minutes after the call was received.
The children's father, Dalton, who was not present at the time of the fire, described his sons: "They were brilliant, caring and loved children." He added to the media that he and his family "are completely broken due to the heavy disaster. First of all, they were sons, brothers, grandchildren, great-grandchildren, nephews and cousins.
He further added and thanked all the emergency forces "who worked so hard in trying to save our boys", as well as all the community workers "who came together to try to help us overcome the disaster. The children will always be in our hearts".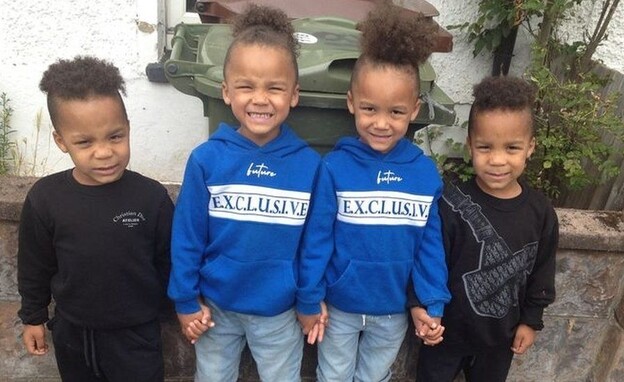 "Immediately after we arrived we identified the four children in the house," the fire chief said. "Entering a burning house and locating people inside is always a difficult thing. The fact that this time it was four children so small and young was a particularly hard blow to the fire brigade. It touched their hearts very much."
A spokesman for the fire brigade said that some of the firefighters were required to seek psychological counseling. In addition, some of them insisted on escorting the ambulance to the hospital and trying to closely monitor their care.