The former U.S. Secretary of State underwent a major makeover after weighing 136 pounds in the past • He told the New York Post: "I just started exercising for half an hour almost every day in the basement at home and eating right and the weight started to drop" • Doubtful nutritionists: "Massive starvation had to be resorted to "
reverse: Former Secretary of State in the Trump administration, Mike Pompeo, has lost 41 pounds in less than six months. The senior diplomat described to the New York Post the weight loss as a "battle for life."
Pompeo started the procedure on June 21 last year, when he weighed 136 kg. The goal he set for himself in the first stage was to lose about 92 kilograms. "today is the day".
He told the New York Post that he bought his home basement a sort of gym that included a facility that simulates the action of climbing stairs, as well as some weights. At the same time, Pompeo also began to maintain a healthy diet.
EXCLUSIVE: Mike Pompeo: How I lost nearly 100 pounds in 6 months https://t.co/wwZXFPKwGg pic.twitter.com/gMBwOGqwty

— New York Post (@nypost) January 7, 2022
"I started exercising almost every day and eating right – and the weight just started to drop," said Pompeo, 58, who also served as a senior CIA official. His training routine in the basement, he said, included between five and six workouts a week, each lasting half an hour. He further added that there were no nutritionist or professional fitness trainer who accompanied him in the procedure, but only himself.
In the past, he said he would work a lot, and then order a cheese burger for the hotel rooms where he stayed: "You just keep working and eating," he said.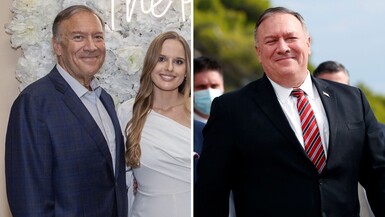 Pompeo's success, however, has been slightly questioned by weight loss experts. Some of them spoke to the Star newspaper and said that the former American official had to resort to a kind of much more massive 'starvation' in order to be successful. "There is no way he was able to do that at his age in just half an hour of training. He had to train for hours every day," expert Micha told Charta. Pompeo for his part said all that was required of him was to be in the right mood, and denied that the reason for the move was that he considered running for the US presidency in 2024.