Disturbing documentation of the tight closure imposed on provinces and cities in northern China was published today (Wednesday) on the networks. In the run-up to the 2022 Winter Olympics, which begin in the country next month, the Chinese regime is pursuing a "zero contagion" policy, setting up quarantine camps that show small, crowded metal pavilions. According to testimonies, children, pregnant women and the elderly who were suspected of being infected in Corona were also transferred to them.The communist regime is trying to eradicate the virus completely, even by draconian means, but the contagious omicron variant continues to spread and poses a challenge – probably the most serious challenge facing China. After the virus was detected in Tianjin Province over the weekend, a second round of mass tests was conducted in the city for all 14 million residents.
According to a CNN report, about 100 virus-infected people were found in the city. But despite the closure – the eruption has already spread to Aniang, a city in Henan province 482 km away. In the city of Aniang, home to 5.5 million people, a full curfew was imposed on Monday after two Omicron cases were reported there. The cities of Aniang and Yuzhou have joined the 13 million Xi'an residents who are already in quarantine, and with the exception of a single representative from each family – they do not even leave their homes to buy food.
Relatives of residents of the besieged cities reported thousands of people being transferred to the "Corona camps". According to some reports, they also include pregnant women, children and the elderly. Documentation from those alleged camps in the city of Xi'an shows an extensive area with tiny pavilions furnished with a wooden bed and toilets, where those who are suspected of being infected with the virus are forced to stay for about two weeks.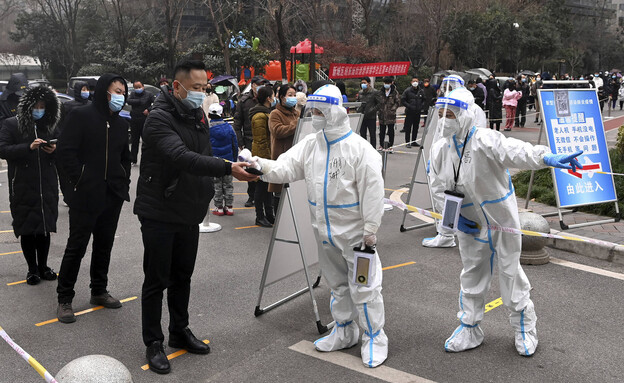 Beijing says they are taking all necessary safety measures to curb the corona virus ahead of next month's Winter Olympics. According to the BBC, only Chinese residents will be allowed to attend events and those who do will enter the quarantine even when they return home. The goal is to create an Olympic bubble by keeping the media, athletes and observers in three separate bubbles, where according to the rules anyone who enters these bubbles must be fully vaccinated or spend 21 days in quarantine. Corona tests will be performed on a daily basis, and of course – face masks are needed all the time.
Last week, an El Al flight attendant who had contracted the omicron strain in China returned to Israel, and for two weeks she was not allowed to return. At the same time, as far as is known she was staying at the local hospital in good condition.