France will give the United States a scaled-down replica of the Statue of Liberty ahead of the 245th Independence Day, similar to the gift she gave her 136 years ago • The "little sister" is only about 3 meters tall and weighs about 450 kg. The Great and Original Liberty in New York, and later copied to Washington DC
N12










| Posted 10/06/21 15:06

The little sister arrives at the big apple: France will give the United States a special gift in preparation for the 245th Independence Day. In honor of the national holiday on July 4, Paris decided to send a scaled-down copy ("Little Sister") of the famous Statue of Liberty. And will later be moved to Washington, D.C., where it will be for at least the next 10 years.
The small Statue of Liberty was loaded and loaded onto a container three days ago, a gift from the French National Museum of Art in Paris. It was first built in 2009 and housed in the famous museum in 2011, right up to the last few days. The height of the new bronze statue is about 3 meters, and it weighs about 450 kg. For comparison, the height of the original Statue of Liberty is almost 93 meters and its weight is estimated at several hundred tons.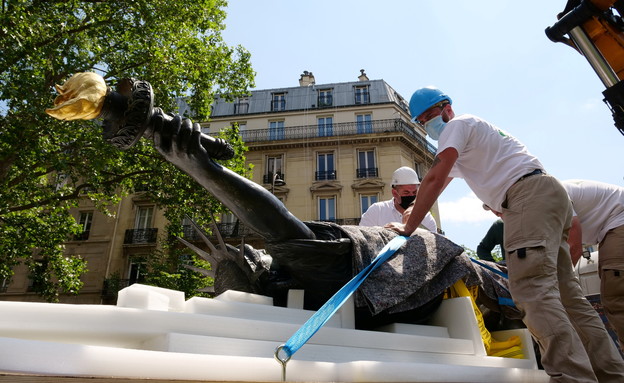 During the Independence Day celebrations, July 5-1, the statue will be placed on Alice Island – a few hundred meters from Liberty Island, on which stands the original Statue of Liberty, which welcomes visitors to New York by sea. The statue will then be moved to the American capital, where it will be placed in front of the home of the French ambassador to the United States, and will be there for at least the next 10 years.
The new statue, except for the significant difference in its dimensions, is exactly the same as the original Statue of Liberty. The crown of the woman in the same statue – with its seven famous thorns, symbolizing the rays of the sun hitting the world. In addition, the tablet she holds in her hand, on which the American date of independence is written in Roman literature, is identical to the one in the original sculpture. Finally, a shattered chain is also attached to the woman's foot in the new statue – symbolizing freedom and liberation from slavery.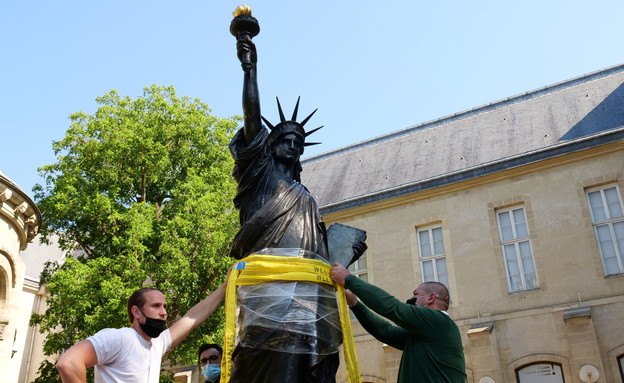 "The statue symbolizes freedom and light all over the world," said Olivia Paron, senior director of the French National Museum of Art. "We want to send a clear message: our friendship with the United States is very important, especially these days. We must strengthen this friendship and work to preserve it at all times. "
The original Statue of Liberty was sent to the United States as a gift from France in 1885 – 20 years after its legal and official abolition of slavery. The statue was supposed to arrive in the United States as early as its 100th Independence Day in 1876, but due to its enormous size the date has changed several times.