The 35th day of the war in Ukraine:
British intelligence reported this morning (Wednesday) that the Russian army had suffered heavy casualties in the war, and was therefore forced to withdraw its forces back to Russia and Belarus in order to regroup and re-equip. "Such actions put pressure on Russia's logistics and execution challenges," the daily said.In addition, the UK estimates this morning after yesterday's announcement by the Russians about reducing military operations deep in Ukraine and reducing military pressure on major cities, Russia will now seek to compensate for this with the proliferation of artillery bombs. At the same time, it is estimated that Russia will further increase pressure on eastern Ukraine.
Despite yesterday's announcement of a reduction in hostilities, Kiev and the West express great skepticism regarding statements from Moscow. British Deputy Prime Minister Dominique Raab said this morning that Britain was "very skeptical about promises from Moscow, and look forward to seeing action on the ground".
Ukraine announced in the evening that there was still no real Russian withdrawal from the Kyiv and Chernigov regions, and estimated that it was a Russian intention to prevent Kiev from transferring forces to eastern Ukraine – claiming Russia's main goal now is to encircle enemy forces. Meanwhile, a senior US intelligence official said: "We believe Putin was misled by his top advisers, who were afraid to tell him the truth and update him on the battles of the Russian military on the battlefield and the impact of sanctions on the Russian economy."
The round of peace talks between Russia and Ukraine in Istanbul ended yesterday, and no real progress has been made so far. In the United States, it is estimated that further rounds of talks will be required, and that Russia's announcement of the withdrawal of forces and focus on the East does not indicate its desire to end the fighting.
A special event occurred yesterday when Roman Kharibov, a fighter in the Ukrainian army, was released from captivity by the Russian army and received a special certificate of appreciation for his service during the war. Kharibov is remembered from the first days of the war, in the battle of Snake Island, which gained great prestige among the Ukrainian public. When the Russian navy arrived to take over the island and demanded that the 13 fighters who were on it surrender, Kharibov replied: "Go fuck yourself."
All updates – minute by minute
17:15: British Prime Minister: Our aim is not to oust Putin.
16:56: "Russian President Vladimir Putin has been misled by his advisers about the severity of the fighting situation in Ukraine," a senior U.S. intelligence official said. He quoted classified intelligence as saying that senior Russian presidents had "misled him" about the poor performance of the military in Ukraine and the sharp impact of sanctions on the Russian economy. "We believe Putin was misled because his advisers are too afraid to tell him the truth."
16:55: The governor of the Luhansk region called on his citizens to flee the area, and warned of fierce street battles taking place in the town of Popensa.
16:54: Britain expanded sanctions on Russia, banning Russian bodies from providing technical assistance to aircraft and ships.
16:51: Russian Deputy Foreign Minister Sergei Rybakov: Hopefully European countries will change their minds about buying Russian gas in rubles.
16:38: Ukrainian Ministry of Defense: We do not see a real withdrawal from the Kyiv and Chernigov region. In addition, it was reported that the Russian forces continue to try and occupy Mariupol as well as other cities and towns. "The main goal of the Russian forces now is to encircle Ukrainian forces in the east." It was also reported that Russia is preparing to launch a new counterattack.
16:11: UN claims: More than 2 million Ukrainian children were forced to leave their homes following the war.
15:39: Ukrainian envoy for talks with Russia Mikhail Podolyak: "I got an optimistic impression from the round of talks in Istanbul." Regarding the success of the negotiations and clarified that the issue of the Crimean peninsula will have to be on the agenda.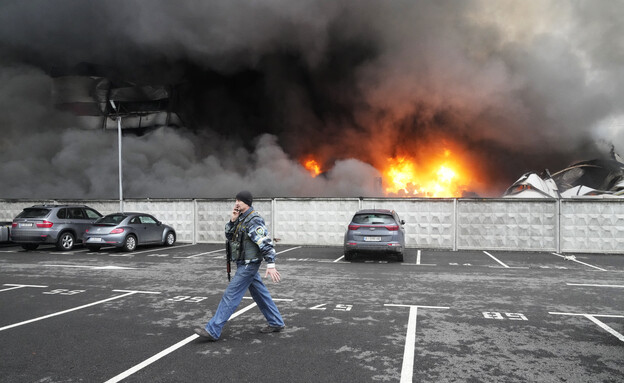 15:13: Zalansky addressed the Norwegian parliament, calling for "European countries to ban Russian vessels from docking in their ports."
13:00: The Kremlin: The Crimean Peninsula is part of Russia and the Russian Constitution refers to the Russian affiliation with it. It was also reported that no real breakthroughs were recorded in talks with Ukraine, but the fact that the Ukrainians "began to formulate their demands" is encouraging.
The head of the Russian delegation, Vladimir Medinsky, said that last night, the Ukrainian side presented, for the first time, some conditions for "good" neighborly relations with Russia. He added that if these conditions were met, then the threat of a NATO foothold in Ukrainian territory would be removed. However, he stressed that negotiations were ongoing.
11:42: UN High Commissioner for Refugees: More than 4 million people have fled Ukraine since the beginning of the war.
11:15: Russian Defense Ministry briefing: Two large weapons depots were destroyed in Donetsk, 64 Ukrainian military targets were hit, including a headquarters in Nikolaev.
10:59: Adviser to President Zlansky: The war will remain active for the next week. He estimated that Russia would continue to hold forces near the capital Kyiv to prevent Ukraine from transferring more forces to the east of the country. On the peace talks yesterday, he said: "With all due respect, Ukraine has improved its positions."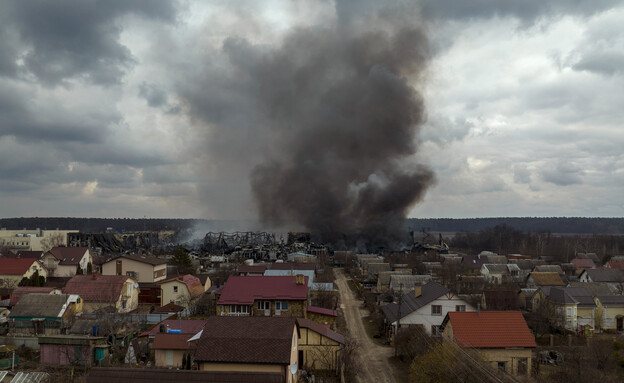 10:44: The head of the International Atomic Energy Agency Rafael Grossi is visiting a nuclear power plant in southern Ukraine.
I'm at South #Ukraine Nuclear Power Plant to meet Ukrainian gov't officials and staff, and start @IAEAorg technical assistance for safety and security of country's nuclear facilities. Vital to be on the ground to provide effective support to in these extremely difficult times. pic.twitter.com/LqcR23SXgK

– Rafael Mariano Grossi (@rafaelmgrossi) March 30, 2022
10:41: Polish Prime Minister: By the end of the year we will stop using Russian oil.
10:40: Donetsk Oblast Governor: The situation is very difficult and complicated, all the provincial towns are absorbing heavy bombs.
10:10: Khmelnytsky County Governor updated on night bombings in various areas of the district.
10:07: Chernigov province governor said that despite Russian promises from yesterday, there was no visible shift of forces on the ground. "Do we believe in promises? Obviously not," the governor wrote in a telegram.
09:45: The Deputy Prime Minister of Ukraine has warned of many casualties and explosives near the site of the Chernobyl power station. It demanded that Russian forces withdraw from the region.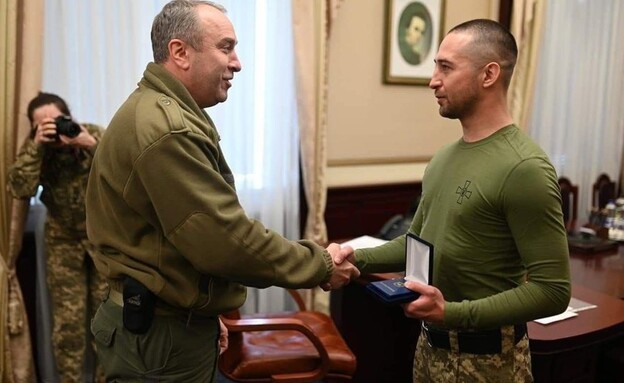 09:33: The Deputy Prime Minister of Ukraine has updated on 3 humanitarian corridors that will be opened today. She later demanded that Russian envoys negotiate to open a total of 97 corridors, "for all the cities, towns and villages that have been widely bombed."
09:26: The deputy mayor of Kyiv updated that the night passed relatively quietly, and shelling sounds were heard only outside the city, but the capital itself was not bombed.
09:12: "Britain is very skeptical about all of Moscow's promises about Ukraine, and we will only respond to actions and not talk," British Deputy Prime Minister Dominique Raab said this morning. Raab referred to Russian statements from yesterday regarding the withdrawal of army forces from the depths of Ukraine and the reduction of hostilities, after announcing over the weekend that the first phase of hostilities had been completed. "I was very careful to accept the things that come from Putin's war machine," he said.
08:29: Russia and China have decided to tighten cooperation, it was agreed at a meeting held this morning between Russian Foreign Minister Sergei Lavrov and his Chinese counterpart Wang Wei in China.
08:13: British intelligence: Russian army units suffered heavy casualties and were forced to retreat back to Russia and Belarus for reorganization. This illustrates the magnitude of the logistical and operational challenges of the Russian military. In light of this, it is likely that Russia will continue to compensate for this with massive bombings and missile launches. Russia is now concentrating during an extensive offensive in Donetsk and Luhansk.
Latest Defence Intelligence update on the situation in Ukraine – 30 March 2022

Find out more about the UK government's response: https://t.co/ete9x5Ty71

#StandWithUkraine pic.twitter.com/202UH5Uz8t

— Ministry of Defence (@DefenceHQ) March 30, 2022
07:48: The governor of Lugansk Oblast said the city of Liskensk was hit by a heavy artillery bomb tonight. "Several high-rise buildings were damaged, we know there are casualties at the site. Many buildings have collapsed."
23:09: Ukrainian President Zalansky says that despite Russian promises, they are still able to carry out massive attacks that could cause casualties and damage. "Because of this, we are not expected to reduce our defense lineup at this point," he said.