Kempinski, the oldest luxury hotel chain in Europe, which will open its first hotel in Israel on the Tel Aviv coastline in February, recently unveiled its plans to build a new project called Floating Sea Palace Resort, which will dock near one of Dubai's most famous beaches – Jumeirah Beach).The resort will be 5-star and will contain 156 rooms and suites, as well as 12 floating luxury villas measuring 2-4 bedrooms spread over 2 floors including a large balcony and an infinity pool. The villas will connect to the main resort via pontoons (pontoons), And will be offered for sale to those who can reach them by helicopter that will land on the floating landing pad at the resort or in a private yacht that will dock at a marina that can accommodate up to 16 yachts. Any such villa can detach from the resort and cruise to other moorings at a maximum speed of 6 nautical miles.
The main part of the resort consists of four parts, connected by a glass pyramid, and will offer all the elements of a 5 star hotel from gourmet restaurants, bars, through gym, pools, ballrooms and of course a huge spa complex. Visitors to the site will reach it by motor boat from Jumeirah Beach.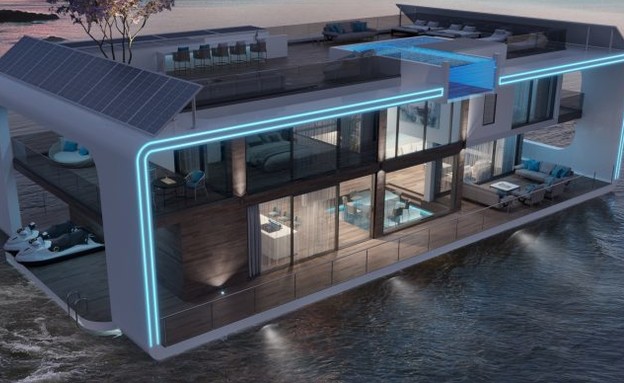 This is not the only property Kempinski manages in Dubai. The chain also offers alpine ski chalet rooms in the Emirates Canyon overlooking the artificial snowy slopes of Dubai Ski, as well as the luxury Italian villas at the Kempinski Residence Palm Hotel in Jumeria..
"We are pleased to be able to offer our guests in Dubai, starting in 2023, a first-of-its-kind experience that combines Dubai's reputation as an innovative and technologically advanced destination with the European elegance of Kempinski Hotels," said Bernold Schroeder, CEO of Kempinski and Chairman of the Board Kempinski AG. "The shipyard's most innovative project Seagate It is convincing not only in its advanced technology, but also in its impeccable style and design. "_OBJ
---
The chain's choice to invest in a luxury resort in Dubai is added without a few unique and prestigious attractions that have recently opened, such as the world's highest 360 pool, Ain Dubai – the tallest Ferris wheel in the world and quite a few other records.
Today the most famous hotel in Jumeirah is the Burj Al Arab Hotel. The hotel is on its own island and can be reached by helicopter or private shuttle in a Rolls Royce. It has nine luxurious restaurants, a spa, plunge pools, a 180-meter-high swimming pool and access to a beautiful private beach. The hotel recently announced that it will allow occasional visitors to enter, for the first time since it opened in 1999.
Dubai has been one of the favorite destinations for Israelis since it opened about a year ago. In November, Dubai was the fifth destination in the number of Israelis who went to it – 61,551 passengers, ahead of countries such as England, Germany and even Greece.