"We walk at night in a river in the middle of the jungle, in complete darkness, and you see around you flashing eyes glowing in the darkness of crocodiles. There is tension and fear that they can attack you at any moment. The guy in front grabbed a crocodile, grabbed him by the head and grabbed him "The joint with machete. After he stripped his skin, cut and took out the meat, we lit a fire and ate it." No, it's not part of a Hollywood movie scene – it's a true testimony from a survival trip that Israelis take on the Amazon in Bolivia, and do not return the same.Many Israelis travel after the military to travel in South America, but not everyone dreams of being thrown into the Amazon without food and water for several days. And yet, there are Israelis who decide to take the experience to the extreme – they go on "survival" trips accompanied by Bolivian hunters and guides and embark on an adventure that is hard to believe is real. Tom (pseudonym), 24, from Tel Aviv, is one of them. "We did a standard three-day trip in the Amazon, and the guide suggested we go on a 'slightly different' survival trip. Me and four other friends streamed with him," he recalls.
They came to a town in Bolivia called Rora Navaka, and from there the journey began. "We went to a friend's guide's house, took some cooking pots and machetes and ate one last big meal. From there we went out with the guide and another hunter to the jungle in the Amazon, without food and water," he says, "The first day we walked a lot, "And they sleep on palm branches. You can see the eyes of the animals in the dark, and you sometimes see cougars, monkeys and crocodiles."
For their first dinner, they hunted a crocodile. "The crocodile was relatively small and very tasty. It did not disgust us to eat it because we did not think about it too much and just went into the jungle atmosphere, it shares and sharpens," It is illegal to hunt such animals, but there is no such thing as legal or illegal in Bolivia. They do not really talk about the hunt or advertise it on the street, nor do they ask them too many questions. "For breakfast, they ate eggs they found under a tree:" The guide told us in the morning, 'If you are lucky you will find eggs. If not, 'stay hungry,' then we found out. We picked palm pancakes from the tree and ate it together. "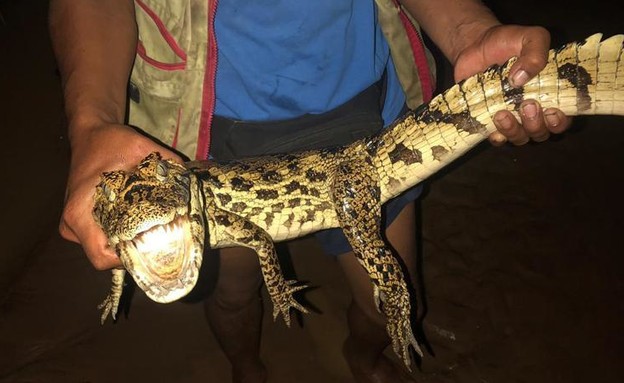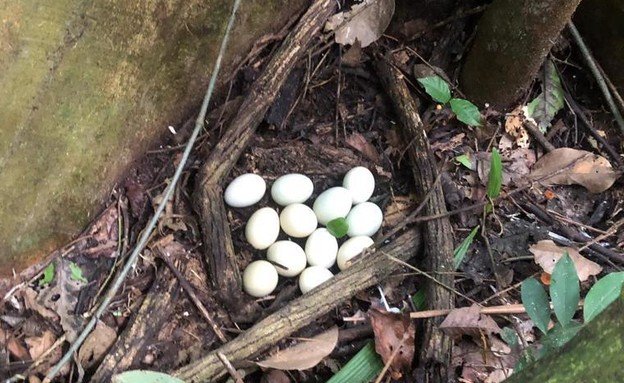 During the day, they crossed the Amazon River and watched the wildlife. "You see traces of animals and the guide tells you what an animal it is. You see beautiful parrots, birds and monkeys," he recounts, adding, "One of my friends was a sniper in the army, so he went with the guide and they tried to imitate the sounds of monkeys so they could approach them. "They did it so that they could shoot them and hunt them down, but they did not succeed."
Drinking water is not an easy task in the jungle either. "After we did not find a monkey to hunt, we went back to the camp to rest a bit. We took water from the river, boiled it and drank it," he recounts, emphasizing, "In the end, drinking nasty water the whole trip."
And their hunt did not end there. "We went hunting again and we managed to hunt a parrot. He was a little pretty and we had a pity on him. The guide gave each of us a weapon and each tried to hit him, when the third shot the parrot eventually fell from the tree," he describes, "because you do not eat there you are no longer hungry "So we did not really eat it. The evening we hunted it the meat was still alive and disgusting and it caused us problems. In the morning, after it was cooked over the coals, we were already able to eat it. .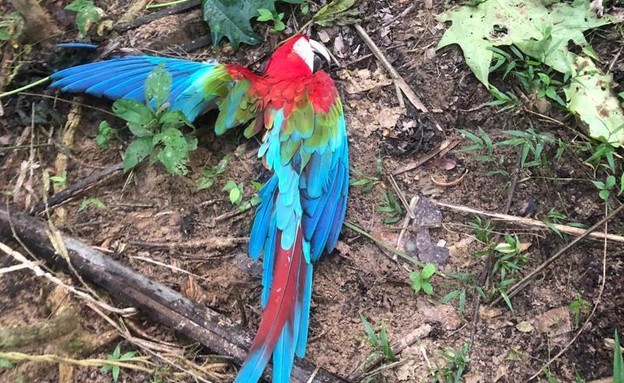 Taste of chicken, only harder. The parrot they hunted | Photo: Anonymous
According to him, the guides themselves barely ate during the trip. "These Bolivians are stolen and screwed people. The second night one of them built a bamboo and mud bang and we did some drugs," he recalls, adding, "That evening my friends tasted worms that the guide hunted from the ground. One can only imagine what happened for two weeks afterwards. to them".
"After a week we realized we wanted to reach the end"
The trip that Tom and his friends made is just one option for many kinds of trips that can be made in the Amazon. Similar to their trip, many Israelis also go on "semi-survival" trips, with the difference being that they take dry food with them on their backs. And yet, that does not mean they are simpler or easier. Yonatan Chen (26), from Be'er Sheva, set out in 2018 with friends on such a trip, for no less than 18 days. "It's a trek that is not done much. An average of one group goes out a year. Our guide, for example, did the route only once in his life," he says.
"After a week we realized we wanted to get to the end already. It's not the hardest thing I've done in my life physically, but in terms of the combination of physical difficulty and mental difficulty – it's top," he explains, "in retrospect, when I think of "Just lose parts of our body or even die."
After a week of hiking in the Amazon, they built a raft and sailed on it along the river. "We flipped over twice with the raft and found ourselves exposed in the current," he says, emphasizing, "It's very stressful. The guide told us that a few years after a raft overturned the guide got stuck under it and died. Equally, our situation could have ended worse."
One of the challenges everyone describes is the bites. "Every exposed part of the skin is stung. At night, after saying good night to each other, you start to hear sounds of itching. Everyone is stung by different things," he shares, "the other day my whole right hand was swollen, and it did not go away for three days. I hoped it was. It will pass because the nearest help is within a 5-day walk. " They left the trip with serious physical consequences: "I came back with the tropical Jericho rose and another friend came back with a worm in his body that they had to get out of."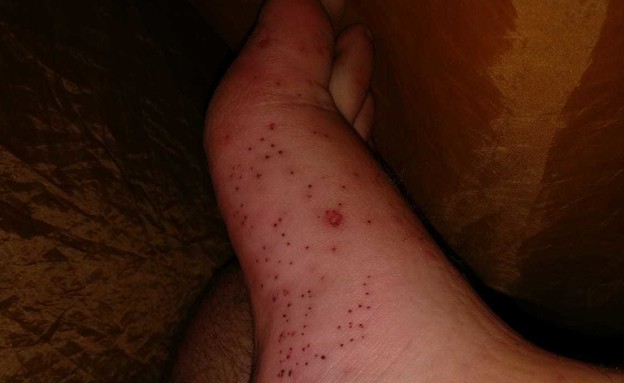 Jonathan says that the danger in the jungle lurks around every corner. "One day we crossed the river and saw a crocodile. Because the water was brown, we were afraid there might be more. There is also a kind of seal with a sting at the bottom, and if it stings you should order assistance with the satellite device and go to the hospital," he says. "How are we supposed to go there, and he signaled to us with his hand that there is nothing to do and we need to move forward."
Eyal Rosenman (26) from Be'er Sheva, who also went on an 8-day "semi-survival" trip, is such a seal. "We were standing in a circle around a large puddle, the guide sharpened a stick with a machete and grabbed it with the stick. I took the other handlebars and I impaled it on the body," he says, admitting, "it was disgusting. I dragged it later and my whole bag filled with blood. At that moment We don't think about it, we only think about how to survive this week. "
But sometimes, it's scary to meet humans in the jungle than dangerous animals. "There are no innocent people wandering in the jungle. Most of the time these are drug cartels or mobsters, who if they meet you will prefer to get rid of you from taking a risk and report them to the police," Jonathan Chen describes. According to Rosenman, the instructors do not fall for them: "The instructors are 60 and 40 years old, and one of them previously served in the Bolivian army. When they grew up there was no village, they are real Indians." Tom adds: "We heard that once a European died on a trip because a bullet was fired at him. I do not know if it was real or a conspiracy, but we relied on them. Just as Tel Aviv knows Dizengoff, so do they know the forests and the Amazon."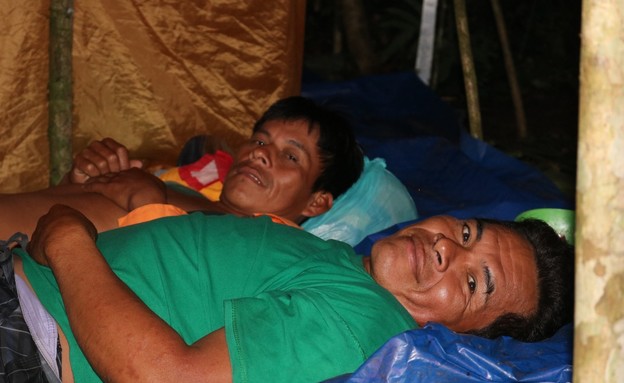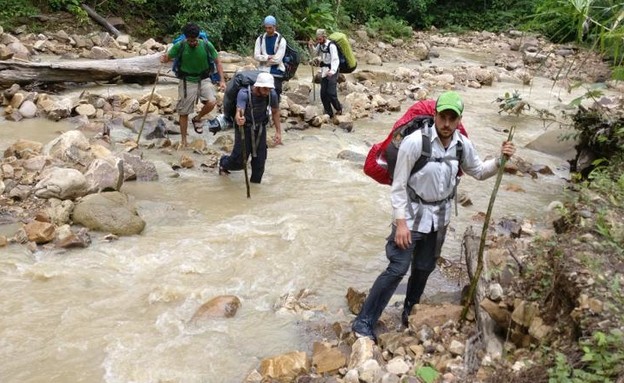 Cross rivers and sides to survive | Photo: Eyal Rosenman
And despite all this pleasure, they do not regret for a moment. "It's a crazy experience that is not for everyone. Despite the bad part of the bites, the pain, the difficulty and the food, you see amazing views and a nature experience that has never been touched," he explains and emphasizes, "In retrospect we sometimes had more luck, On luck alone for two weeks in the jungle. " Rosenman agrees with him: "This is the most pristine trip there is, only we are against nature," and Tom joins in: "If you already die, then die in adrenaline."
One of the survivors to tell, Daniel Mordechai, is giving lectures on the subject today. "As part of the lecture, I tell about our journey of survival in the Amazon, which is a shaky experience of a lifetime," he says, emphasizing, "It's a story about coping, difficulty, friends' feelings and faith. It's a dream come true."