Our deal with God is that we work hard all year, raise children and try to do good, and in return we occasionally pack a suitcase, get rid of everyday worries, get on a plane, the flight attendant smiles at us, serves us something to drink and after a few hours we land with views, tastes , Smells, language and other people completely and our heart expands a bit. In one word, it is called – abroad.In 2020 the Corona pretty much killed that concept and now that 2021 is about to close, you start to see the horizon again (or the skyline if you will) and there is talk of renewing the deal albeit under slightly different conditions. We set out to see what our overseas experience will look like in the coming years and how much it will cost.
We will pay more
Sorry to disappoint you but experts state that the current trend of cheap flights, due to low demand, will not continue over time and prices will eventually rise.
By 2020, the world's airlines lost an astronomical sum of $ 118 billion and went into huge debts. The year 2022 will not be much different either considering that one in two planes in the world is parked instead of flying. Someone will join to cover the losses and guess who these will be – us: once when we pay more dollars for each plane ticket we buy when we go on vacation, and a second time we too, with our tax money funded by government grants to prevent bankruptcies and airline debt repayments.
We will be more protected as consumers
The good news – the more governments are involved in the business of airlines, the more regulation there will be and the airlines will have to take better care of our rights as consumers. The U.S. Department of Transportation recently reported to the White House that it is conducting investigations against 18 airlines, for 30,000 complaints filed by consumers for not receiving a refund for tickets canceled due to the Corona. When governments "rescue" airlines from bankruptcy – that will change. Airlines will have to behave more fairly towards us consumers and we will benefit from it.
Luxury departments – specifically for tourists
While leisure tourism for vacations and visiting relatives is already beginning to recover and injecting dollars into the deficient bank accounts of airlines, it is businessmen, who buy expensive tickets in luxury departments, who have become accustomed to working remotely and prefer not to fly to the other end of the world. This time too – similar to the crisis experienced by the aviation industry after the attack on the Twin Towers – it is expected that it will take them a long time to return to the pre-Corona travel volume, with estimates that there is nothing to talk about before 2024.
For now those who enjoy cheaper ticket prices in these classes are the tourists. Amit Sagi, El Al's Director of Marketing and Digital, tells us: "While El Al offers economy class airline tickets at lower prices than ever before, such as $ 639 to Bangkok or $ 368 to London, the tickets sold first and fast are actually those of the premium-economy class. Today's price is similar to a pre-Corona pre-Corona ticket price: $ 1,398 to Bangkok or $ 762 to London. "A comfort kit and everything you need for a luxurious flight. Leisure tourists have identified an opportunity here and there is a high demand for this class."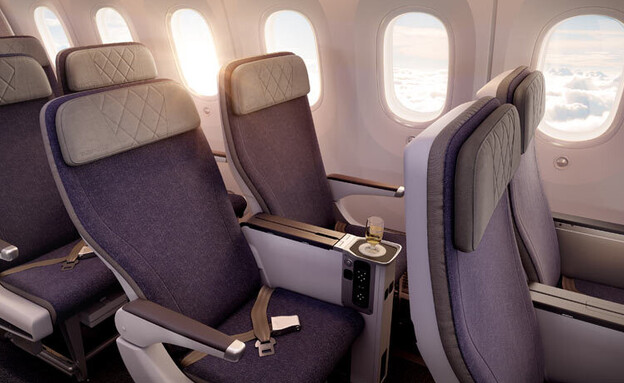 But what does this mean for us in the longer term? If this trend continues, airlines, which will be left with business classes without business passengers, will have to reduce these classes and instead expand the premium services for tourists who want to indulge in the flight itself and are willing to pay a little more. This means that we will see more seats in the premium-economy classes on the plane and the adjustment of "business class" seats and services for slightly different passengers as well – couples and groups on their way to vacation.
All the bureaucratic headaches in one app on a smartphone – a digital health passport
If once we could be spontaneous and fly from now to now to whatever destination we wanted, or at least pack an hour before leaving for the airport, the Corona took it from us – today a trip abroad requires getting organized and preparing in advance.
We will start with the fact that we will probably have to understand and get used to living in uncertainty. A new strain can be discovered every day, yellow countries can turn red and plans can change from one day to the next. Sucks but that's the reality. This reality should and should be translated into flexible bookings with the possibility of changing and canceling flights and hotels. Anyone who once clicked on the hotel booking sites for the cheapest option that means booking without a cancellation option – will probably not do so again.
In addition, each trip will require us to check and update before and near the trip in the requirements of the destination country we are traveling to – is a vaccine a condition for entry, is there a requirement for any isolation upon arrival and for how long, is a corona test required to enter the country, how long before the flight. Is the requirement for testing PCR Or antigen etc. (and if it's a trip that includes several countries then the situation at all gets complicated). During the vacation we will already have to prepare to find a laboratory to conduct a test, whether for the purpose of continuing to stay in the place (as exists in Thailand for example) or for the purpose of returning to the country, and may also apply for isolation from certain countries depending on the circumstances.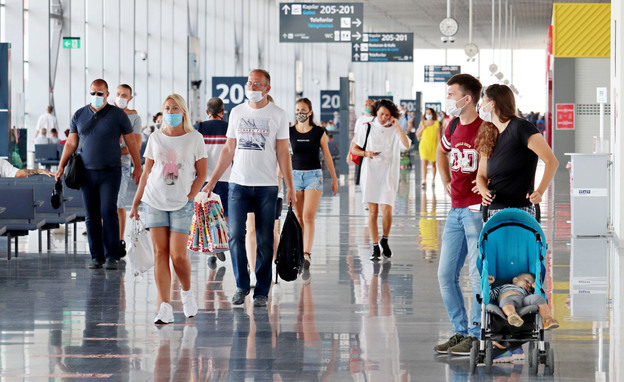 Did you get dizzy? So add to this whole story a not-so-simple bureaucracy – almost every country has some unfriendly form that needs to be filled out as a condition of traveling to it, and attach quite a few documents like health insurance certificates, test results, immunization certificates etc. Add to all this goodness the fact that the information is not centralized And you have to put together a rather complex and changing puzzle to figure out what exactly you need and a big question mark stands above all this concept called "vacation".
To remove this big question mark and convert it into a boarding pass, today in the aviation world there is talk of using a "digital health passport" – an application that will have up-to-date information about the requirements for entry and stay in the destination country. We can use it to book an appointment for tests from a global laboratory database, we will receive their results, it will have our immunization certificate and any other form required for travel according to the destination country and it will issue us a code QR Through it we can go with (the app) and feel without (Corona).
The flight experience – because abroad already starts on the plane
The flight experience itself will probably change forever: about two years after entering our lives in a storm, it's hard to imagine a world without masks and social distance, and they seem to be here to stay. As of today, there does not appear on the horizon a situation where we can fly without masks for the entire flight, or waive the requirement of social distance in the boarding process.
During the corona, airlines reduced their so-called "service profile" on flights. In this context, the meals to which we were accustomed (for better or worse) on flights were replaced with meals that include individual and pre-packaged dishes. In addition, the companies stopped serving drinks and alcohol on flights in order to reduce the time passengers remove masks to the minimum possible. In addition, to ensure the health of the staff, the time spent by the stewards in the cabin has been reduced so that the service is characterized by a minimum of their interaction with the passengers and the submission of a maximum of items at a time. In other words – anyone who enjoys transferring the flight at the touch of a button and requests for another glass of cola, red, white wine and pretzel from the flight attendant, will find the flights much more boring. Quite a few on social media wondered if the airlines did not "get on the wave" and took advantage of the situation to save a few bucks.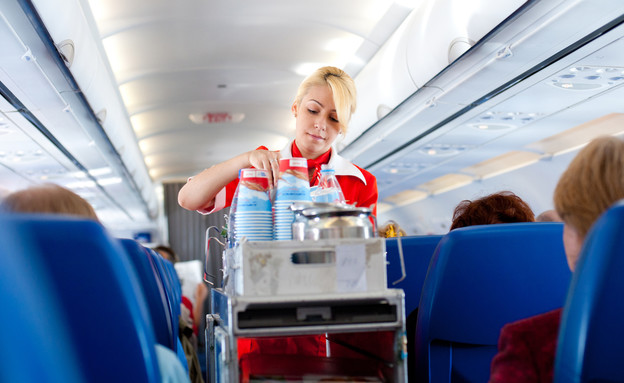 In a survey we conducted with some of the most popular companies among Israelis – El Al, United Airlines, British Airways, Lufthansa Group and Delta Airlines – regarding the question of when the service will return to normal, we were told that the service return process was complete before Corona. Mira Pazitsky, Director of Flight Service at El Al, shares with us the company's preparations: "The Corona has forced the flight attendants to physically stay away from passengers. Now we are starting to get closer again. We are gradually returning to full service. This week we returned the hot drinks service after the meal. They themselves are also returning to what they were in the past. "
For those of you who like to pass the time before the flight in the lounges, we are sorry to announce that in these the situation has not yet returned to normal. Some lounges at airports around the world are inactive. Those that are open operate on a limited basis and also offer only closed snacks or pre-packaged individual dishes. Exceptionally good is actually our King David Lounge at Ben Gurion Airport, which has returned to full operation and offers the same service format as before, except for the spa services which are still closed.
Another "hot" issue in every aspect of in-flight health safety is the disinfection of aircraft between flights. As the subject of in-flight hygiene bothered them even before the Corona (especially after reading that the food tray on the plane and the seat pocket in front of you have more bacteria than the average toilet seat), we can tell you that this is where we passengers are going to be upgraded. Sitting but the companies, which strive to reduce the time that planes are on the ground to fly and earn more, are already looking for solutions for thorough and quick disinfection. Qatar Airways, for example, has already used a system UV Which is the size of a drinks cart with arms that travels in the aisles between the seats and radiates ultraviolet light, disinfecting a medium-sized plane in ten minutes.
Watch the demo video of the aircraft disinfection cart:
Entertainment systems
While in the years before the Corona touch screens of in-flight entertainment systems were one of the symbols of good value for money to pay for a plane ticket, here too things were reversed in the Corona era – screens that touch passenger after passenger suddenly look much less attractive. One of the changes that are expected to come on the planes in the future is the expansion of your Bring Your own Device, ie, we will bring our computer, tablet or smartphone while the airline will provide us with the content: movies, series, music, podcasts, etc. Some companies The airport is also preparing for the fact that we will not be required to download a dedicated app before the flight in order to view this content.