At noon on Saturday, November 13, I booked a flight ticket to Accra (Accra), The capital of Ghana. After many travels around the world I felt that West Africa was the next step in my travel career. Everything I have heard about West Africa over the years has painted me a picture of an authentic, non-touristy place and one that is hard to travel to. While for most people these descriptions were daunting, for me they only heightened their curiosity to get there and explore an area that is off the map of travelers.Two weeks later, while at the height of the logistical but mostly mental preparations, the Omicron variant emerged into our lives. As a result, the Israeli government has decided that the entire continent of Africa, with the exception of a few individual countries, enters the list of red countries in a sweeping and immediate manner.
Just to clear the ear – a red country is a country that is not allowed to fly to from the country. It is possible to submit an exceptional request that will be approved in exceptional and special circumstances. Needless to say, my curiosity and adventure did not fall into the category of exceptional circumstances.
The moment I learned about the Omicron and the turning of Africa into red, for one second the question did not cross my mind whether to embark on a journey or not, the only question was how I was still going out to it. A brief inquiry taught me that if I start my trip in a non-red country I can take off for it and then from there take off for Africa. I did so.
At this point it should be noted that I do not "deny corona" or "anti-vaccines", I have been vaccinated 3 times and I tend to obey instructions. However, I do think the response and measures towards the virus went a bit out of proportion and I got to the point where after the corona brought me back from a trip to the Caribbean in March 2020 and after almost two years of suppressing my migratory instincts, I asked myself one question – why not now? So I decided that what I really needed to do was learn how to do it right.
After a short stay in Germany and many fears that the long-awaited journey had not been carried out and something might go wrong along the way, I landed at a good time in Accra. The second I left the airport I was approached by an elderly taxi driver who hissed at me a few words in English with an African accent already. I did not understand anything of what he was saying, but that did not stop the smile from coming over my face. And so, with zero information about this country and no idea what awaits me, I realized that this is it, the journey in West Africa has begun.
I spent the first few days in Accra adapting and planning the trip. One tip I have for travelers before setting out on a trip – theoretical planning of the itinerary when you are still in the country is good, but the real and useful information will be revealed to you after landing, whether from conversations with other travelers you meet or from reliable and accessible sources such as hostels or guesthouses.
A better use of this method is to enlist the help of a local who will show you the area along with it. I did so. So, I befriended Lizzie, a cute local girl from the hostel where I stayed, for a full day trip in the city in favor of cultural, fun and anthropological research.
First stop – the market
We came to a street full of people and with a mess I had never seen in my life. Quantities of people, mostly women, sit on the side of the road, each with her own goods, trying to sell to passers-by different things. As I experienced this powerful chaos I was overwhelmed by the feeling that I was indeed finally in Africa – the coveted continent, and from now on, when I got here, this mission was behind me and I had a new mission on the horizon – not to be robbed!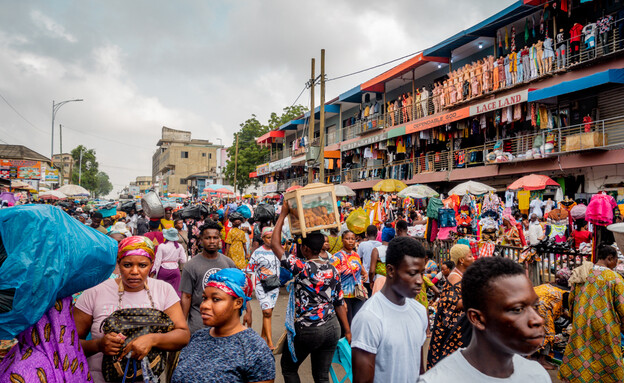 We kept going around and investigating what was going on in the market, and when I say turn around and investigate I mean Lizzie going ahead, leading the way and making her way through the crowd to create a path for me, and I'm behind her trying not to lose her and be left alone.
During one of the walks I noticed one of the stalls in a huge metal bowl full of snails. When I spent another two seconds approaching and figuring out what was going on there – I realized they were still alive and crawling on top of each other in the bowl. Another thing that caught my attention were long convoys of women, and sometimes girls, with pots and bowls on their heads. Some sold snacks, some soft drinks and some different types of fabrics.
When I asked Lizzie what the story was behind this business, she told me that these were women coming from northern Ghana, a rural area known for its lack of livelihood options, trying to make a living and not starve to death. With these attempts also comes street accommodation and living conditions. Welcome to Africa the so-called.
After quite a bit of walking, a refreshment break was necessary, so we did what every hiker in a tropical country does when they are on the verge of dehydration – stop at the local coconut stand and drink fresh coconut juice.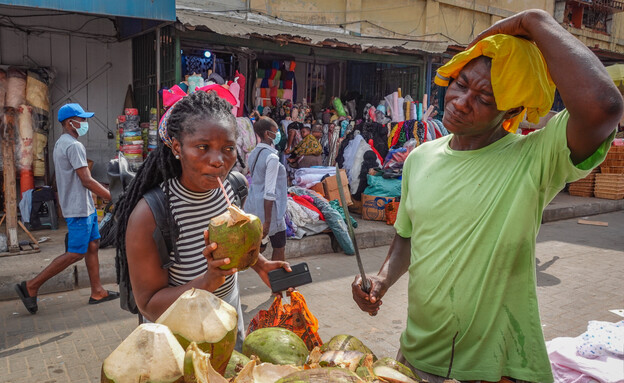 Second stop – Asher Fortress
A fortress which is a kind of fortress sitting on the edge of the city on the seafront, used by the Dutch and British in colonial times to gather the slaves they collected from West Africa, present them to merchants and send them to distant America.
We entered the fort, did the tour and already in the first minute I photographed what my eyes saw, and what came out was a picture of one of the courtyards in the fort with the tour guide looking like he himself was imprisoned there and waiting for colonialism to end and he would return to his free life.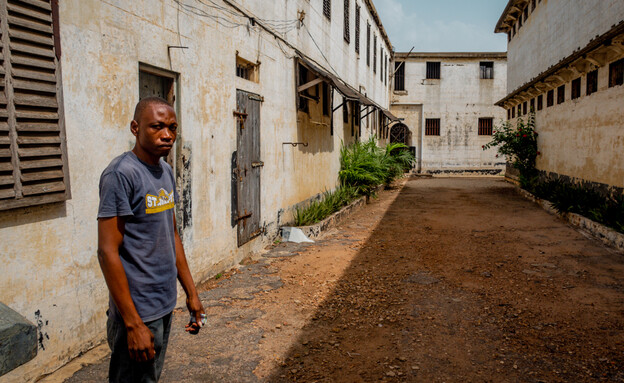 The tour of the fort was excellent, mainly because of the feelings it evoked in me. Seeing the rooms where the slaves were imprisoned, the chains in which they were held and the shared toilets where they defecated as they sat next to each other, along with the pictures that ran through my head – it was definitely a curly experience.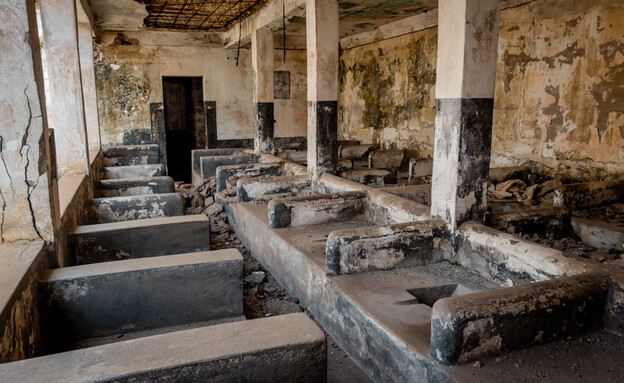 We left the fortress and continued to the next stop – the tourist-artistic center of the city. At the entrance we saw lots of souvenirs that reminded me of the style of certain stalls in Jerusalem or the Carmel market.
As we continued to walk around, my attention was caught on local artists sitting every day carving in the wood with their own hands various and strange African objects such as housewares, sculptures or drums. The concentration, creativity and serenity that surrounded them reminded me that no matter where we travel in the world – an artist is an artist.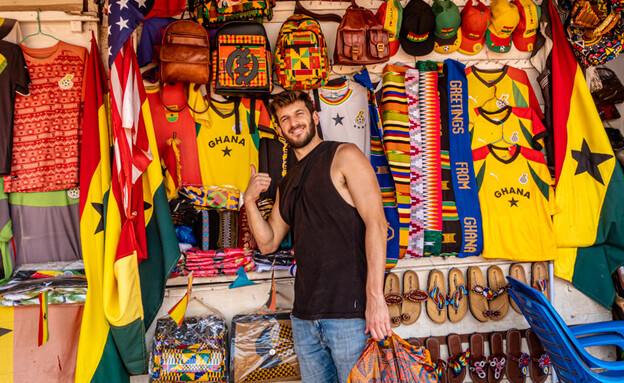 Accra is just a cool city, and a tour of it is without a doubt a good and important starting point before continuing to discover the rest of the country. When you walk around it, you are first exposed to the African rush, to the vibrant and restless atmosphere, and perhaps most of all and most importantly – to the gnaws themselves and what they have to offer.
Ohad is a hiker, adventurer, entrepreneur and lecturer in the field of hiking. He is the owner of the travel blog Ohadvancers, the creator of the "Tourist for a Walk" course that teaches travelers at the beginning of their journey how to prepare for a trip abroad correctly, and the founder of the podcast "Walk Alone". Ohad first became famous about a year and a half ago when he embarked on a journey to cross the Atlantic Ocean by boat, and since then a number of other documents and reviews of him have been published about places to travel in Israel and around the world.