The David Kempinski hotel chain in Tel Aviv, which was supposed to open its first luxury hotel in the country in mid-February, announced today its intention to postpone the opening of March 15, 2022.According to Guy Kliman, CEO of David Kempinski Tel Aviv: "The decision was made in collaboration with the global network management, after realizing that we could not be prepared and meet all the goals we set for ourselves and characterize Kempinski's high standards. In light of the situation, training and training experts did not come to Israel and there are significant delays in recruiting and training the workforce. We can not compromise on these parameters even if it has significant economic consequences. "Meanwhile, a number of events that were supposed to take place there this month have been canceled and postponed.
The hotel notes that there have been quite a few bookings made mostly by tourists, but not only, around the original opening date. In accordance with the changed schedules, the orders were changed to a new date according to the customer's choice and without a change in the original price ordered.
---
The David Kempinski Hotel in Tel Aviv, the chain's 80th hotel, has been defined by the chain's CEO as Kempinski's flagship hotel for the next decade. It will rise to a height of 34 floors on the seafront at 51 Hayarkon Street and will contain 250 rooms, including 56 suites, with the highlight being the "David Penthouse", the largest triplex-penthouse suite in Tel Aviv.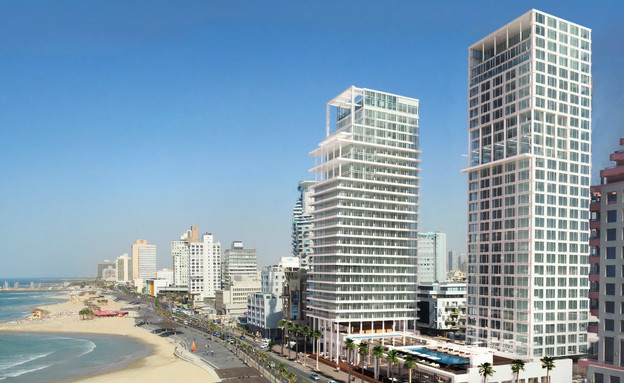 On the 22nd floor of the hotel, guests of the suites will have access to the "Horizon" lounge – a business lounge with a wide balcony that provides separate check-in and check-out services, concierge services and a food and beverage menu throughout the day. Guests in the hotel's 14 leading suites will have exclusive access to the Rooftop – an outdoor lounge on the 34th floor that will be open during the spring, summer and fall. The lounge boasts a 15-meter swimming pool, a relaxation area with sun beds and a bar restaurant that will include a menu and a bar for an entire day.
How much will a night at David Kempinski Tel Aviv cost?
Room reservations for dates can be made from 15 March 2022, on the hotel's website. Those who sign up for the chain's loyalty club (free of charge) or those who make an advance booking will enjoy a 10% discount on the price.
For example, the Superior Room between March 15-17 on a bed and breakfast basis will be $ 558 per night, and the same room will be offered on the weekend of April 28-30 for $ 580 per night. Those who hurry to book a room for the weekend The last of August between August 28-30 will pay $ 558 per night.
For more luxurious rooms, you can also get up to NIS 10,000-16,000 per night in suites.